For the people who work online as a tutor, Skype account is important in order to be qualified for the interview, to connect with the students, workmates, and boss. But not just these online teachers, many people have benefited Skype's advantage: to make the world small.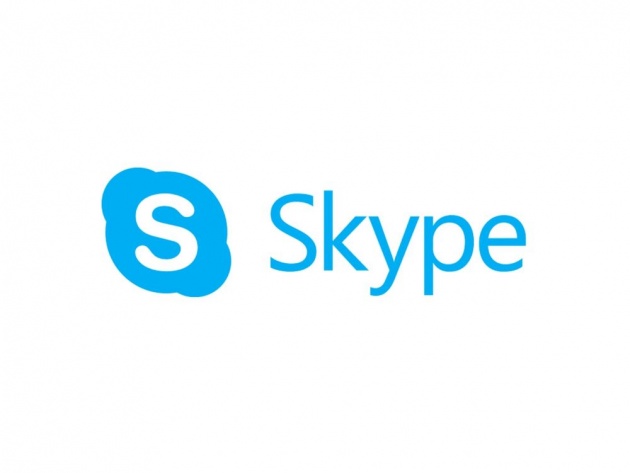 Image © by Windows Central (Click here for more info).
What is Skype? How to use it? What are its special features? Why should we trust their service? What will happen if our Skype account security code is unverified?
The History of Skype
Skype app/software was created in 2003 by a Swiss national Niklas Zennstrom and Janus Friis of Denmark. Its beta version was launched in 2003 for public use.
The app/software had received an offer from the Polish Market in an agreement to connect with Onet.pl, a web portal of Poland. In the latter game, eBay became its partner since 2005 to hire Skype Technologies based in Luxembourg for 2.5 billion dollars investment of eBay stock.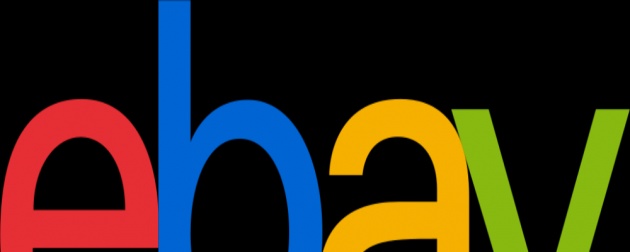 Image © by Wikipedia (click here for more info).
eBay announced that they sold 65% share of Skype in Silver Lake and the rest of their partners for 1.9 billion that costs 2.75 billion in Skype USA.
Skype allied with Comcast in 2011 to bring out the video servicing, dedicated for the Comcast subscribers through HDTV.
Skype launched a free video service in 2013 to message in the video that is easily used for Windows, iOS, Android, MAC OS, and Blackberry.
To achieve a flawless transaction of money, Skype copied PayPal to experience an improvised and technological business. The users are allowed to transfer their funds through Skype mobile apps linked with PayPal.
(click here for more info)
Setting Up the Profile
Just like any other video servicing apps, the app/software asks ours Skype name to be visible to our contacts. We can use any profile pictures that we like. It also asks our mobile phones which is important in times when we need to secure our account. Make sure to provide your new mobile phone or else you'll face a problem to lose your contacts possibly if you provided the numbers that don't exist. Email address is also important to recover an account easily.
Skype asks our location, but it's up to the user whether he/she prefers to hide the address.
Just like Facebook, the app/software asks our birthday details. We will be surprised to read tons of birthday greetings on our special day when logging in.
Connecting Skype to Landline
Contacting our loved ones abroad if they are offline is not a problem anywhere as long as we have their landline numbers and mobile. The payment to call them of both ways costs 4.74 dollars a day. As long as we have provided our bank account to our Apple ID Account, it only takes a second to transact. If you desire to call your loved ones abroad via landline and mobile without paying daily, tap/click the Landlines and Mobiles Pay monthly to be directed to your billing information.
Other Features
Change your avatar by tapping/clicking Account and Profile. You can also change your date of birth, address, the motto in life, and the visibility of your contacts.
By tapping/clicking Close your Account, you cannot open your Skype account anymore through Microsoft database. Personally, when my Skype number was unverified, I opened it again through the Microsoft Account.
Skype consists of General settings where we can change the languages, can share our location with Bing, and can have the effects for our layout.
We can change our layout by tapping/clicking Setting, Appearance, and the color we like that are displayed in huge dots with hues as options. We can also set up the contrast by tapping/clicking high contrast if we like a brighter screen and high contrast dark if we like the dark theme to be brighter.
We can enable or disable our caller ID by tapping/clicking the calling after the setting, call forwarding and voicemail, call subtitles, and only allowing calls from Skype contacts in the device.
Its messaging system has many options too. Enable read to send and read receipts (to backread the previous conversation), large emoticons, we link previews, web links open in Skype, auto-download photos for WIFI and cellular.
Enable/disable the features of notification in chat notification, reactions, notification sounds, multiple devices, tips and tricks, scheduled call notification, poll notifications, chat banner notifications, app sounds, show chat notifications, show call notifications, missed call reminders and missed message reminders.
In our contacts, we can sync the personal cellular connections to our account by enabling the button at the top. Tap/click contacts. If you desire to block one of your contacts, it has a feature of it as well as keeping your personal contacts become invisible to your Skype friends.
How to Reopen the Unverified Account
The app/software is ready to help when experiencing a problem to an account. Click/tap avatar. Below the profile picture, tap/click settings. Tap/click help and feedback. Tap/click get help. Tap/click the displayed logos that fit the problem. If it doesn't work, go back to the screen and tap/click report a problem. You will be directed to the textbox which you are asked what is wrong. You can type the issue at the box and tap/click send. Skype will notify soon to update your feedback.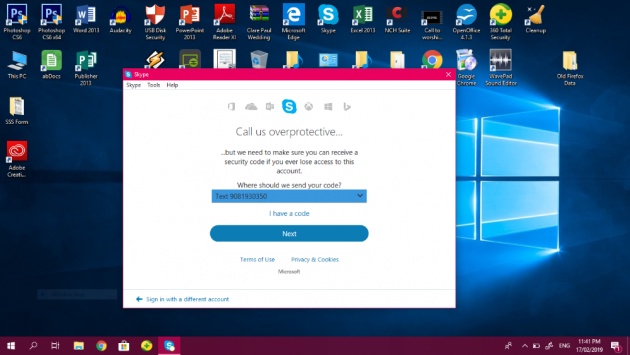 Image © by Skype screenshot. Edition of @Jackwilliams via Bitlanders.
Personally, I thought that verifying the code sent by Skype to my number was not a problem. The time came that my account wasn't opened. I did not put in the code when I was asked about the security numbers. The code was sent to my unused mobile card. Of course, I can't provide the code they gave since I lost that prepaid card. Now you know that the account will be frozen by not giving the security code. If this has happened to you now, how to solve the problem?
How to Re-open our Unverified Security Code on Skype Account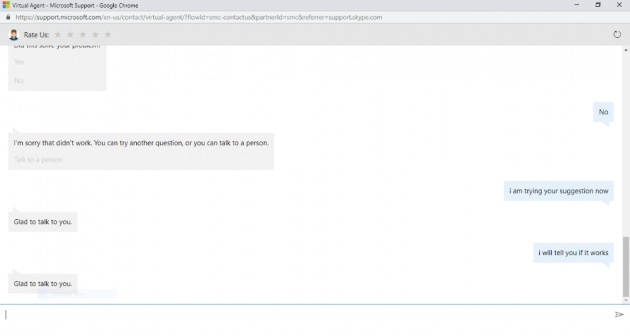 Image © by Skype screenshot. Edition of @Jackwilliams via Bitlanders.
Because I was not able to open my Skype account, I can't tap/click get help and report feedback services below the avatar on Skype. But then, I clicked/tapped Skype's support via live chat. At first, the problem was not solved because the bot didn't understand my point. Then I typed the specific issue-about my unverified-security code. I was sent into the Microsoft window. If you ask help from a live chat, use the computer.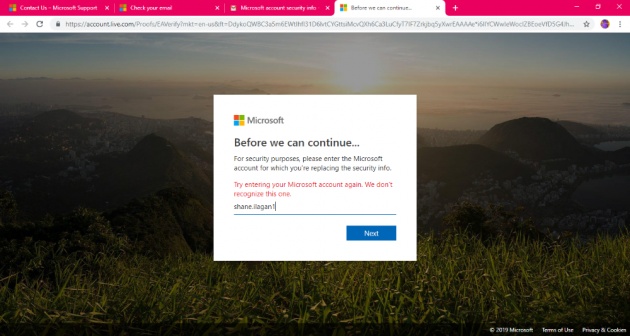 Image © by Skype screenshot. Edition of @Jackwilliams via Bitlanders.
Microsoft requires your alternate email address to recover your account. Fill in the blank with your substitute email address or the current email address you used. Click next.
Image © by Skype screenshot. Edition of @Jackwilliams via Bitlanders.
After the submission of your substitute email address, check your inbox to copy paste the security code they sent and follow the instructions. The code will expire soon so be immediate!
In the email, click continue under the security info replacement from the Microsoft account team.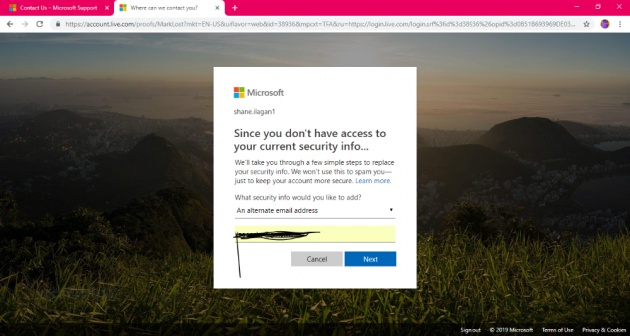 Image © by Skype screenshot. Edition of @Jackwilliams via Bitlanders.
Go back to your Microsoft screen and provide your Microsoft alternate email.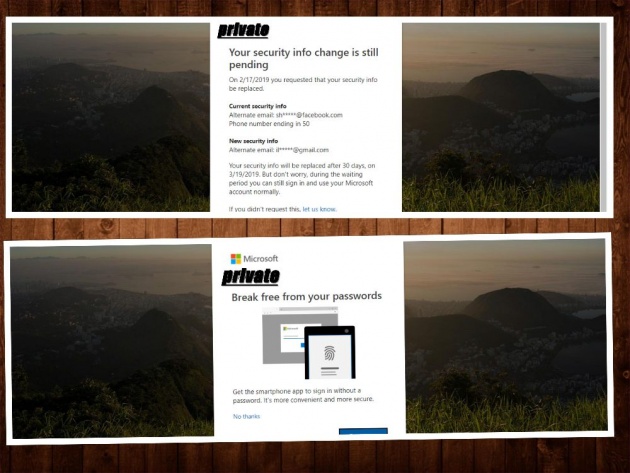 Image © by Skype screenshot. Edition of @Jackwilliams via Bitlanders.
Wait for one month after the Skype team replaced your security information. On the screen, you are updated regarding the security info change. It is a pending problem for 30 days but after this period, you can recover your unverified Skype account again. Log in through your former Skype username on via Microsoft.
If you want to log in immediately without waiting for 30 days period, click/tap Next. The screen appears to break free from the password. Use a smartphone app to open Microsoft without a password. If you are willing to wait for 30 days, click/tap no. If you want to continue, click/tap get it now. You will be directed to a window to fill in your address and phone number. However, this service may need a payment.
Disclaimer
I am not paid to advertise the Skype app/software. This article is applicable for the users who accidentally unverified their security code. Yes, you can create another Skype account, but the contacts are important to keep especially if we have important businesses. Skype's customer support may take a long wait before getting a reply on our email. Live chat is the best idea.
Courtesy of the video: David A Cox on Youtube
✽ ✽ ✽ ✽ ✽ ✽ ✽ ✽ ✽ ✽
The list credits, by the article, the sources of illustrations, used by the author of "How to Recover your Unverified Skype Account". The images are screenshot and edition of the author.
All rights reserved. No part of this article
may be reproduced without the author's personal experience.