Video Credits: DFA Philippines via YouTube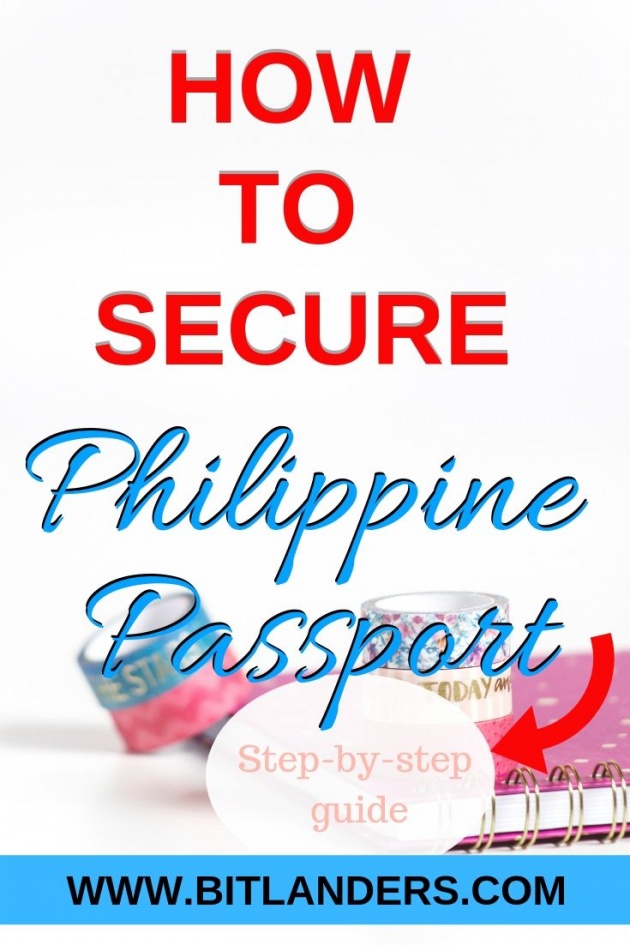 Image Credits: Sharon Lopez via Bitlanders
Planning to travel to other countries? Dreaming of visiting Disneyland? Probably aiming to see Sakura flowers in bloom or just want to experience the cold weather and the snow.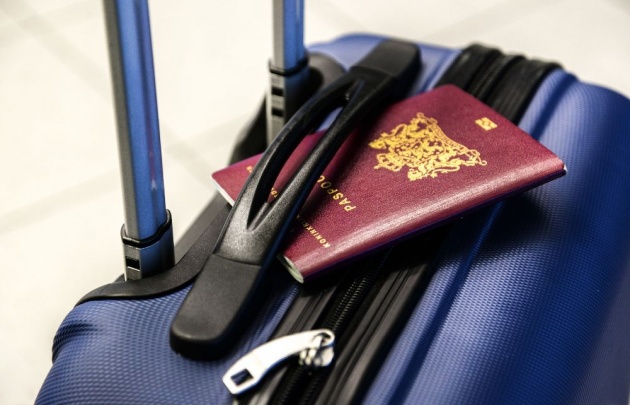 Image Credits: SkitterPhoto via Pixabay
Whether it is for business purpose or for personal reason, there is one thing that we can not go out of the country without - PASSPORT. Yes, a passport is a primary requirement for going out of the country regardless of the purpose for such travel. Moreover, a passport is on the top of the list for valid IDs in the country. It is our primary ticket to the other parts of the globe.
This blog post will walk you through the steps of securing a passport. I hope you find this content helpful in whatever way possible.
Several years ago, applying for a Philippine passport was such a tedious process. Everything was being done manually. The long lines of clients waiting for their turn was a normal scenario in the Department of Foreign Affairs (DFA) Office. I can't fully imagine how we were able to survive the process when there was no internet yet.
Thanks to the new technology! Transactions in major government offices are now fully automated. So if you are planning to travel to your dream destination, now is the time to start preparing your documents. Another good news is that the Philippine Passport has already a 10-year validity as provided in RA 10928.
THE PHILIPPINE PASSPORT: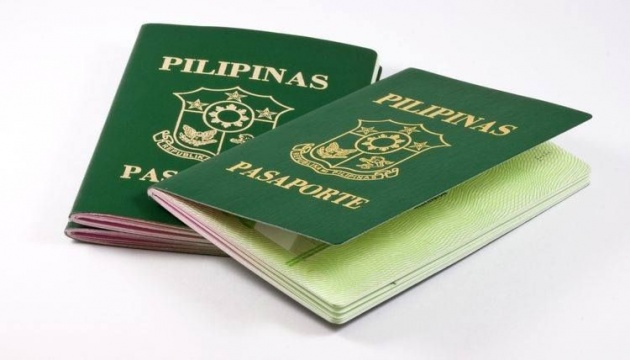 Image Credits: DFA Official Facebook Page
Philippine Passport Act (RA 8239) was enacted on November 22, 1996.
The law affirmed the people's constitutional right to travel, and the government's duty to issue passport or any travel document to citizens of the Philippines who comply with the requirements. The right to travel may be impaired only when national security, public safety or public health requires.

RA 8239 was amended in 2017 via RA 10928, which extended the Philippine passport's validity from five to ten years.
Source: DFA Official Facebook Page
WHAT ARE THE REQUIREMENTS FOR SECURING A PASSPORT:
Before we proceed with the setting up of an appointment, let us first talk about the documents that we need to prepare as these will be required during the date and time of our appointment.
Documentary Requirements:
Birth Certificate
Must be an original copy of the Philippines Statistics Authority (PSA) or National Statistics Office (NSO) Birth Certificate printed on Security Paper.
For married women, the marriage contract or report of marriage (if married abroad) authenticated by the Philippine Statistics Authority will also be required.
Note: Birth Certificate will no longer be required for passport renewal as per DFA Department Order No. 03-2019.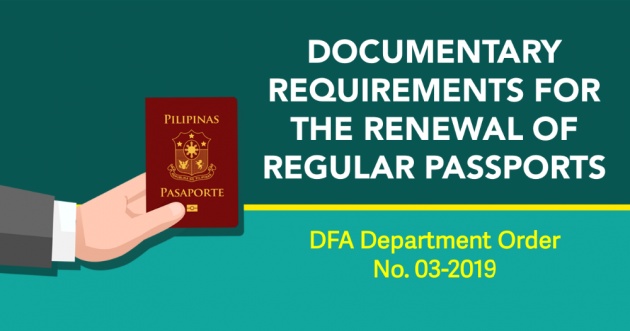 Image Credits: Department of Foreign Affairs
Valid Identification
Under normal circumstances, the DFA will only require one (1) valid ID with photo. however, it is advised that you bring with you at least two supporting documents just in case the personnel requires you to submit an additional document to prove your identity or nationality.
Here is the list of the primary Identification accepted by the DFA:
LTO or Land Transportation Office's issued Driver's License
Voter's ID
Government Service Insurance System (GSIS) Unified Multi-Purpose Identification (UMID) Card
Social Security System (SSS) ID
Professional Regulatory Commission (PRC) ID
School ID (for students)
Senior Citizen ID
Persons With Disabilities (PWD) ID
OWWA/DOLE Card
Philippine National Police (PNP) Firearms License
for OFWs or Filipinos staying in other countries, you may bring your residence card or any other ID showing your Philippine citizenship.
Important: DFA doesn't accept Postal ID, Philhealth ID or TIN ID as primary valid IDs for Philippine passport application. Source: DFA Official Website
Supporting Documents
Here is the list of the acceptable supporting documents issued at least one year prior to the date of application. the Id must show the holder's complete name, photo, date, and place of birth, and signature.
Barangay Clearance
Postal ID
NBI Clearance
Police Clearance
Land Title
PSA Marriage contract
Seaman's Book
Government Service Record
Elementary or HighSchool Form 137
School Yearbook
SSS E-1 Form
Voter's Certification, List of Voters, and Voter's registration Record (with attached receipt)
If you think that you already have at least one of the valid IDs and at least two (2) supporting documents, you may now proceed with the online appointment.
REQUIREMENTS FOR ONLINE APPOINTMENT:
Computer with internet access
Web Browser (Internet Explorer Ver. 11 or higher, Mozilla Version 45). Google Chrome is also a good option.
A VALID and working EMAIL ADDRESS
PDF Reader and printer. We need to print the form from DFA
PROCESS OF SETTING UP AN ONLINE APPOINTMENT
Go to http://passport.gov.ph and click Schedule an Appointment from the top menu.
1. Click the box below the Terms and Condition to confirm that you understand the rules of setting up an online appointment.
2. Choose between START INDIVIDUAL APPOINTMENT or START GROUP APPOINTMENT.
3. Fill out the Site Location Form and click NEXT. This will be the location of DFA Office closest to your location.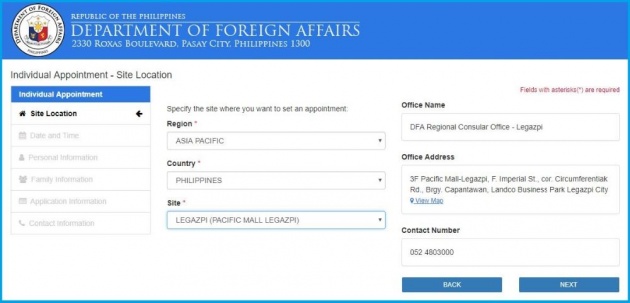 Image Credits: PASSPORT.GOV.PH
4. Choose the Preferred Date from the calendar. Those dates highlighted in green are still open for an appointment while those in red are not yet available.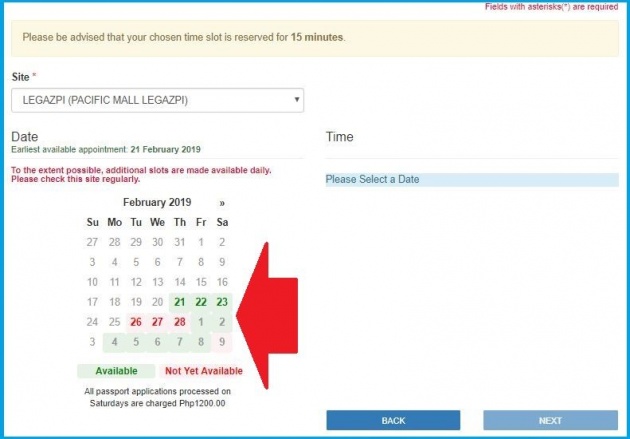 Image Credits: PASSPORT.GOV.PH
5. You should likewise select a preferred time for the appointment. After which click NEXT.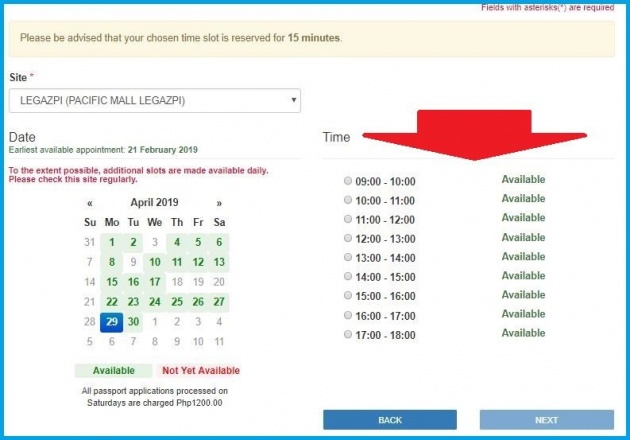 Image Credits: PASSPORT.GOV.PH
6. Complete the personal information and click next.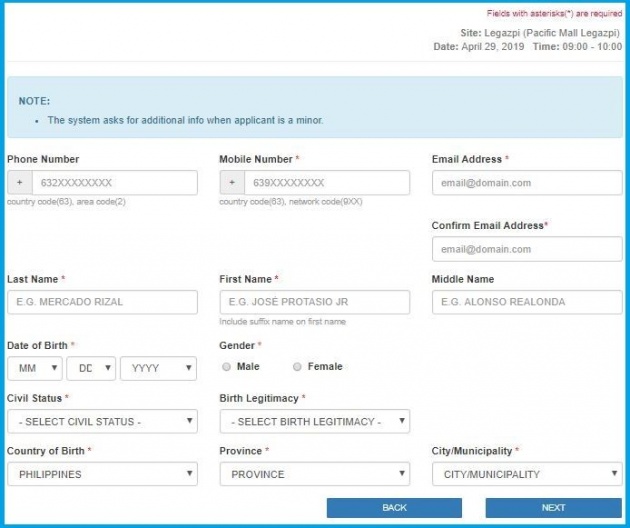 Image Credits: PASSPORT.GOV.PH
7. Check your email. After the successful appointment setting, DFA will send you an email for the DFA Appointment Code. Enter the DFA appointment Code, enter your email, and check the captcha box. Download the completed DFA Appointment Form.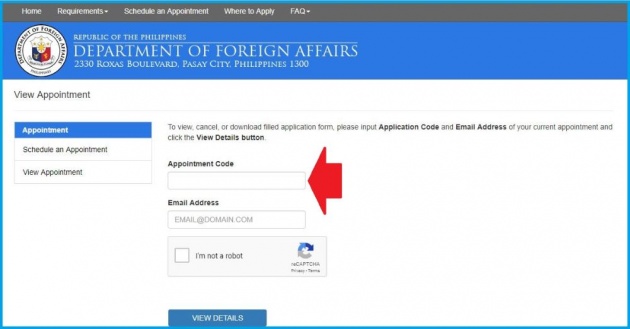 Image Credits: PASSPORT.GOV.PH
8. Pay the passport processing fee at any of the authorized payment centers. The processing fee will cost PHP950.00 ($19.00) for regular processing schedule and PHP1,200.00 ($24.00) if you want to expedite the processing of your passport.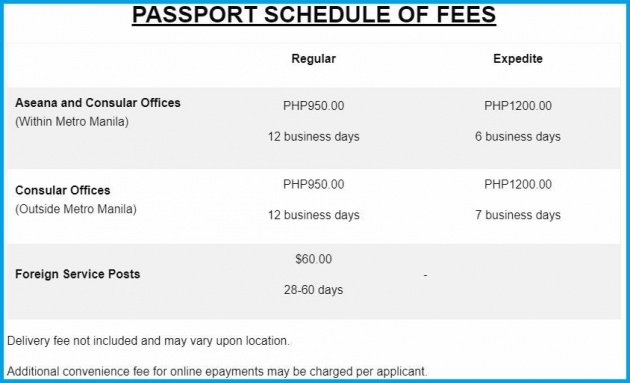 Image Credits: Consular.DFA.gov.ph
Here are the payment centers accredited by the DFA:
Bayad Center
7-11
EcPay
Pera Hub
Robinson's Business Center and Department Stores
Waltermart Department Store
USCC (Western Union)
Villarica Pawnshop


8. Wait for the email confirming the payment and print the CONFIRMED APPOINTMENT PACKET. You have to present this along with the other documents when you appear at the DFA office where you made an appointment schedule.
Reminder: Be on the DFA Office at least 30 minutes earlier than your schedule. Wear decent clothing for passport photo capturing.
WHAT TO DO NEXT?
You have to wait for 6 to 12 business days before returning to the DFA office to claim your passport. You may opt to have the passport mailed to your for an additional fee.
Here is another video showing the process of applying for a Philippine passport that you can refer to.
Video Credits: DFA Philippines via YouTube
References: RA10928 DFA Department Order 03-2019
DISCLAIMER: The views and opinions expressed in this c-blog post are that of the author and does not in any way represent the agency or department she currently belongs.
ADDITIONAL NOTE: The sites mentioned in this post are for information purposes only and links are provided for easy access. The author does not receive any remuneration from the said companies or sites.
-oOo-
Written for Bitlanders
by ♥Sharon Lopez
Date: February 17, 2019
Connect with me!
♥ IDEAL CAREER IDEAS ♥ FACEBOOK ♥TWITTER ♥ PINTEREST ♥ LINKEDIN ♥