It's the secret ingredient of your dreams.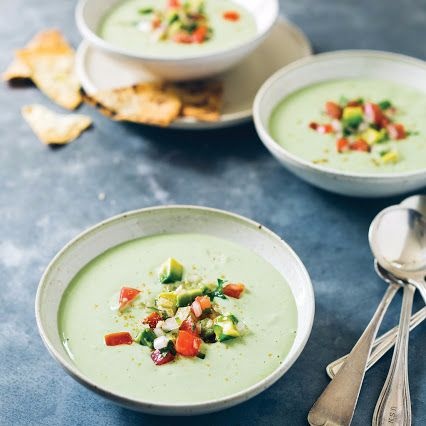 Greek yogurt, frozen yogurt, yogurt in smoothies—everyone's crazy about yogurt these days. As Cheryl Sternman Rule says in her new book Yogurt Culture, "No longer is yogurt a fuddy-duddy, hippie-dippy half-solid relegated to 1970s commune culture." Yes, yogurt is in the midst of a makeover, and it's high time it moved beyond the granola bowl.
Yogurt can be simply defined as fermented milk; the cooking process combines warmed milk with bacteria to create that distinct sour taste and funky flavor. Thanks to this flavor, and its creamy texture, yogurt works well in a lot of cooking applications and can be used most times buttermilk, sour cream, or crème fraîche is called for. From creamy dips to lusciously moist cakes to succulent fried chicken, there are tons of ways to incorporate yogurt into your cooking.
But first some general yogurt tips:
Full fat yogurt is best, for both cooking and eating, because more fat means more flavor.
We opt for unsweetened, unflavored options, because, heck, why let someone else season your food when you can do it yourself?
Low-fat and no-fat yogurts will work for cold applications, like spiced yogurt dip orcoleslaw, but for baking, you want all the flavor and richness from the regular version.
Strained and Greek-style yogurt is okay to use as well, but a) thin it out with a little water or milk to get that traditional yogurt consistency and b) heat it low and slow, so the yogurt doesn't curdle and separate.
Now go pick up a tub and get cooking.
WHISK IT INTO DIPS & DRESSING
Are you a big chips-and-dip fan? Instead of sour cream or crème fraîche, sub yogurt into your favorite recipe for a tangy, creamy bite. Add a ton of herbs for something like green goddess; mix in garlic, cucumber, and dill for a Greek tzatziki; or whisk in minced jalapeño and cilantro for a spicy yet cooling sauce. (If you're feeling super motivated, you can even make your own chips.) Bonus: you can easily turn that yogurt dip into a creamy salad dressing by thinning it out with a little water/vinegar/oil to create a creamy dressing.
ADD IT TO SOUP
For an instantly luxe soup, stir in a little yogurt. This works particularly well for cold soups, like gazpacho. In her new book Yogurt, Janet Fletcher combines the much-loved flavors of guacamole into a chilled soup, using a combination of buttermilk and yogurt for body and refreshing flavor. You can also kick up the heat—while still keeping the soup cold—by upping the spice, like in this curried tomato soup.
For hot soups, you'll need to temper the yogurt to avoid curdling. Add a small amount of warm-but-not-boiling soup to a bowl, whisk in the yogurt, then add the mixture back into the soup. Try the technique out with this springy chickpea soup, which uses both yogurt and egg yolks to help thicken the vegetable broth base.
LET IT MARINATE
Thanks to its calcium content, yogurt is a great ingredient for marinades, because it helps break down the enzymes in meat, adding flavor and moisture while tenderizing. Instead of buttermilk (or when you don't have any buttermilk), use yogurt for fried chicken or lamb.
Yogurt can also make a delicious sauce. Instead of a compound butter or cream sauce, drizzle a yogurt mixture over your steaks and roasts. This is particularly delicious with spice-rubbed meats—like this lamb stir-fry—as the yogurt provides some cooling relief to the heat.
GUZZLE IT DOWN
We're big fans of the smoothie, whether it's a vitamin-packed mixture after a workout or inbowl form first thing in the AM. For a creamier version (plus higher protein), sub out the milk in your go-to recipe for yogurt. Or try out the traditional Indian lassi—a shake-like drink that can be made with fruit, spices, and/or herbs.
KEEP IT SWEET
Fletcher also recommends yogurt in sweets. "It adds a tender crumb to cakes and lemony lightness to sorbets," she explains in Yogurt. She suggests using it in this golden yogurt cake; you can also substitute it in cake, muffin, and sweet bread batters instead of sour cream. Yogurt also works in ice cream or sorbet batches; make your own frozen yogurt by adding in water and sugar syrup. Or keep it simple and serve it with roasted fruit for a light dessert.