How would you like to live in a Smart Home?

Image credit: @artbytes via bitlanders

Imagine this.

You wake and the morning, and by the time you get to your kitchen, a hot cup of freshly brewed coffee is already waiting for you.

Image credit: http://phandroid.s3.amazonaws.com


By the time you finish your breakfast, the water is heated with just the right temperature for your shower.


Just before you leave, your refrigerator sends a reminder to your smartphone that you are almost out of eggs.


You and your family had dinner outside with some friends and came home a bit late. You are not worried because some of your lights will automatically turn on when the sun went down. When you entered through the front door, your home entertainment system played a piece of relaxing music.

This is just an example of what you can experience when you live in a smart home.

Interact in this CBLOG and find out what a smart home is and what you need to live in one.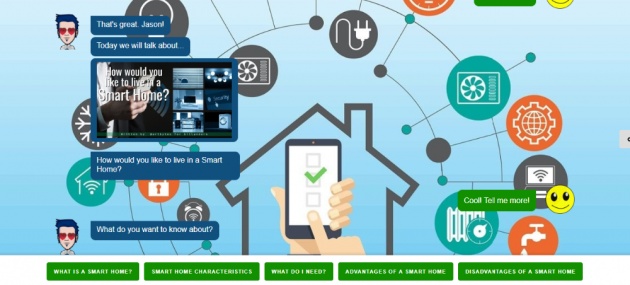 Image Credit: C-Blog: How
In this C-Blog you will learn:
What a smart home is
What do you need to have a smart home
Advantages and disadvantages of having a smart hom
°~°~°o 0 O 0 o °~°~°~
I hope you enjoyed this interactive c-blog and learned something.
Thanks for chatting.
~°~°~°o 0 O 0 o °~°~°~


If you like this chat-blog, please share.
~°~°~° o 0 O 0 o °~°~°~

John Reynold Loberiza (a.k.a @artbytes) is a freelance graphic artist, web developer, and blogger. He is also a licensed Financial Adviser under Insular Life.
The content of this blog post is the author's original work. Proper credit is always given to the respective sources of information and images. Please feel free to check out my other blog posts: http://www.bitlanders.com/Artbytes/blog_post
If you have any reactions or inquiries regarding the subject of this post, please write it in the comment or send the author a private message.
°~°~°o 0 O 0 o °~°~°~
Join Bitlanders
If you are not a member of Bitlanders yet and you are a content creator- a writer, blogger, photographer, an artist or a hobbyist, you can earn from your creations (blog posts, photos, artworks, or videos) by uploading them in Bitlanders.
You can join Bitlanders by clicking this link-> http://bit.ly/Join_bitlanders