Hi my all friends, my brothers and my all sisters... I am once again come with new tutorial. Hope you will like it and also share it.

So if you can work on bitlanders and others BTC websites so you are absolutely worry for your BTC bank account and other BTC account. You can ask too many people for this but some people tell you're about this and this few peoples also do not tell you full information about this. But I am your sincere friend so I am telling you all about it.
For this tutorial you are followings account and others thinks required so avail this elements/

1) Your own email address
2) Your own mobile phone

If you have these so you can carry on but if you have not so please get these and then read this.
So here I am teaching you by HD images and my poor English language (hahahah).
Step# 1

So guys first step is open your computer then open your browser. After you can open your browser you can open google.com or other search engine whatever you want.


Step# 2

Now after open google.com enter this term "coinbace register" and after type this hit the enter button. You can see too many result but relax do not confuse and only select 2nd result. And click on it. Please see image.


Step#3

When you click the result wait for loading the page after fully loud page then follow this.
i) In 1st box enter your name for example "ALI". And in 2nd box type your last name for example "khan".
ii) In next line you can see one box in this box you can type your email address.
And at 3rd line you can chose your strong password which is contain big and small both alpha bate and also one number and one symbol.
iii) And now after type all things you can click on tick the I agree term…… and click on "create account" button.


Step# 4

After above step you can see this type of window. So go to your email address account which is providing you above.


Step# 5

Now you can see the email from coinbace open it and click on "verify my email address"


Step# 6

Now you are redirect to the coinbace website now you can see an message in green box. Where message is "your email is now verified. Thank you" and if this message is not appear then you can again open the email and click on "verify my email address"


Step# 7

Here click on "send button" to send the bit coin to others. And click the "request button" for requesting to others people to send you bit coin.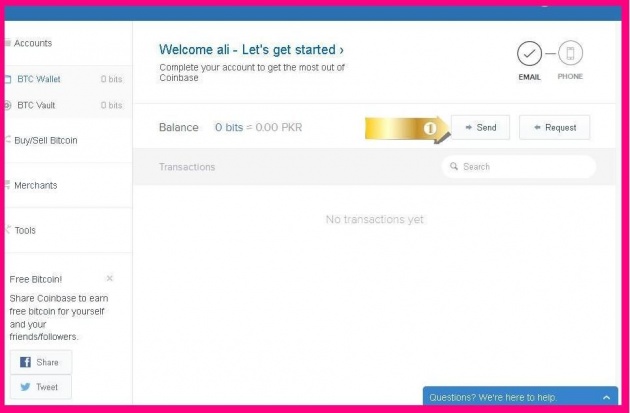 Step# 8

In account summery you can see this icons. Its means that your email is verified but your mobile phone is not verify and it is important for your wallet security... so click on mobile phone icon.


Step# 9

Now you are a new window here you done these steps.
i) Select your country.
ii) Enter your phone number or mobile number.
iii) Now click on "next" button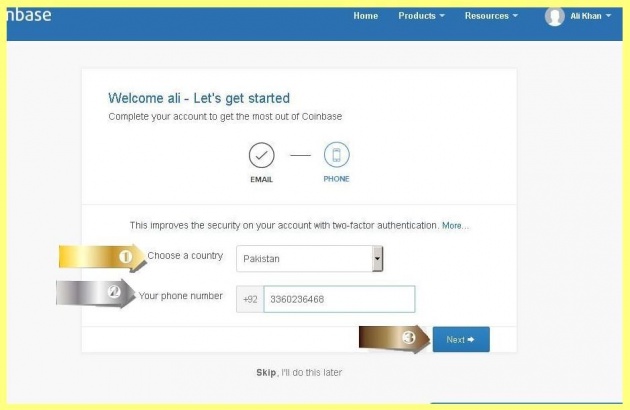 Step# 10

Now you are receive the SMS on your phone. And in SMS you receive code. Enter this code in box. And click on "verify phone number" button.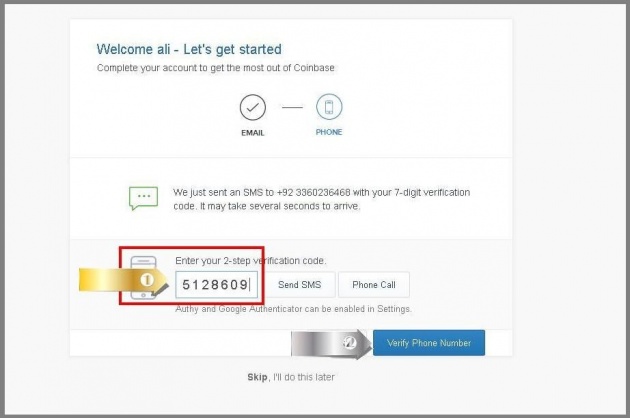 Step# 11

Now you can see this message. "success" so that means your phone is now verify from coinbace. And now you can buy bit coin.

Step# 12

Here is the great news is this. Please read the following.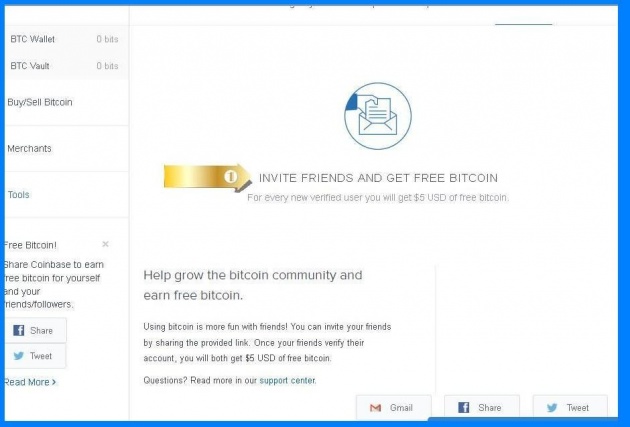 So guys today you are make your own bitcoin wallet and now you can also earn from your friends who join coinbace from your link and verify their account. So you both mean you and your friend get 5$ of bit coin. That great.
Ok friend I am going take care.