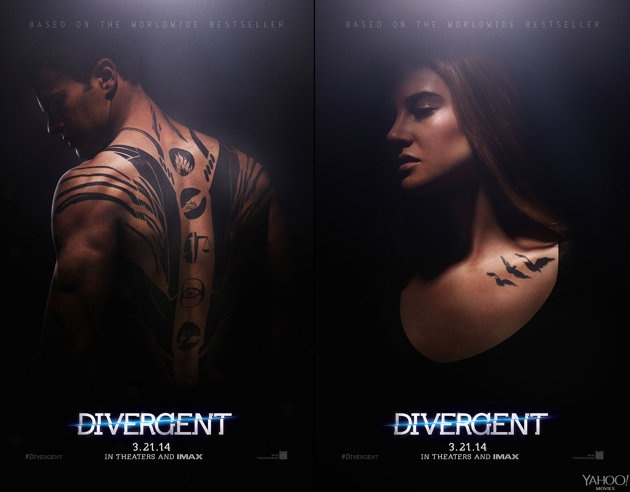 Want to win a walk-on role in the "Divergent" sequel "Insurgent?" How about a free download of the book "Divergent?" All you have to do is buy advance tickets of the action adventure "Divergent" that will go on sale beginning Tuesday, March 4th at 12:00 p.m. EST/9:00 a.m. PST.
Moviegoers who buy advance tickets before the film's opening on March 21st on Fandango or MovieTickets.com will have the opportunity to be entered in to a sweepstakes for the chance to win a walk-on role in the film's sequel INSURGENT. Additionally, those who purchase tickets online through Fandango and MovieTickets.com on the first day they are on sale – March 4th only – will receive a free download of the book Divergent.*
I can't wait to see the movie! I will be interviewing the cast next weekend so I'll keep you posted! Meanwhile, here's the rest of the press release:
DIVERGENT will be released in theatres and IMAX® nationwide on Friday, March 21, 2014. The film stars Shailene Woodley, Theo James, Ashley Judd, Jai Courtney, Ray Stevenson, Zoë Kravitz, Miles Teller, Tony Goldwyn, Ansel Elgort, Maggie Q, and Kate Winslet, and is directed by Neil Burger from a screenplay by Evan Daugherty and Vanessa Taylor.

DIVERGENT is a thrilling action-adventure film set in a world where people are divided into distinct factions based on human virtues. Tris Prior (Shailene Woodley) is warned she is Divergent and will never fit into any one group. When she discovers a conspiracy by a faction leader (Kate Winslet) to destroy all Divergents, Tris must learn to trust in the mysterious Four (Theo James) and together they must find out what makes being Divergent so dangerous before it's too late. Based on the best-selling book series by Veronica Roth.

In the sequel to DIVERGENT, INSURGENT continues the journey of Tris Prior as war now looms. Sides will be chosen, secrets will emerge, and to uncover the truth about her world, Tris must be stronger than ever because shocking choices and sacrifices lie ahead. INSURGENT is scheduled for release on March 20, 2015.

The Divergent book series was written by Veronica Roth and has already sold more than 15 million copies worldwide. The Divergent books have topped the New York Times best-seller list since the first novel was published by Katherine Tegen Books, an imprint of HarperCollins, in April 2011, and the three books ranked one-two-three on the USA Today best-seller list for 2013. Divergent was written by Roth while she was earning her undergraduate degree at Northwestern University. She followed her first novel with Insurgent, which also rose to #1 on the New York Times Best Seller list and Allegiant, the third book in the series, set a HarperCollins record when it was released in October 2013.