Mexico's president has warned that Hurricane Patricia still poses a threat of floods and landslides as it brings heavy rain to parts of the country.
President Enrique Pena Nieto said Patricia - the strongest storm recorded in the Americas - had so far caused less damage than feared.
The US National Hurricane Centre said the hurricane hit as a Category Five storm - the highest classification.
It is now "rapidly weakening" over Mexico, the centre said.
The storm touched down in western Mexico on Friday, bringing destructive winds and rain, but heavy damage appears to have been avoided.
The NHC said winds had decreased to 120 km/h (75 mph) as Patricia rapidly weakened over land, making it a Category One storm, and the centre forecasts that it will dissipate by Saturday night.
While still over the ocean, Patricia had winds of 325 km/h (200 mph) at its peak, which made it the most powerful hurricane ever recorded in the Western hemisphere.
Thousands of residents and tourists on Mexico's Pacific coast were evacuated and moved inland.
Patricia is now moving north-northeastward inland over northern Mexico.
The states of Nayarit, Jalisco, Colima, Michoacan, and Guerrero are in particular danger from the high rainfall expected on Saturday, the centre says.
Total rainfall of 20-30cm (8 to 12 inches) - with isolated maximum amounts of 50cm (20 inches) - is "likely to produce life-threatening flash floods and mudslides," it added.
"The first reports confirm that the damage has been smaller than that corresponding to a hurricane of this magnitude," Mr Pena Nieto said in a televised address.
Mexican federal police said only "minor landslides and fallen trees" had so far been reported in Colima.
But the government has warned that ash from the Colima volcano, which has become increasingly active this year, could combine with heavy rainfall to trigger huge mudflows.
Some 400,000 people live in vulnerable areas, according to Mexico's National Disaster Fund.
Hurricane Patricia: As it happened
Key questions about Hurricane Patricia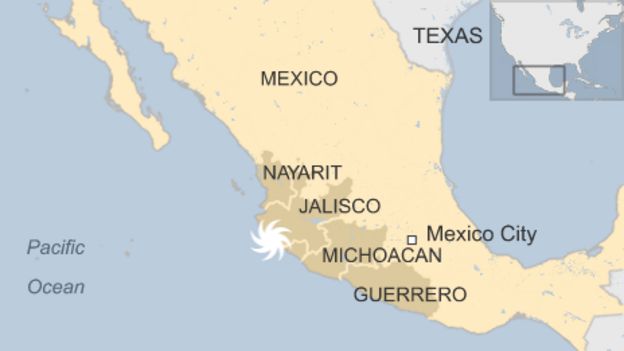 Patricia reached land in the Cuixmala area of the western Jalisco state, some 85km (55 miles) from the port city of Manzanillo.
The US National Hurricane Centre said Patricia hit the coast with winds of 265km/h (165mph).
At one point before landfall, the hurricane's winds had been strong enough "to get a plane in the air and keep it flying", World Meteorological Organization spokeswoman Claire Nullis said.
Video filmed in the port city of Manzanillo shortly before the hurricane struck showed trees bending in severe wind.
While sheltering with his family in Manzanillo, Jacob Lozano Salazar told the BBC: "We're all safe but it's really ugly here on the coast."
Residents had stocked up on food and other supplies, while shop owners boarded up windows.
BBC Earth explains: What is a hurricane?
Jalisco is home to the resort town of Puerto Vallarta, which appeared to have escaped the worst of the storm.
Police patrols in the resort urged people to leave the shorefront for safer areas at least three blocks inland, while loudspeakers ordered hotel residents to evacuate.
The town's airport, along with two others in the path of the storm, were closed.
Areas of southern Texas, already suffering with heavy rains, are likely to be affected as the remnants of the storm move northward.
---
Some of the most powerful storms in recent years
October 1979: Typhoon Tip - largest and most intense tropical cyclone ever recorded with wind speeds of 305km/h (190mph), killed 99 people in its path across the Pacific, mostly in Japan
August 1980: Hurricane Allen - strongest Atlantic hurricane by wind speed, with sustained winds of 305km/h, caused nearly 300 deaths in Haiti and severe damage in the US state of Texas
April 1991: Bangladesh cyclone known as 02B - at least 138,000 died and up to 10 million made homeless after a 6m storm surge
October 1991: Odisha or Paradip cyclone - the strongest ever recorded in the northern Indian Ocean, killed about 10,000 people, mostly in India
August 2005: Hurricane Katrina - killed at least 1,836 people after striking US states of Louisiana and Mississippi and was the costliest storm in history, causing $81.2bn in damage (with wind speeds of 280km/h)
October 2005: Hurricane Wilma - most intense tropical cyclone in the Atlantic basin with wind speeds of 295km/h, killing 87 people on its path through the Caribbean and Gulf of Mexico
November 2013: Typhoon Haiyan - the strongest storm recorded at landfall, with one-minute sustained wind speeds of 315km/h, it devastated parts of the Philippines, killing at least 6,300 people