Image credits: maps.google.com
Earlier this month while going through bitLanders' users profile, I bumped into @adgoggleko's timeline and found her post about being a local guide with Google.
Well aside from her yummy microblogs showing fish soups and avocados, she also have a passion and the patience for every single mobile app that can possible let her earn funds and bitcoins most specially. But this specific perk she got from being a Google local guide had got me real curious about it. To some, getting a 1TB amount of Google drive storage may not be as amazing as my husband and I feel but it's huge data storage and we want to also have the same!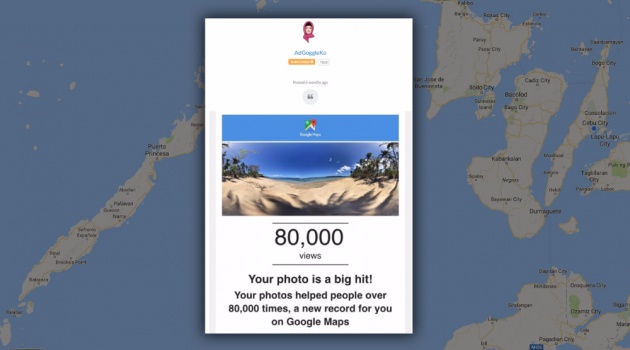 Image credits: adgoogleko via bitLanders.com
And again, if you are not aware, an external hard drive with 1TB storage is worth at least Php 3000 in the Philippines. That's almost 100$ and being a physical drive, it is prone to damage and destruction but having an online drive would be awesome specially if it has 1TB storage! So, that was what inspired me to become a Google local guide too! Thanks to @adgoggleko for being an inspiration!
First, Google Maps
Image credits: searchengineland.com
I don't need to explain further what Google Maps is because it is very famous that almost all devices has it. Perhaps the most used Maps application at this moment that most driving service applications also use it as a third party app to provide their drivers the route directions for specific requested directions.
Indeed Google Maps has realized a lot of possibilities in terms of functionalities. One of my favorite functionality is their Street view. It makes it possible for someone to be in a location far far away without moving a bit from his or her computer table. I could stay walking at the streets of Paris like day dreaming that I was there looking up to the Eiffel Tower with glittering city lights. I hope you can also try it out as it is really amazing!
I tried using the Street view as well to check places in Japan! I was in awe to see Sakura trees in full bloom like I was personally there! It seems like the ability to move to other places like the anime characters' ability like Goku of the Dragon Balls is almost becoming to life in the likes of the Street View. It became a tool for people to be able to move around and witness the place without personally going there. I don't know about you but that is just amazing for me!
Video credits: Google Philippines via YouTube.com
Another very important Google Maps feature is the Directions. As my husband and I love to travel, we need this function to look out for places and help us get there. It is our helper in times when we have to move from this point to another. Truth is, in all our travels, we have used Google Maps' Directions specially when finding out how far this place is from where we are located and such.
There are still more things about Google Maps than just the Street View and Directions. One of the things that is great about it as well is the Google Local Guide.
What Does Google Local Guide Mean?
Image credits: Satyajitsinh Gohil via plus.google.com
Google's Local Guide is a community of explorers who share tips, photos, and new places on Google Maps.

Information reference: maps.google.com
Because of the need to add more information into Google Maps, this community was needed. A community consisting of commoners adding photos, necessary details and reviews for certain specific places. Adding places is an important part as it fills up the maps and adds more content into the application.
Being a local guide means the ability to add these contents:
• Review a place •
• Rate a place •
• Add photos to a place •
• Answer questions about a place •
• Edit a place's information •
• Add a missing place •
• Check facts about places nearby •
• Respond to Q&As •
When adding information on these items listed above, user gets points. There are certain levels being a local guide and these levels open up special perks and Google features. I actually wonder how long will I have to add information before I could get the 1TB data storage online but I will be very patient with this.
How I Became a Local Guide?
It only boils down to two simple steps which I have made a story below.
Step 1. Google Account Required.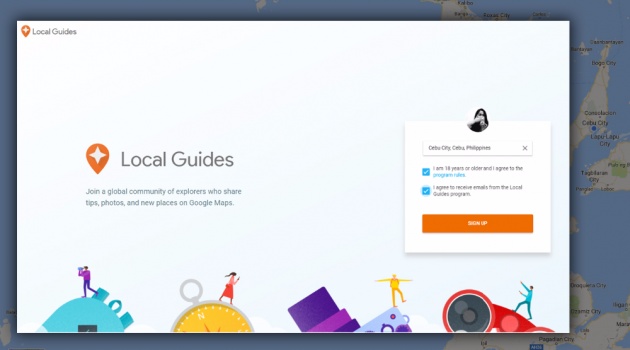 Image screenshot credits: Jean Beltran-Figues via bitLanders.com
I believe everyone has a Google account but if you don't have one, then it's time to make your first. This is required to get access to Google Maps Local Guide. I have my own Google account, in fact I have three which is very unnecessary but I know I have to have the other accounts for personal reasons.
Step 2. Just Be a Local Guide.
I went ahead and became a Local Guide by going to Google Maps, pressed the option bars and click on the Your Contributions option and it redirected me to the Local Guides page.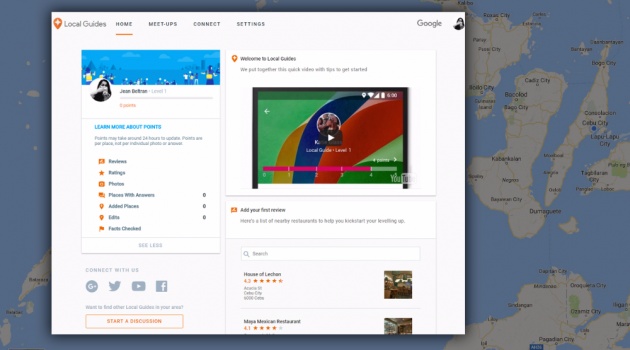 Image screenshots credits: Jean Beltran-Figues via bitLanders.com
Truly, this is the easiest. There are certain guidelines in becoming a local guide. Such policies are also present to make sure that the reviews given are real and not biased. Any reviews which violets the content policies will definitely be removed.
Why I Like Being a Local Guide?
While adding reviews today and photos as well as answering certain questions, I realize that it is actually nice to be a local guide. Why? Here are my reasons:
• First, it gives the user an opportunity to publish their content online with just reviewing a certain place may it be a restaurant, a resort, hotel or whatever there is. Each town, province, city has these establishments so sending your reviews will help not only the users who will soon be visiting these establishments but also the business owners.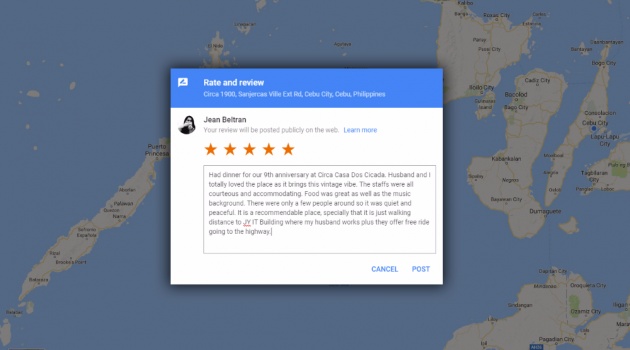 Image screenshots credits: Jean Beltran-Figues via bitLanders.com
• Second, there are perks included. These perks are given in each level and since I have only reached level 4 (hooray!), I got one Google Play perk which is a discount on the Google Play Movie Rental. Now it is not only giving me perks but also introducing me to the other products provided by Google. This is actually my first time to learn about Google's Movie Rental.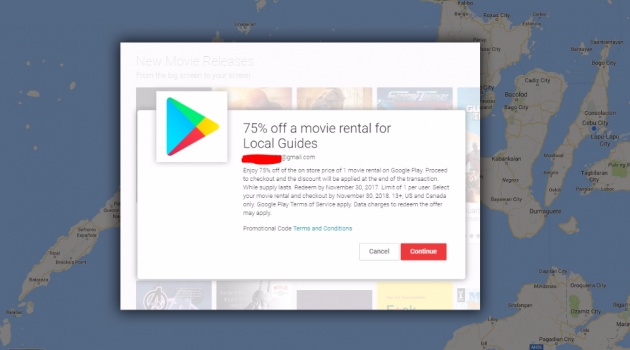 Image screenshots credits: Jean Beltran-Figues via bitLanders.com
• Third, it makes a timeline and markings of the places I have visited. Each time I open my Google Maps app on my phone or the computer, it provides me with the places I have reviewed thus signifying that I have been to these certain places.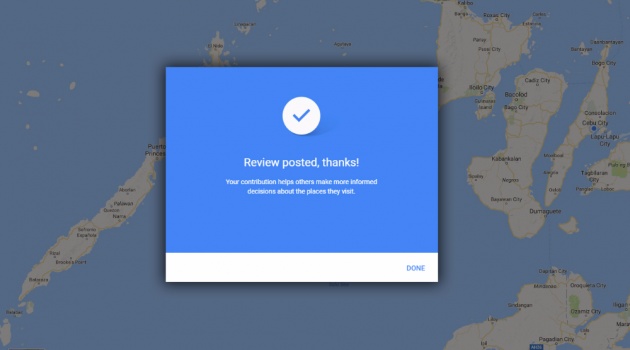 Image screenshots credits: Jean Beltran-Figues via bitLanders.com
• Lastly, it is a fun experience! Adding photos and reviews somehow is one of my passions. It is therefore a brand new medium for me to showcase the photos that my husband and I take in each travel and places we get to visit.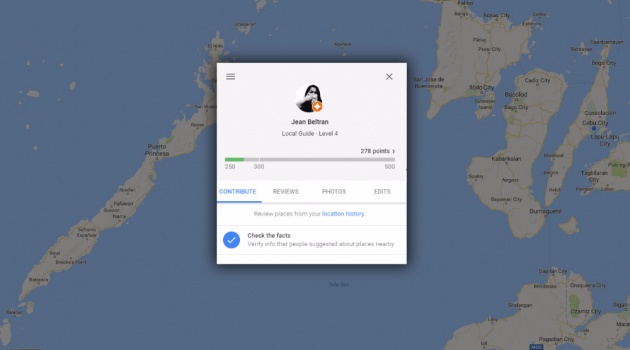 Image screenshots credits: Jean Beltran-Figues via bitLanders.com
Addition to the list, being a local guide is an easy task. It only requires a few typing and little effort of adding photos and that's it. This can be done by anyone all over the world as long as one has a device with connection to the internet!
You can be one too! Join the community now!
Video credits: Google Local Guides via YouTube.com
Best regards,
Jean Beltran-Figues