Video credit: Sky High Advertising via YouTube.com
If there's one thing that I won't forget about the video which I had just recently watched regarding Querlo, that would be its tag line which is:
"Meet your customers"
What does that mean for me? I am not a business woman, just yet but the tag line which Querlo had created for me sounds like getting to know more about any business' clients or customers. I may have a very little knowledge about this specific topic about Querlo but I have tried to digest the things I have learned from reading and watching information about Querlo. The information might be overwhelming and I am afraid I won't be able to relay the info properly but I am trying because I want to help the team in spreading out the benefits and the reasons why every business should take advantage of it.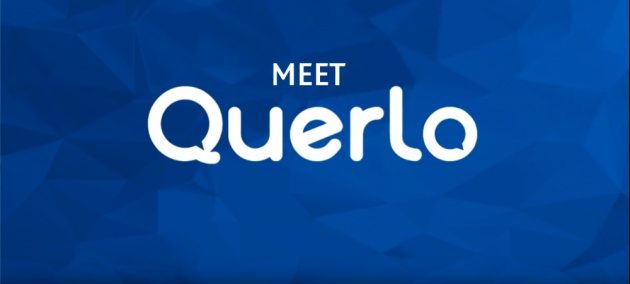 Screengrab photo credit: Sky High Advertising via YouTube.com
I had posted a blog earlier concerning Querlo as well. You may check it in the link below:
In that blog, I had managed to share about how surveys become fun with the use of this technology. I did share what surveys are and also provided my own insight on why surveys are important to businesses. Believe me or not, I don't know why I am writing another blog about Querlo when I have little knowledge about it. But since this has been started, I will finish this blog with all my might, hopefully I can give it justice.
Meet Querlo
I had given this statement on the previous blog but I guess I have to write it again in here so this blog can stand alone without me referring the readers to the previous blog. Here's a simple definition of what Querl is all about:
Querlo, a chat bot with a human touch, a brand new technology that allows data to be collected in an interactive way, can greatly impact the dynamic of your average user.

One of Querlo's primary functions, for example, is to create a dialogue that helps identify the user in a more wholesome manner then a traditional surveys do. This format is similar to any chat one might engage in on social media, and it increases the amount of collected data by 400%.

Depending on questions asked reader's age, gender, hobbies, interests, politics, and so much more can be understood. Bloggers, one of the countless professionals Querlo can help, can gain an understanding of who their audience is, and increase web traffic and users time on their website.
But a simpler phrase for it is that it is a chat bot which gives more humanly questions for more efficient surveys. That being said, there are lots of advantages on why Querlo is the best tool to use in any business survey. Aside from the options to optimize its user interface, the user can also add whatever questions he has for the survey and note that this generated chat survey can be added on different platforms, bloggers can embed it to their blogs and can also share it via any social media sites.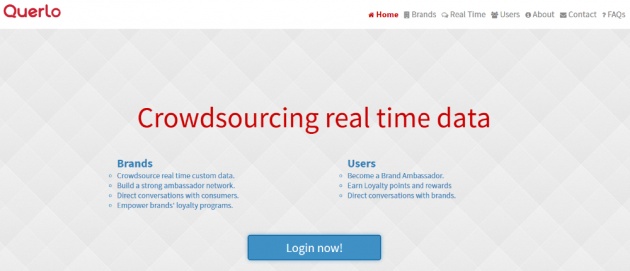 Screengrab photo credit: Querlo via Querlo.com
Would you believe that? Well, if not check out this chat survey I had added within this blog, this is all about fashion:
How I Made My Own Querlo?
If you are a bitLanders user like me, you should know that Querlo is a technology developed and owned by MTI USA inc, a company established in New York in 1995, operating in Technology, Fashion and Realestate. MTI has offices and partnerships in USA, Italy, Taiwan and Dubai. Its founder is Francesco Rulli.
As you can see, Querlo and bitLanders are like sisters born from the same mother company. So it is just fair that we as part of the bitLanders community would be sharing about its sisters.
With the help of BitMiles Technology, I found the step by step tutorial on how to make a survey. I had followed it myself and here's how I had created my first Querlo chat survey:
1. Go to Querlo's website and login.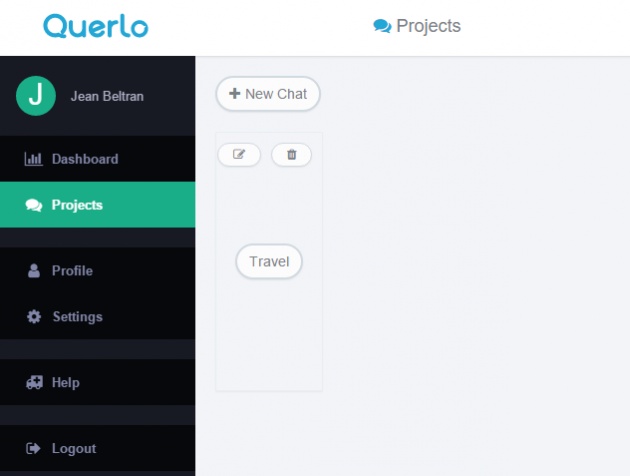 Screengrab photo credit: Querlo via Querlo.com
Login to Querlo.com website, if you are a bitLanders user already, the same login credentials can be used to sign in but if you are not yet a bitLanders user, you may sign up first. This is how the website look like:

Note: There's quite a problem with signing up from the Querlo website as of the moment. Whenever you go to the sign in page, there's no option to sign up just yet. I believe that since it is still new, that option is not yet enabled. To overcome that, one can create a bitLanders account first and that should fix the issue.
2. Go to Dashboard and create your own survey.

Screengrab photo credit: Querlo via Querlo.com
Once you have your account set up and ready, I assume you are now logged in and so click on the dashboard option. This page will allow you to create your survey. I did go through this step too and here's my customization option screen for the survey.

This is where I had a hard time selecting which shade should I select. It seems indeed confusing if you are a lady, I almost want that all my favorite colors be included in the chat but anyway, I ended up with the pink ones.
Plus, I had added a background for the chat survey. I mentioned on the previous blog that one of my favorite reasons why it is a good technology is the option to customize the background image with our own. So I did add my own photo in there.
3. Create.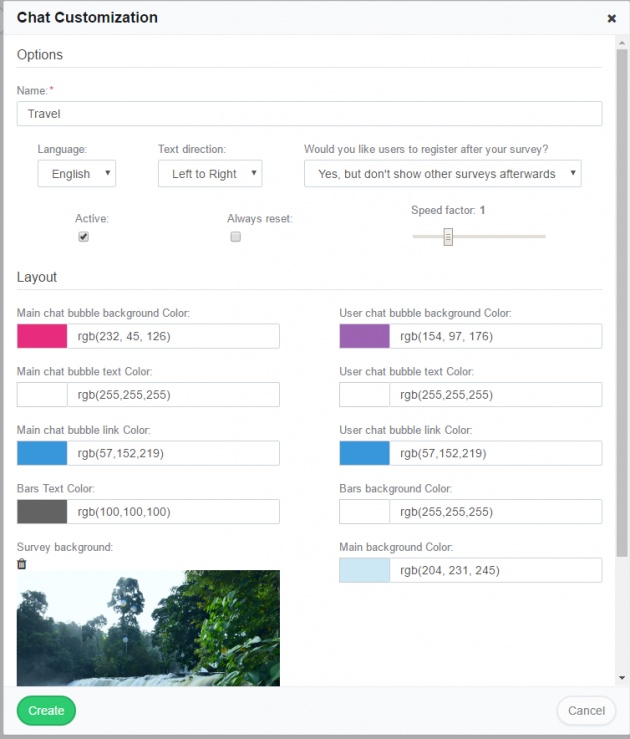 Screengrab photo credit: Querlo via Querlo.com
After all the customization, you can now press the Create button! After pressing this, it will navigate you back to the Dashboard page where it now lists your projects. Projects are considered the specific surveys you had made yourself. Here, you'll have options to either preview or delete the project. Plus it also has the share button at the same time!
4. Add flowchart.
I thought the customization of the interface until I reached the projects page because this is where the real fun is at! I got to meet again the flow chart! Guess what, it's been like years since I had seen a flowchart, well I just realized I had seen one from from two years ago when I first started my full time job in Gemango as an eMail support. My boss showed me the flowchart of how the support should work with the engineers and developers.

Screengrab photo credit: Querlo via Querlo.com
I was a bit confused first as I have not really made my own flowchart for years since college but I am glad I was able to push it through, well with the help of my husband! This page gave me the option to add images, questions, commands, links and other stuffs.
There's one more thing that I really appreciate when creating the questions and adding specific images and links. It also has the option to add emoticons! It was indeed a cute option: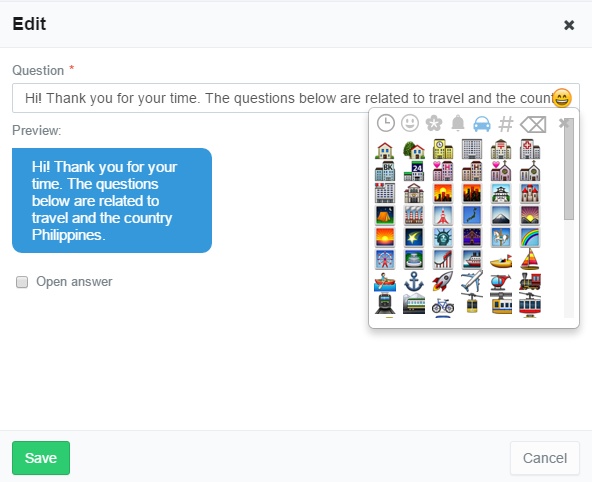 Screengrab photo credit: Querlo via Querlo.com
5. Preview.
To give you an overview of how the project is doing, you may press the Preview button at the right hand side, this opens up a new web page and shows how the survey chat looks after adding a few images and questions.
Here's a quick view of my own created one: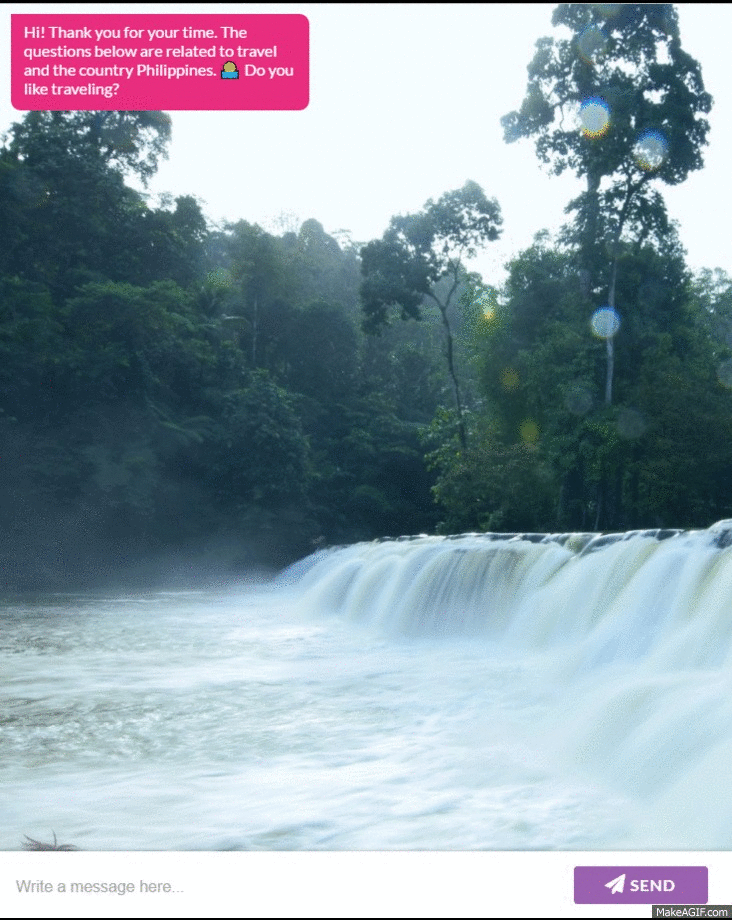 Screengrab Gif credit Querlo via makeagif.com
6. Share and embed!
After adding a few information on my own created survey chat, there's an option to share it to the world! How great! I was really hesitant to add it here but I guess I need to do so to share to everyone what I had created. I never thought that I would have fun during the entire process of creating my own chat survey. Thanks to Querlo for that wonderful experience.
Of course I can also send the direct link of this chat to email and websites. I am embedding the short question and answer portion in the above box.
With this, every business brand would then be able to gather the data needed to help their businesses. I do believe this is not just a survey but it is a fun experience to answer and receive follow up questions like someone is really asking me in real time! Here are the other things that the Querlo site had listed as how this tool helps:
- Increase your brand engagement.
- Connect your company with its brand ambassadors.
- Enable brands to crowdsource real time custom data.
- Build a strong ambassador network.
- Establish direct conversations between brands and consumers.
- Educate consumers and employees.
- Empower brands' loyalty programs.
To be honest, before I started this blog, I thought I would be out of words since I know nothing or I know only a little of the Querlo technology. But after going through the process of creating my own questions, note those were only simple ones though, I had a great time! I even didn't notice that time was running!
I greatly recommend every bitLanders user should try and create their own survey chat because I assure you, you'll have a great time and will have fun while doing it. Also, it will make you think on what questions to follow and things like that.
More information about what Querlo is can be found from the website and the step by step assistance as well can be located in this Youtube video:
Video credit: BitMiles Technology via YouTube.com
Regards,