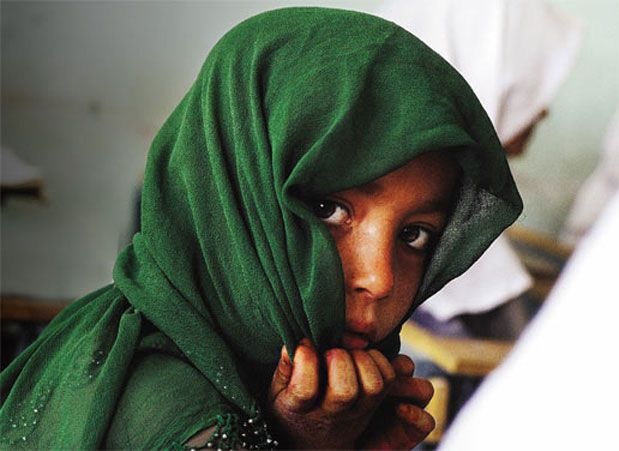 One day while I was going home from school I noticed a tall man with a long beard walking behind me. The next day, when the same man followed me, I became suspicious of him. Why was he staring at me as if I had done something wrong? On the third day, he walked toward me and stopped me. My body was shaking with fear. He said, "I will kill you if I see you going to school and leaving your home without a burqa." I couldn't say even one word to him. He ran away and disappeared into a side street.
I was shocked by his warning and weeping when I got home. My mother asked, "What happened to my angel, why is she crying?" I told my parents what happened. They consoled me and told me not to lose hope for getting an education.
I had struggled since starting school in Kandahar after my family returned from Pakistan when I was in the seventh grade. We had lived in Pakistan for 15 years during the Taliban regime in Afghanistan. When I first went to school in Kandahar, I didn't know anything about the Pashtu language. When I took the Pashtu book in my hand for the first time, I tried to read the name of the book. The book was called "Pashtu," but I read it "Panbathu" because in my native language of Dari "sh" is pronounced "nb." Afterward, I spent days and nights learning Pashtu so I could get my usual high grades.
When I was in ninth grade, I studied English and computers after school. Every day I returned home from school alone because my classmates had already left; they were not interested in studying the English language. The girls studying in Kandahar schools didn't believe they should complete their education; they believed by the eighth or tenth grade, they should get married and be a slave for their in-laws. They got these ideas from their families.
When we first moved back to Afghanistan, I was curious to learn about the situation for women—their cultural, environmental, and educational status. But when we arrived in the hot, dusty weather of Kandahar, I found myself in a totally different world. I didn't see any women without burqas or men without long beards.
After the day the old man threatened me, my father picked me up from school and took me home on his way to work. A month later, after my father dropped me at home, a man stopped my father's car and commanded him to leave Kandahar and his job. If he refused, the man said, he would be killed.
My father informed the police, but they didn't investigate. Days passed, my father continued his job, and I continued studying until one day en route to the office, a red Corolla suddenly rushed toward my father. Two people with weapons came out of the car and stopped him. "This is the final warning for you to stop your children from going to school and working with foreigners," the men said. "We will give you one last chance and one last day in Kandahar. If you appear here tomorrow, it will be your last day of life." As we had no chance to live in Kandahar, we packed that night and left Kandahar early the following morning.
Now I am in my twenties and am studying independently. I put all of my concentration into my work. I don't know about the rest of my life—whether I will be permitted to complete my studies or will be a housekeeper for my in-laws—but I do know that life is beautiful and smiling when we have the freedom to live on our own.
According to Islam, getting an education is a basic right for every man and woman. Unfortunately, it is a fact of life that mostly Afghan women are not allowed to get an education, and the control of our lives is often in the hands of men. I wonder why women bow in front of all this stupidity in male-dominated countries like Afghanistan.