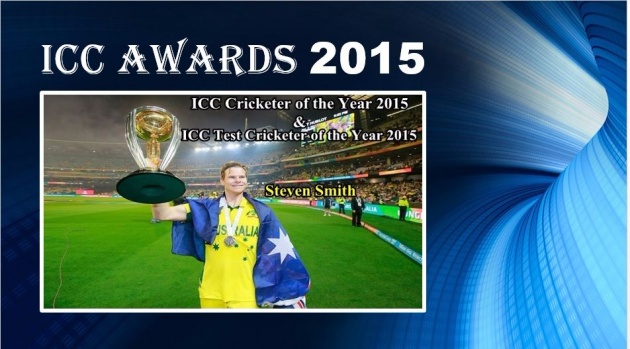 Source: Personal Edited
Awards are provided to the winners of any competition. So, today I am taking about the award winners of International Cricket Council 2015 Awards.
International Cricket Council known as ICC hold a award ceremony last year in 2015. As it is a regular practice and ICC has been organizing such ceremonies on regular basis to give awards to the players who play round the year and display their talent and guts at international level. This is good gesture by the ICC to encourage players and to keep them in touch to their game by providing them a motivation through such courageous meetings.
Total ten (10) nos. of awards were given in this ceremony and many players participated in this event. The best player or cricketer of the year award was won by Steven Smith who was part of Australian team that has won 2015 World Cup under captaincy Michael Clarke. So, I will discuss about him as well in this blog. Other remaining rewards were also be discussed here so keep reading it my dears. Lets start !
But before to start I would like to bring into your kind information that these awards were being awarded to the players who performed well during the period of September 2014 to September 2015.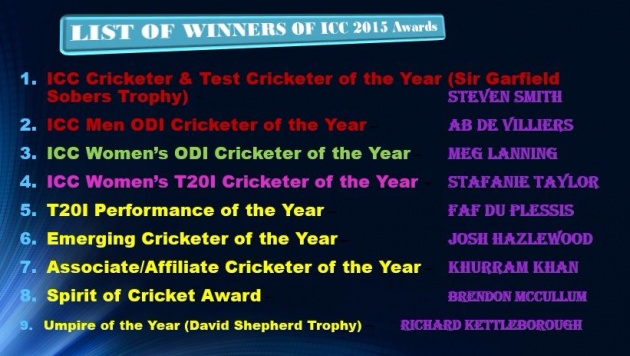 Source: Personal Edited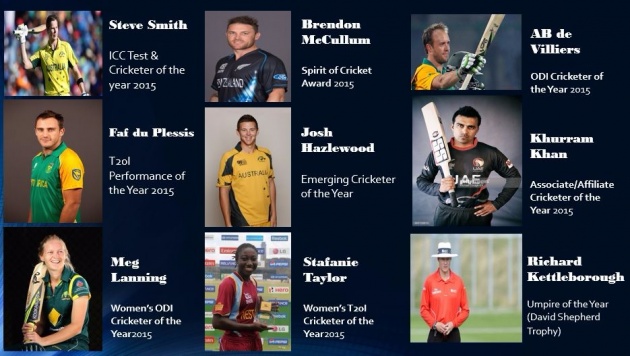 Source: Personal Edited
ICC Cricketer & Test Cricketer of the year:
on the day of Wednesday December 23, Steve Smith a young a very talented cricketer registered himself as the winner of such Award which is one of the best and most worth award in ICC named as "Sir Garfield Sobers Trophy". He was announced the winner of ICC Cricketer of the year and hence Smith became the 11th Player of the world to win this award, as well as he became the 4th Australian to achieve this trophy. It was an honor for him and also for the pride of country. Smith played very well round the year and hence became a strong nominee for this award.
As Smith performed extraordinarily during the voting period of September 2014 to September 2015 in Test cricket also so he won the award of Test Cricketer of the year. He got 1734 runs in 13 matches (25 innings) and he achieved these runs at the average of 82.57 which was exceptionally well from such a young player.He scored seven centuries during this period. After receiving these award he was feeling very honored and he expressed his feelings by tweeting a message on tweeter as like this
" Given that there are so many great players around the world, I'm incredibly honored to receive these awards"
Source: you-tube
ICC Men's ODI Cricketer of the Year:
AB DE Villiers is one of my best player in cricket. Because I love to watch him batting. His style of hitting ball is exceptional. This great cricketer is from South African team and he is also the captain of South Africa. He won the title of ICC Men's Of ODI for the second successive time. His brilliant performance took his team to the Semis of World Cup 2015. He played nice cricket for the whole year and made many runs. Some innings were so good that I love to watch those again and again. His innings from World cup 2015 are mind blowing, where he hit fastest 50, 100 and 150 runs. He played a memorable innings against West Innings in the recent world cup match. His performances are proof of his inbuilt talent and thus shows his love for his sport.
AB made 1265 runs during the period of voting with an average of 79 and strike rate up-to 128.4.
When he was asked to talk about his best inning, he told that no doubt his recent inning against West Indies in world cup is one of the best inning and I really enjoyed playing that. This will be remembered by me throughout my life. But of course this year was full of disappointments too, which is part of life also. We should accept good and bad moments with big heart.
ICC Women ODI Cricketer of the year:
Meg Lanning the captain of Australian women team won the title of ICC Women ODI cricketer of the year. She is performing consistently from last couple of years and this award was given to her on behalf of her performance during the period of voting.
In the last year Meg Lanning made most runs in ODI which were 531 runs with the average of 88.50. She did this runs with two hundreds and three fifties and She performed incredibly well and is promising to carry on her form in coming days. While asking her about this award she said that this is an honor and privilege to get this award. Previously, she had won ICC T20 Cricketer of the year and by winning this kind of high end award she joined the other players of Australian women cricket which are Karen Rolton (2006) and Shelley Nitschke (2010).
Meg Lanning with Trophy
source: icc-live.s3.amazonaws.com/cms/media/images/630x420/71987.jpg
ICC Women's T20I Cricketer of the Year:
Stefanie Taylor captain of West Indies Women's won her maiden ICC Women's T20I Cricketer of the Year award. She has performed very well in past and thus has won two awards before this. In 2011 she won the title of ICC Women's Cricketer of the year and also he won ICC Women's ODI cricketer of the Year in 2012. In recent performance Taylor made 340 runs at an average of 42.50 and strike rate of 105.91.
Her performances has lifted her team and many times she proved a winning person for his nation. In November 2015 when Pakistani team visited WI. She played very well and got winning results for her team.
ICC Men's Twenty20 International Performance of the Year:
Faf du Plessis was named as the ICC Men's Twenty20 International Performance of the Year. He is the Skipper of South African T20 team and has been performing well for his team and for himself as the captain.
His inning of 119 runs against West Indies in January 2015 was one of the best performance which made him strong contender for this category of award and hence, he was chosen for this award.
Faf is very good skillful player who is doing many runs for team in crucial times and I love to see him while batting. He is another stylish player in SA team. His presence in SA team is always a threat to opposite team as he can do anything at the time of his requirement.
Emerging Cricketer of the Year:
Josh Hazlewood claimed the award of being the most emerging cricketer of the year. In the duration of voting period he played some very good matches and got most wickets of any other bowler.
Associate/Affiliate Cricketer of the Year:
Khurram Khan who is the Former Captain and player of United Arab Emirates won the award of an Associate/Affiliate Cricketer of the Year. His performance remained good during the voting period and he got some runs equal to 425 in 9 matches. So keeping his form in view ICC decided to award him with such title. Such awards raise competition between such teams players who are struggling hard to get a rank in world cricket.
Spirit of Cricket Award:
Brendon McCullum the former captain and player of New Zealand was announced as ICC Spirit of the Cricket for his amazing knocks. McCullum has played many great innings throughout his career and he just got retired from international cricket in last month. So, being announced as ICC Spirit of the cricket meant to him a lot and he said while talking to Calls Time,
"I think the Spirit of Cricket is hugely important and I feel extremely honoured to have received the award. It does take buy in from the entire team though and the rest of the BLACKCAPS squad needs to be recognized for this as well."
Umpire of the Year (David Shepherd Trophy):
Richard Kettleborough a former player of England won the title of umpire of the year for the three consecutive times and made hat trick. The ECB added him to the list in 2006 and then he was part of umpires in 2011 world cup. He was selected for Elite Umpire Panel in May 2011.
Bitlanders Role in Promoting Cricket:
As bitlanders is rewarding social platform so bitlanders has introduced cricket accessories for promoting cricket and a reward will be given to the users who will buy those accessories.
When a user will buy any item from the store related to cricket he/she will be provided with a Buzz Bonus +1 for 3 days. Gems are required to buy the accessories from the bitlanders shop.
The cricket accessories are of almost all cricket nations like, Australia , Pakistan, India, England, South Africa, West Indies etc.
The items of cricket are as below that can be bought form the shop of bitlanders.
Cricket Bat
Helmet
Shirts
Trousers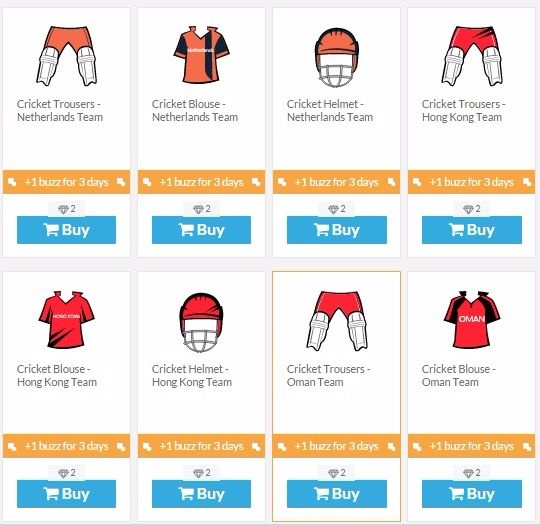 screenshot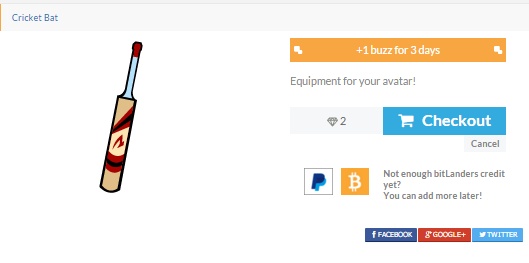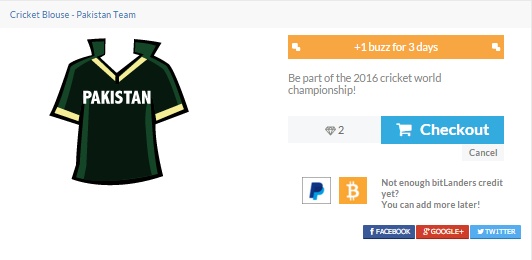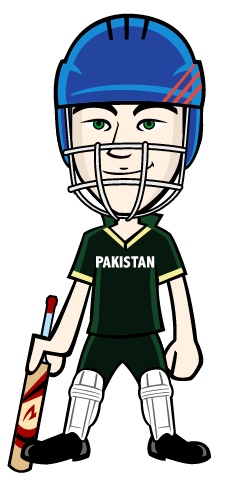 My Avatar
In the end, I am sharing a video of my favorite cricketer AB De Villiers. Just watch some brilliant shots from an outstanding cricketer.
De Villiers fastest century in world cup 2015