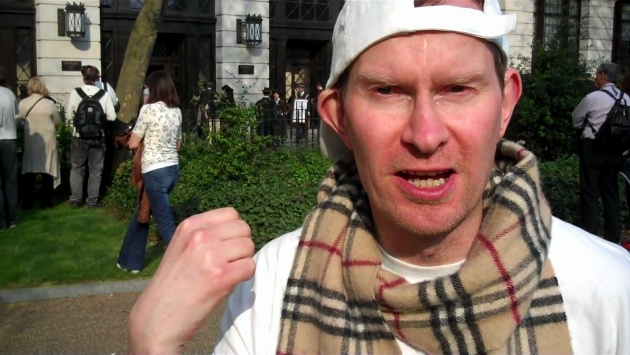 If I had known they were shooting series two of MR SELFRIDGE in Bloomsbury in Central London I'd have brought my suit. As it was my director and stalwart Flip cameraman Kumar Williams and I were filming our latest not seen on Film Annex movie, ALL SMASHED, a parody of ALL STARS featuring yours truly as a street dancer brought in to save a theatre from closure - hence the attire. Well it ill behoves a man of my advancing years to walk around with a reverse baseball cap. Reduces the copyright clearances though. Plus it covers my bald patch.
The onlookers here were disappointed the building behind me was not the set of the next series of DOWNTON ABBEY, as seen in IRON MAN THREE. No sign of its star, Jeremy Piven, but there were horse drawn carriages.
London truly is a living film set - well I use it all the time. Kumar and I had just returned from the O2 Centre in North Greenwich where we tried to manufacture some slapstick involving a fountain that was supposed to douse my face. These things never work on cue. We waited and waited. I felt like JEAN DE FLORETTE without a water diviner. Kumar switched the camera off. Then I got doused. Take two. I waited and waited. Kumar switched the camera off. Splash. Even Kumar got soaked this time. Serves him right.
Speaking of IRON MAN THREE, Kumar and I saw it today. Kumar watched it in D Box, the latest immersive technology designed to make going to the cinema become confused with a ride on a bucking bronco. I of course resent paying the £4.60 (seven dollar) ticket supplement because I get kicked in the back of my seat for free, especially if I am moaning about the quality of COP OUT as I did in a New York cinema in March 2010. Serves me right I suppose, but I'm not surprised Bruce Willis showed a lack of enthusiasm making it, evidenced by Mr Smith's diary.