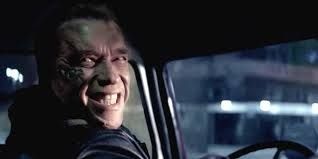 On Wednesday 17 June 2015, I joined hundreds of movie fans at Vue Westfield in Shepherd's Bush, West London for a twenty minute 'sneak peek' of footage from Terminator: Genisys, the fifth film in the franchise that turned Arnold Schwarzenegger into a 'moo-vie' star. According to the invitation, but not the ticket, it was to be followed by a Question and Answer session with Schwarzenegger himself.
I arrived at Six O'Clock in the evening – just after the end of the New Zealand innings in the 4th One Day International (349 for 7) to stand in line for a red wrist band – fairly generic as it turned out – and to be directed to a crash barrier behind which I was directed to wait. I assumed that we were going to see the Terminator up close as he went on a walkabout with a stage gun and fully functioning sunglasses. In fact, it was just to corral us to give the impression of an exciting movie premiere. Parts of the crowd were directed to chant 'Ah-nee, Ah-nee', but all I could moan was 'cof-fee, cof-fee', as I had just finished a cup. I took advantage of a gap in the queue so that I could get a glimpse of the star, but a decidedly humourless Red 121 (his wristband number not his 'X'-wing prefix) told me to stand behind the appropriate person - I was Red 140. As it turned out, I was nestled between a man making a call about a second hand car – 885 miles on the clock (only two thousand school runs recorded – the clutch is shot) and a Russian woman who may have swallowed too much of her country's propaganda and imagined Vladimir Putin in the Terminator's outfit – 'give me your leather jacket, sunglasses and the Donbas region'.
Eventually after a thirty minute wait, the crash barriers were opened up and we were directed to screen six, branded as Vue Extreme. This was a movie theatre with a steep rake and large screen which at AMC theatres in the US is standard but in the UK is treated as a premium luxury – now I know how the Russians feel. ('This is a lovely queue - no pushing, shoving and people drinking vodka from the potato.') I took my aged legs up the vertiginous incline and found myself in a VIP row above seats reserved for 'Matt Johnson'. (There were staff from Capital FM and – I assume – other radio stations present.)
At Seven O'Clock, John Fletcher from Paramount Pictures turned up with a functioning microphone to tell us that we would be treated to a bit of footage featuring James Cameron, twenty minutes of the movie followed by a Q and A with the star. Enthusiastic applause!
So why is James Cameron, self-proclaimed King of the World, who gave us Unobtainium in Avatar and Jamie Lee Curtis' dodgy dancing in True Lies, introducing a film he neither wrote, directed, nor got a big cheque for? (Not that he needs it.) Because the producers want to tell the fans that after Rise of the Machines and Terminator: Salvation this is a proper sequel. 'This is really the third film,' Cameron explained, which is great so I can find my ticket stubs for Rise and Salvation and get a refund. It begins in 1984, like the first movie, with elements that we are familiar with – dodgy haircuts – but then it takes a 'left turn' – a Terminator looking old. ('Old – not obsolete' is this new film's attempt at a catchphrase.)
So what was the footage like? Spoiler alert – it is quite good, although I missed the point when the R-rated Terminator franchise suddenly turned into Kindergarten Cop. ('Give me your clothes, motorcycle and – put the cookie down!') We saw what I took to be 15 minutes from the beginning of the movie, Kyle Reese (Jai Courtney) landing naked in an alley in front of a hobo – you could have thought he would find an alley without one - whom he relieves of his pants (that's trousers – I missed the point when the Terminator movies had a sexual angle). Meanwhile another naked man approaches a trio of punks – we are transported to the Kings Road, Chelsea in 2005. Young Arnie requires clothing. But then old Arnie interrupts him and they battle each other to see who is in most need of 'Rust Eeze'.
We are introduced to a new version of the liquid metal T-1000, chasing Kyle Reese, a sequence in a clothes store – but Jai Courtney is better than the Gap – and Emilia Clarke telling him to 'come with me if you want to live'. (Really, I saw what happened to her dragons in Game of Thrones.)
The second sequence involves a school bus, a homicidal Jason Clarke and some metal churning vehicle action. The good news is that this instalment has a sense of humour. What we learn from both sequences is that Reese is programmed with 'memories' of his mission. The past has changed – he is not going to fall in love with Sarah Connor (Clarke) – which is just as well as I saw what happened to those dragons. At some point, I imagine Joe Morton from the second film will be replaced by Matt Smith – but we'll have to wait until 2 July for confirmation.
So what of Arnold himself? He was really there in the flesh, though I was some distance away, talking about how special London, the UK, England is to him. He won his first Mr Universe here – as well as a 'best in show' for his cupcakes (maybe not the second thing). He was excited, hyped up and enthusiastic about the new movie because it has a great script, a great director, Alan Taylor, who 'really got inside my head', and great special effects. 'We couldn't do this in the 1990s', he enthused, which is funny because the film recreates the ground-breaking computer generated transformations of that decade.
So was Arnold disappointed that he couldn't appear in Terminator: Salvation? 'When you're in office [as Governor of California] and you have that much power, that much responsibility – 38 million people that you have to answer to – you think all day about the job. If I didn't sleep I could have made Terminator: Salvation at night but I have to sleep so I couldn't do it.'
Is this an honest answer? How about – I didn't need to. It didn't satisfy me creatively.
Arnold managed to mention his two terms as Governor, his five Mr Universe titles, various Mr Olympia titles but not a Nickelodeon Star of the Year award. What's wrong with him? More specifically, he didn't answer the question about how different it is doing the action sequences in his 60s than in his 30s. In fact, he said very little. We learned that he is not as proficient with an i-pad as his children. He is constantly surprised by what makes a good catchphrase 'Hasta la vista baby', 'get to the chopper' – you just never know. He didn't distinguish between the dialogue and his incongruous delivery which helped make him a star.
I found Mr Schwarzenegger rather dull company. Eight years of political office had taught him how to be enthusiastic without saying anything. There were no anecdotes about the making of the film, fellow cast members, technical challenges – just how blown away he was by the film. We did learn that he played chess, but was beaten by a computer. He didn't tell us though that the computer that one wasn't the model that challenged Garry Kasparov, rather Metal Mickey.
Terminator: Genisys is in theatres from July 2 2015