Imran Khan Niazi (born 5 October 1952) better known as Imran Khan is a Pakistani politician, former cricketer, philanthropist, cricket commentator and former chancellor of the University of Bradford. He is also founder of the Shaukat Khanum Memorial Cancer Hospital and the Namal College, Mianwali. Khan played international cricket for two decades in the late twentieth century and, after retiring, entered politics.[3][4]
Khan was Pakistan's most successful cricket captain,[5] leading his country to victory at the 1992 Cricket World Cup, playing for the Pakistani cricket team from 1971 to 1992, and serving as its captain intermittently throughout 1982–1992.[6] After retiring from cricket at the end of the 1987 World Cup in 1988, owing to popular demand he was requested to come back by the president of Pakistan Zia ul Haq to lead the team once again. At the age of 39, Khan led his team to Pakistan's first and only One Day World Cup victory in 1992. With 3807 runs and 362 wickets in Test cricket, he is one of eight world cricketers to have achieved an 'All-rounder's Triple' in Test matches.[7] On 14 July 2010, Khan was inducted into the ICC Cricket Hall of Fame.[8]
In April 1996, Khan founded the Pakistan Tehreek-e-Insaf ("Movement for Justice") political party[9] and became its chairman. He was an elected parliamentarian of his native constituency Mianwali in the National Assembly from November 2002 to October 2007, and was again elected during the 11 May 2013 general elections, when his party gained 35 seats in the National Assembly.[10][11][12] Global Post mentioned him third in a list of nine world leaders of 2012 and recognised Khan as the face of the anti-drone movement in Pakistan.[13] According to Asia Society, Khan was voted as Asia's Person of the Year 2012.[14] As per the Pew Research Center, in 2012, the majority of Pakistani respondents offered a favourable opinion of Khan. The survey also revealed Khan's fame among youth.[15][16][17]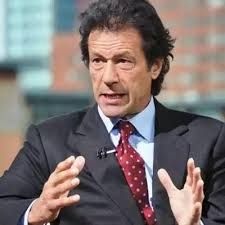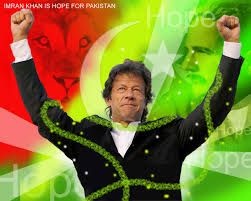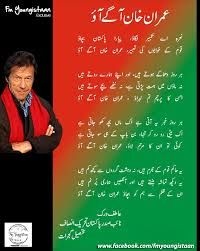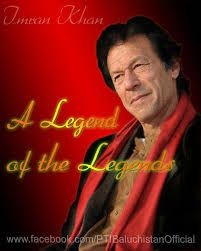 Books
Khan, Imran & Murphy, Patrick (1983). Imran: The autobiography of Imran Khan. Pelham Books. ISBN 0-7207-1489-3.
Khan, Imran (1989). Imran Khan's cricket skills. London : Golden Press in association with Hamlyn. ISBN 0-600-56349-9.
Khan, Imran (1991). Indus Journey: A Personal View of Pakistan. Chatto & Windus. ISBN 0-7011-3527-1.
Khan, Imran (1992). All Round View. Mandarin. ISBN 0-7493-1499-0.
Khan, Imran (1993). Warrior Race: A Journey Through the Land of the Tribal Pathans. Chatto & Windus. ISBN 0-7011-3890-4.
Khan, Imran (2011). Pakistan: A Personal History. Bantam Press. ISBN 0-593-06774-6.