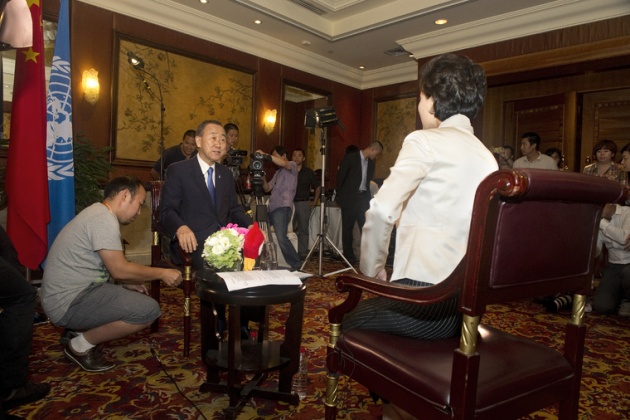 The UN Secretary General first met with the Chinese people, so to speak, through the Chinese social media web-site Sina Weibo. He responded to 23 questions out of perhaps 16,000 posted. Perhaps most compelling question was: what makes him really angry enough "to pound the table"? Mr. Ban's answer: "It's very difficult to talk with those human rights perpetrators, violators, particularly when some leaders are not committed to protecting those group of people, vulnerable people. I have been speaking very clearly and very strongly and firmly that you must keep this principle."
Does China's leadership qualify as a human rights abuser. There is Tibet and the fate of the Uighur's. Dissidents are repressed, forced abortions are allegedly performed and the rule of law is still in question. Many of the UN"s human rights Experts/Special Rapporteurs and the UN's High Commissioner for Human Rights have been critical. See our Blog for Film: "Unprecedented Scrutiny of China Human Rights". Some of China's neighbors, particularly Vietnam and the Philippines feel bullied on territorial disputes. See our Blog for Film: "Divide & Conquer in South China Sea." So will UNSG Ban Ki-moon pound the table when he meets President Hu Jintao, Foreign Minister Yang Jiechi and other political leaders!? See our Blog for Film: "China Stakes Claim in Africa".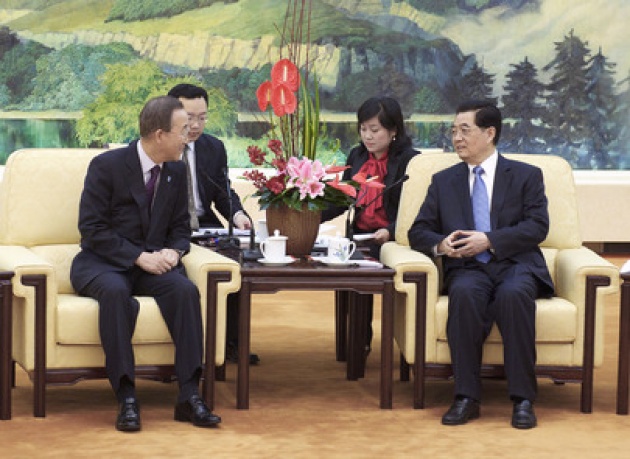 Another issue on which China has frustrated the United Nations leadership is Syria: "I'm deeply concerned and sometimes I cannot sleep when I think of so many people being killed every day, even today and yesterday hundred and two hundred people have been killed. This must stop, at any cost, so that Syrian people can commence immediately political dialogue for political resolution of this issue, reflecting the genuine aspiration and genuine need of people. China can play a very important role. That is one of the reasons I am here. I'll try to discuss this matter with the leadership of China's government, President Hu Jintao, Foreign Minister Yang Jiechi and many other leaders." So far Beijing has blocked effective action within the UN Security Council to confront the Assad regime in Syria from perpetrating grave violations of international humanitarian law, including systematic killings and torture. Again, we wonder if UNSG Ban Ki-moon will pound the table?
"China has been taking very important initiatives in helping African people and countries to strengthen their capacities to address many difficult challenges. This is a great example of South-South cooperation." However, China's motives are overwhelmingly focused on expanding its access to markets and resources. Some Africans are not entirely comfortable regarding China's mercantilist tactics, including overwhelming/under-pricing local markets/producers. Of course the record of the previous generations of European colonial powers leaves most Africans happy to have China as an alternative. However, the costs in human rights and the respect for the rule of law are frequently high. Beijing recently welcomed Sudan's President Bashir despite that he has been indicted by the International Criminal Court on basis of referral from the UN Security Council itself and demands that he be handed over to the Global Tribunal. See our Blog for Film: "Arresting Sudan President". Will UNSG Ban Ki-moon pound the table when he mentions Bashir and the continuing conflicts in Sudan and South Sudan? Will the UNSG even mention Sudan and South Sudan?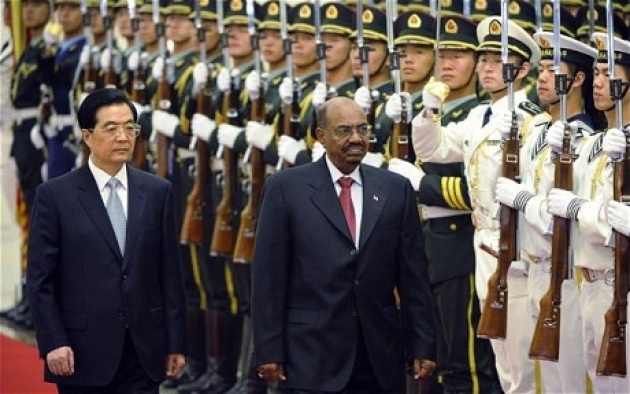 Ambassador Muhamed Sacirbey - FOLLOW mo @MuhamedSacirbey


Facebook-Become a Fan at "Diplomatically Incorrect"








Twitter – Follow us @DiplomaticallyX







See more at our Popular Video Blogs & Current News Event Articles – www.diplomaticallyincorrect.org