Books are a uniquely portable magic."-- Stephen King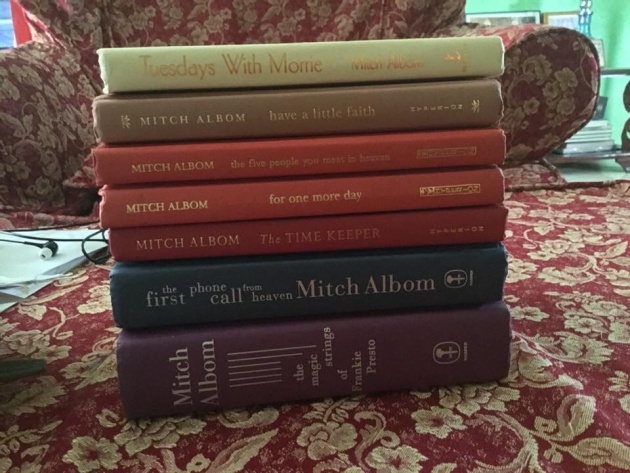 My Mitch Albom Collection
*Image is credited to rain tajon via www.bitlanders.com
Reading for me has been my way of escaping my "toxic" world. I want to read and collect them but at the same time, I wanted to save, I can not afford to spend more. And they say you can not have the best of both worlds, but I guess, I just have it. And, I am going to tell you why or how is that.
The rise of ebooks didn't stopped me from buying and reading the real books and I really wanted the hard bounded ones. Call me crazy or impractical, for they have the same words, written by the same author, but there is this feeling that I can not describe with regards to books, hard bounded books. But buying them means spending more. They are much pricey compared to the trade paper back. Who wanted to pay $25.00 on books? Yes, that is the price of the book that I wanted to buy on line on book depository.
But I am glad that I have spent more time on my instagram, more than on facebook. For it was on that social media that I have found books. Those books which I have been wanting to read and added to my collection. Some are pre-loved, some are new, but I don't mind buying the second hand or third hand books. And here are some of the accounts where I found them.
Accounts that sells books for less on Instagram.
The reason why I have been on Instagram more often than before was to share my photos, check some stuff on the celebrities I have been following(might going to tell them soon) and well, I must admit, I have a crush out there, just kidding. But in the long run, I have found more than my crush, I found my love, love for books and here are some of where I have found and bought my recent book collections.
1. Book Bean. This is my first online "bookstore". In the start of the year, I saw one of my feed, books that I know I love to have but since it has just appeared on my feed, I am hours late, and reading comments, I found out that they have been reserved. So what I did was, check the account and followed them, in case I might see some books that they might put on sale again.
Unknowingly, the reservation process is not an easy thing, you have to "fight" for it, comment mine first, yes you have to be the first, first to appear in the comment to have the book be reserved for you. And the "fight" only happens on Sundays.
With my experience with Book Bean, I have fun in fighting, believe me. It is the challenge that made me wanting the book more and I have seen more desperate souls, I mean, my fellow book worms. Everyone there are having a great time, even if they just missed a sec, yes, maybe less than a second, we were still okay. We don't mind missing the book for we know it get into the hands of our fellow book worm.
Most of their books are in good condition and the last one that i bought looks like new and after checking each pages, I am thinking of..."is the book has been read?" It really looks like new, without the plastic cover. And what comes with it made me loved to buy books from them, bookmarks. Every purchase that i made from them, it always comes with bookmarks and not just one, I received three with the last book that I got.
I bought three Mitch Albom books from this store and one Miss Peregrine Home of Peculiar Children series, which I am planning to complete on the hard bound copies. But last Sunday, I missed one book that I have been eyeing after posting those teasers. In case that those that said "mine" didn't wire any money to pay for those books, the book store will sell them again on the following Sunday.
By the way, they will post the tracking numbers on their account, where you can update where your books will be arriving.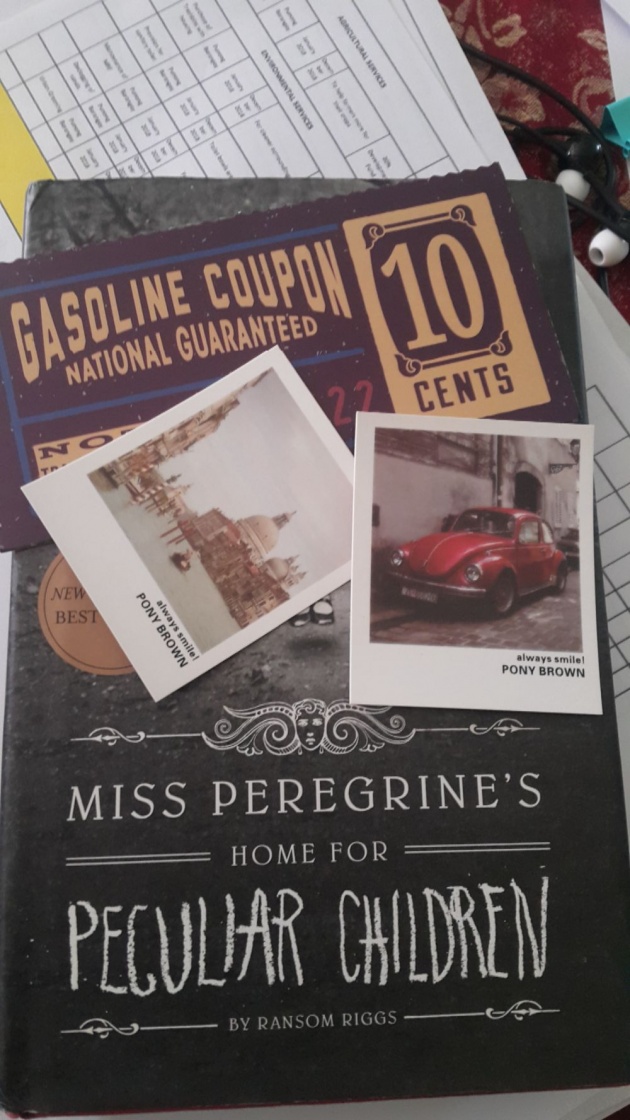 Miss Peregrine book series on hardbound with the bookmarks
*Image is credited to Rain Tajon via www.bitlanders.com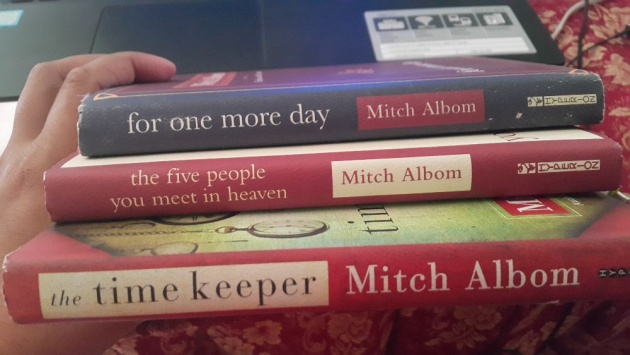 My first purchase in book bean
*Image is credited to rain tajon via www.bitlanders.com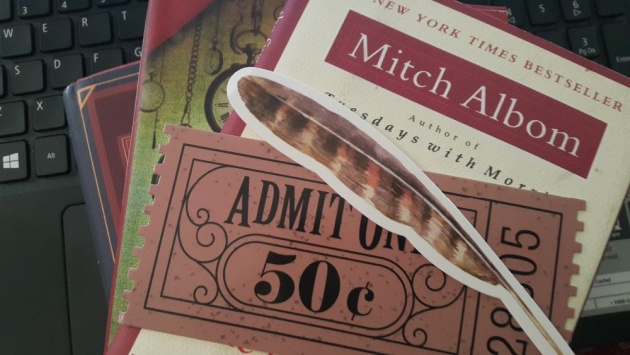 The books and the bookmarks
*image is credited to rain tajon via www.bitlanders.com
2. Scythe.some.book.ph. This is the second account where I bought a couple of Mitch Albom books. The online bookstore where I found what I have been looking for, the "Tuesdays with Morrie" and "Have a Little Faith", both in hard bound. I have the paperback, I wanted to have those books in hard bound for I wanted them to be handed down to my nieces or nephews who might wanted to have them.
With this bookstore, no "fighting". Asking for the availability of the books through comments or through direct message(DM) will do. And not to mention, the price is negotiable, which surprised me. I paid less than a thousand for the books plus shipping fee and inclusive too of the service charge for the money transfer. Though i was more nervous with this store since there was no tracking number that was sent on me. And I have the books after 3 business days.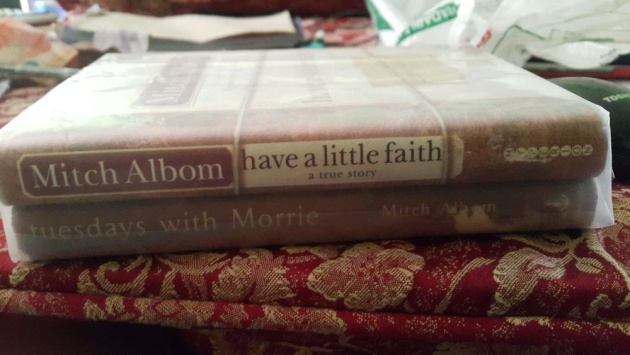 Books covered still from scythe.some.books.ph
*Image iscredited to Rain Tajon via www.bitlanders.com

Books without the plastic cover
*Image is credited to Rain Tajon via www.bitlanders.com
Discovering more.
I have been posting pictures of books on my account, and I have seen comments that says, "books for sale here" and out of curiosity, I checked it and found that they indeed sell some pre-loved books. Then I clicked those hashtags that goes with every posted pictures of books, and the next thing I know, i have been following more book stores on instagram. It is like having more options with the prices and which one sells those books that I would love to have.
Thoughts on buying cheaper books on line.
Books that were put on sale are overwhelming, there are a lot out there that are ready to be bought by a fellow bookworm. Some are new, some are maybe more than just a second hand, you can see the proof that it has been read a lot of times, but in the yes of a bookworm, they are still precious and worth to buy and be read.
Since there were a lot of stores where to buy, I have been also careful. Careful in the sense that the store is legit. I have to check proofs that will really send the books. My first purchase that costed me around Php 1,200.00 including shipping fee, I was quite nervous, well, it is just normal i guess for first time buyers and the amount that I transferred was quite big for me.
With all that I have seen, bought and after few days of waiting , it came to my door, I can say, I found a place where to buy books now. Still, I have to be careful with the other stores and thinking that maybe I will be just sticking with the two stores for now, just to be safe. And also, those on line sellers on instagram don't entertain "joy reservers", meaning, those who reserve the books but don't want to pay until the deadline of payment, which is for me is okay for it means, I have the chance to buy the book that they reserved.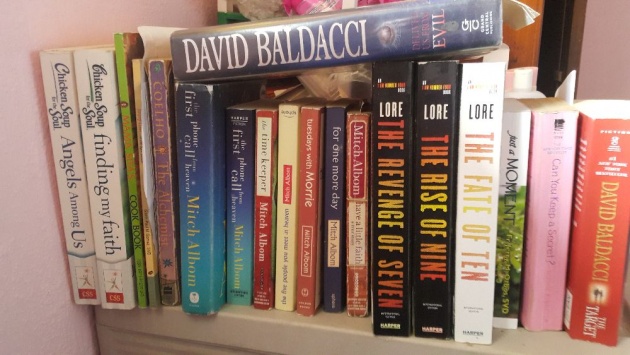 My books
*Image is credited to rain tajon via www.bitlanders.com