Poverty is not a new thing in Pakistan as every third Pakistani is below poverty line. Pakistan is an agricultural state blessed with four seasons with the land filled with natural resources.
Pakistan is a Muslims country following Islamic rules, Zakat is included in of Islam, which apparantly give an idea that Pakistan have the well distributed money/wealth, but the ground reality is quite different from this. Here the poverty level is increasing with every passing day and more than 40 percent peoples are living their lives below the poverty line. Moreover, the petrol's cost is increasing by each day which affects the other good's prices.
.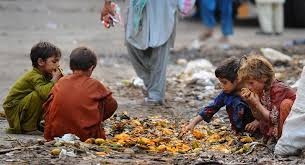 Baluchistan which is the largest province by area and considered as the land of mineral is facing a serious problem of poverty, 51 percent of people in Baluchistan are living below the poverty line, 32 percent of sindh's people are living below the poverty line and in KPK 51 percent of people are living below the poverty line. In Punjab 19 percent peoples are those which are living below the poverty line.
But to accept poverty is not a solution. In Pakistan, poverty is increasing rapidly.
The first thing to do is that we should learn from the experience of different countries around the world which have lifted their peoples condition above the poverty line.
Government should take brave steps to lower it.