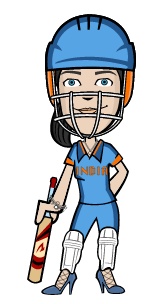 How is my new outfit for today guys? Today, there are new stuffs in my closer and I had used them just to give my avatar additional style. I am with India today and I know there are lots of Indian bitLanders users too here. Now let me show you some of the new stuffs I have here in my avatar.
So for the cricket uniform, I got the headgear and the shirt as well as the lower costume, then if you have noticed, I already took the heart balloon off and instead placed the cricket bat in, I guess it's way better to have that instead of the balloon. Then I also got a new pair of shoes which definitely fits the blue colored uniform of India plus if you have noticed, I have some bangles in and necklace too, however they aren't that really visible.
I guess my avatar looks really nice. I am just a bit sad that the avatar can only take one bangle at a time. I had bought two but it can only wear one, it will be nice to get all of them in my avatar's wrist at once just like in the real world.
Anyway, it is fine and I find this avatar cute!