Indian Movie Review - Dhadak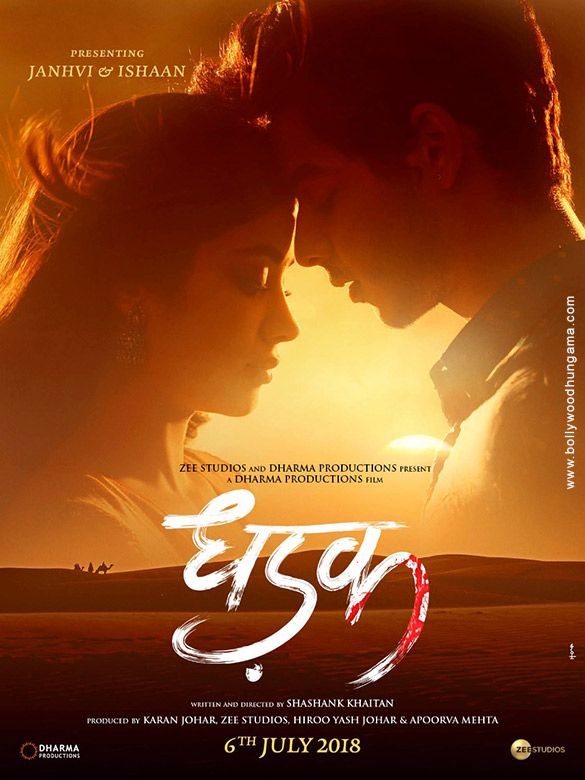 Image Credit: www.bollywoodhungama.com
✔ Introduction

Hello Friends, I hope you are doing fine and are having a good time on bitlanders. Today I have come up again with my new blog with the title of "Indian Movie Review - Dhadak". Friends, this blog is about a newly released Indian Hindi language movie "Dhadak". The story of this movie is a simple love story which has a tragic end. However, the movie also has quite a few comedy scenes which make the movie a refreshing one. In this movie "Ishaan Khatter" and "Jhanvi Kapoor" are appearing for the first time as Hero and Heroine respectively in a movie. Especially Jhanvi Kapoor received much more attention because her mother, a late Bollywood superstar "Sri Devi" had just died and could not see her daughter appearing on the big screen. This movie was directed by Shashank Khaitan and was produced by Karan Johar for Dharma Productions.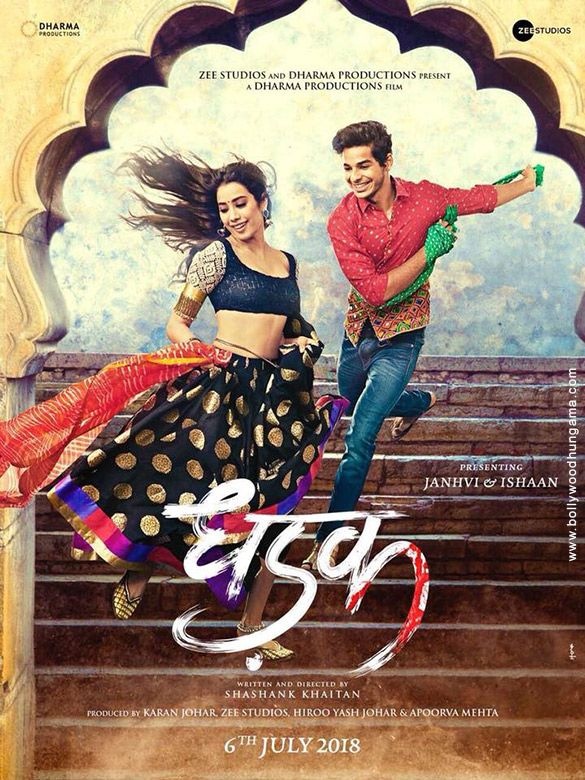 Image Credit: www.bollywoodhungama.com
The movie "Dhadak" was released on July 20, 2018 under the distribution banner of Zee Studios. Some details of cast of this movie are as under:
✤ Ishaan Khatter as Madhukar Bhagla
✤ Janhvi Kapoor as Parthavi Singh
✤ Aishwarya Narkar as Madhukar's mother
✤ Ashutosh Rana as Ratan Singh
✤ Aditya Kumar as Devi Lal
✤ Kharaj Mukherjee as Sachin Bhowmick
✤ Shalini Kapoor as Parthavi's mother
✤ Ankit Bisht as Gokul
✤ Shridhar Watsar as Purshottam
✤ Kshitij Kumar as Niranjan
✤ Mustaqeem as Bijnori
✤ Godaan Kumar as Roop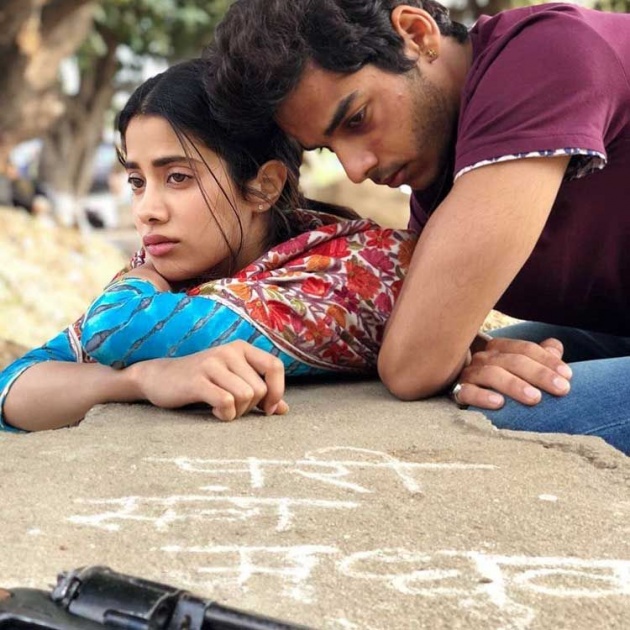 Image Credit: images.inuth.com
The strength of Dhadak lies in its brimming freshness and innocence. That this film presents the new faces of Ishaan (one film old) and Janhvi (who marks her debut in Bollywood) works in the favour of its narrative. Like its original inspiration, Nagraj Manjule's Sairat, the facet of love trying to survive the cruel world of politics and ruthless societal pressure, makes Dhadak engaging. The film follows the Sairat template for most part, but what is lacks is the grit and detailing of Manjule's original.
Movie Review Source: timesofindia.indiatimes.com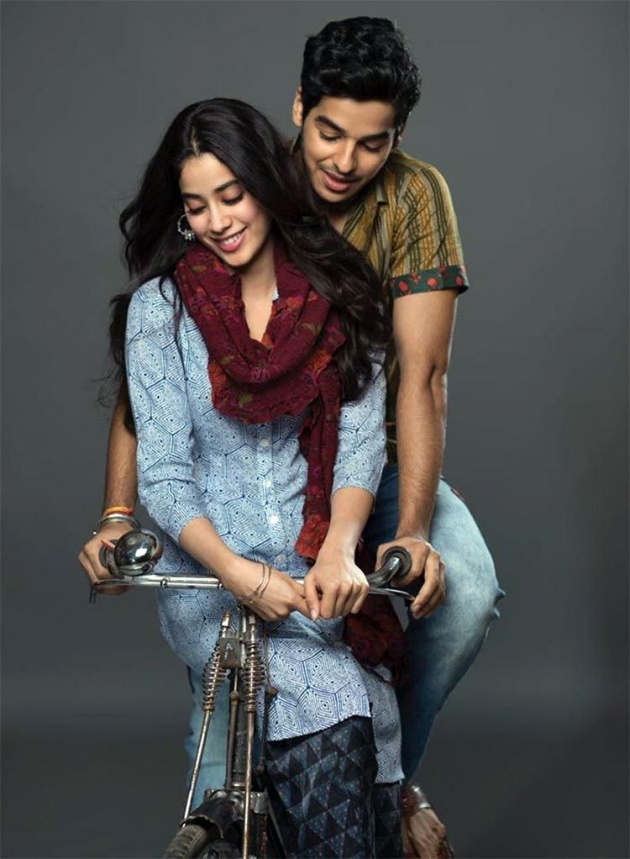 Image Credit: images.inuth.com
Video Credit: Dharma Productions via Youtube.com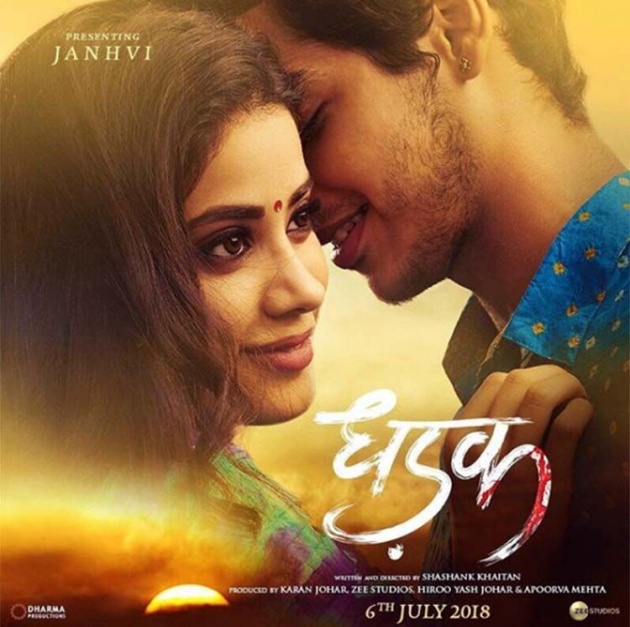 Image Credit: images.inuth.com
✔ Movie Plot And Review
The movie begins with Madhukar Bhagla who is a young, joyous and energetic young boy and is studying in a nearby college. He is from an average family in the area with meager income resources. His favorite activity is to have fun with friends and being naughty in the area by teasing others sometimes. He wins a competition in his college and receives a prize from Parthavi Singh who belongs to a financially well-off, influential and a very respectful family belonging to a high cast in the area. Madhukar falls in love with her instantly and wants to be with her all the time since she studies in the same college. Parthavi Singh on the other hand, is a happy go lucky type of girl who does not have many problems in life because of a strong family background. On one day, Madhukar comes to know that Parthavi is having a gathering with her friends at a pool. In order to see her, Madhukar runs towards the pool and jumps in it showing full excitement and love for Parthavi. He gets a little injured but manages to find a soft corner in Parthavi's heart.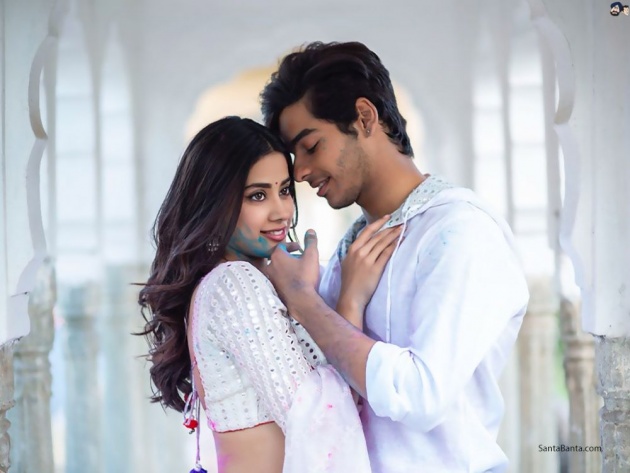 Image Credit: www.santabanta.com
When Madhukar's father comes to know about Madhukar's activities and his interest in Parthavi, he reprimands him and tells him to stay away from Parthavi as she belongs to a powerful and affluent upper-caste family and her family shall never accept him; instead the whole family of Madhukar may get punishment for Madhukar's act. At college, Parthavi notices Madhukar's attention and asks him what the reason is. Parthavi had also felt love for him in their meeting at the pool and they admit love for each other despite Madhukar's family problems. In a secret meeting at Parthavi's house, they get caught by the Parthavi's family and Madhukar gets beaten very badly. The matter even reaches the Police, the Officer tells Parthavi's father to keep calm as the General Elections were near and this event could affect his position in the Elections if they did not wait and moved forward with it.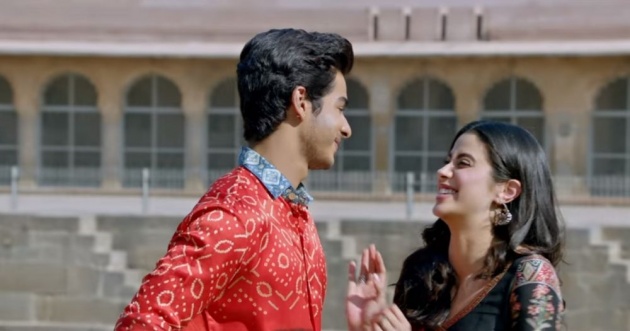 Image Credit: www.firstpost.com
After the Elections, Parthavi's father lodges a false FIR in the Police Station stating that Madhukar gang-raped his daughter. Parthavi pleads to her father but to no avail, Parthavi then takes the pistol of her father and threatens to kill herself if Madhukar is not spared. Both, Parthavi and Madhukar manage to run away from the hands of their families and reach another city to live a happy life there. They get married and start living a family life. After a year, Parthavi gives birth to her first child and expecting to receive a positive reply, they contact with their parents who show good gestures and show the desire to meet with them. Later on, Parthavi's family arrives with some gifts for the couple but soon they show their true intentions as they start beating up Madhukar as Parthavi was away from the house. When she returns, she sees his family killing her husband and son by throwing them off the balcony of house. Madhukar and Parthavi wanted to live a happy life but destiny had other plans for them however. The movie ends as Parthavi is shown mourning the deaths of her husband and son.
Video Credit: Zee Music Company via Youtube.com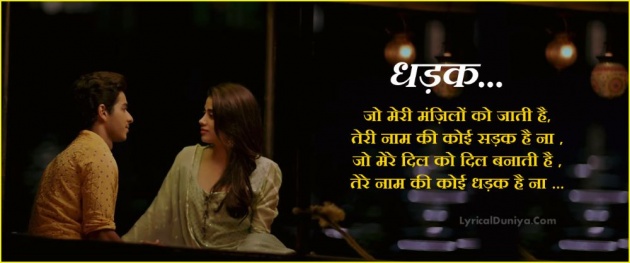 Image Credit: lyricalduniya.com
✿ Here is Querlo Chat for you. Isn't it fun to chat with a Chatbot ?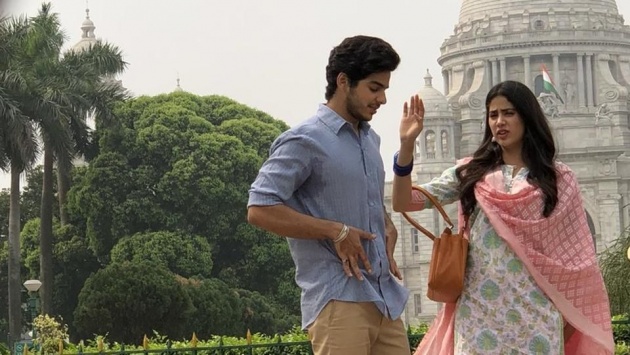 Image Credit: www.hindustantimes.com
✔ Conclusion
The movie "Dhadak" has a typical movie story that we see in many other Indian movies but still this movie has something new in it. The advertisements, gossips and the hype was created for this movie which made a big difference and as soon as the movie appeared on the big screen, it was welcomed by the Indian movie lovers. Although the movie is a simple love story, but the music, the presentation and some comedy scenes in the movie made it a worth-watching movie. The new artists Janhvi Kapoor and Ishaan Khatter who also belong to artist families have shown good acting skills and they faced the camera with full confidence. On the whole, the movie was a good time pass and I shall rate the movie 3 out of 5 stars. The movie has crossed its budgeted cost in a few days after its release and it is hoped that this movie will create more success for the movie makers.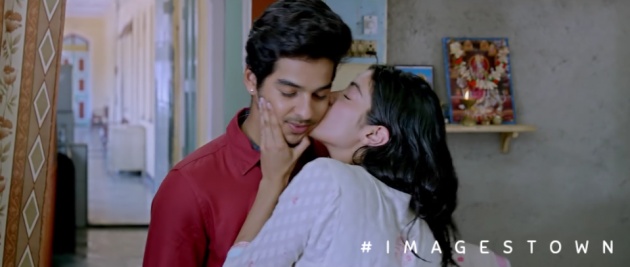 Image Credit: imagestownn.blogspot.com
✿✸✔✤✪ - - - - - - - - - - - - - - - ✿✸✔✤✪ - - - - - - - - - - - - - - - ✿✸✔✤✪ - - - - - - - - - - - - - - ✿✸✔✤✪

Thanks for Reading. This Blog was written by Rafaquat Noman (a Resident of Saudi Arabia and a Traveler) for bitlanders.
✿✸✔✤✪ - - - - - - - - - - - - - - - ✿✸✔✤✪ - - - - - - - - - - - - - - - ✿✸✔✤✪ - - - - - - - - - - - - - - ✿✸✔✤✪