Indian Movie Review - Veere Di Wedding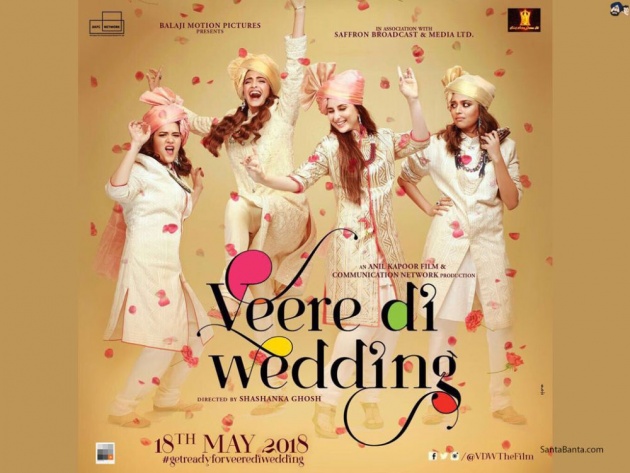 Image Credit: www.santabanta.com
✔ Introduction



Hello Friends, I hope you are doing fine and are having a good time on bitlanders. Today I have come up again with my another new blog with the title of "Indian Movie Review - Veere Di Wedding". Friends, this blog is about a new and a hit Indian movie "Veere Di Wedding". The story of this movie revolves around four girls in a group "Veere". They are modern type of girls who do not want to live their lives in a typical eastern or Indian way and want to have their own taste of life. They especially do not believe in arranged marriages and want to find their own soulmate and go through a number of unique experiences in their lives. This movie was directed by Shashanka Ghosh and was produced by Anil Kapoor. The movie was produced under the administration of Balaji Motion Pictures, an Indian Film Production House.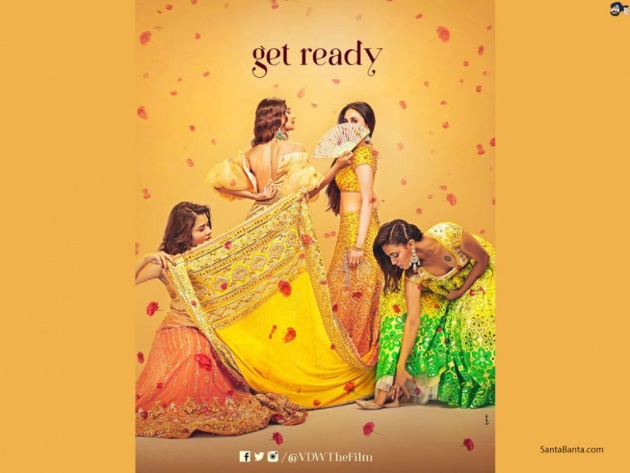 Image Credit: www.santabanta.com
The movie "Veere Di Wedding" was released on June 1, 2018 under the distribution banner of Anil Kapoor Films & Communication Network. Some details of cast of this movie is as under:
✤ Kareena Kapoor as Kalindi Puri
✤ Swara Bhaskar as Sakshi Soni
✤ Sonam Kapoor as Avni Sharma
✤ Sumeet Vyas as Rishabh Malhotra
✤ Shikha Talsania as Meera Sood
✤ Vivek Mushran as Cookie
✤ Ekavali Khanna as Paromita
In theory, Veere Di Wedding is about accepting everyone the way they are; only if its execution could have carried off its lofty ideals. The plot forces characters to stay on two modes largely – highly emotional and ready to have fun. Yes, women like to drink, abuse and have active sex lives but there is so much more to being a modern-day independent woman. This movie would have you believe that marriage is stupid, friendship is the only saving grace and cigarettes are stress-busters. We all may have believed that, perhaps in college, but we outgrew it all in teenage.
Review Source: www.hindustantimes.com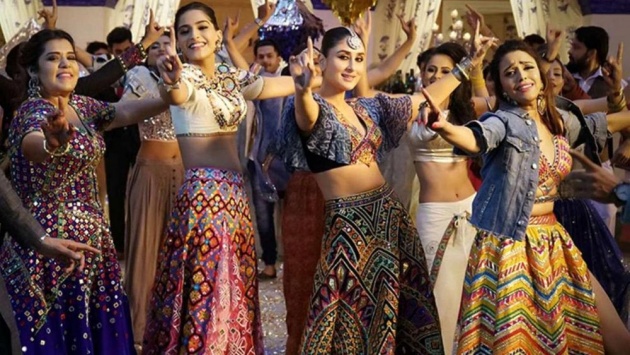 Image Credit: www.thenational.ae
Video Credit: BalajiMotionPictures via Youtube.com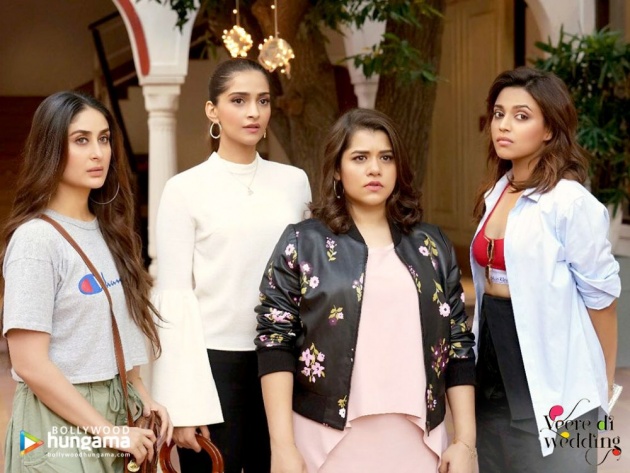 Image Credit: www.bollywoodhungama.com
✔ Plot Of The Movie And Movie Review
The movie begins as a girl group of four high school friends Kalindi Puri, Avni Sharma, Sakshi Soni and Meera Sood are spending their last day in school and at the end of the day they ring the school bell early and vanish away from the scene as kids start to leave the school and watchman is unable to stop them. The girls did this because they wanted to make their last day at school very special and wanted to have fun. When they come home, they share their future plans with each other. One of them Kalindi wants to go with her boyfriend to northern part of world for sightseeing and to have a romantic time with him. Meera wants to go to Europe for higher studies, Avni wants to get some more useful education and Sakshi does not have a prepared plan for her future. The group makes a promise to each other that they will remain in contact all of their lives.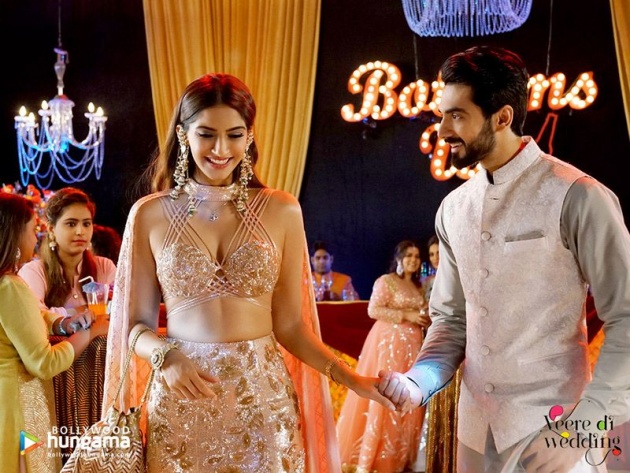 Image Credit: www.bollywoodhungama.com
The film progresses further as all of the four girls have grown up and two of them are married and for other two, their parents want them to get married now and get settled in life. Avni has become a lawyer and takes up family court cases such as divorce and maintenance etc. Her parents arrange meetings with different potential grooms and their families but they get rejected by Avni causing more concerns for her parents. Avni does not believe in arranged marriage as it is not in line with her understandings about marriage and she is only interested to get married with the person she would find in her life to be her life partner. Meera lives with her husband in America and does not want to visit her parents in India because they are not ready to accept her native American husband. Sakshi Soni is also married but is not having good marital relationship with her husband and she is seriously thinking about getting divorced. Kalindi is engaged and interested in her boyfriend Rishabh Malhotra and their parents have decided to get them married for which preparations are about to start. Kalindi invites all of her friends Avni, Meera and Sakshi Soni to her wedding.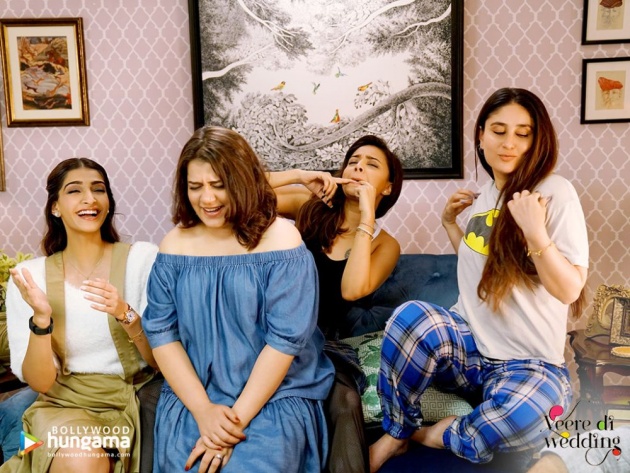 Image Credit: www.bollywoodhungama.com
When the four girls meet at Kalindi's wedding, they start discussing about their life experiences. They are girls who had decided to make their own choices in their lives even those which later proved to be wrong choices. They always wanted to make their own mistakes and later pay for it rather than paying for the mistakes made by others in their lives. These ladies always wanted to make their choices and then stand by them in order to live their life as they wanted. These girls openly speak about taboos like sex before and after marriage, orgasms as well as sex toys etc and enjoy when they analyze their own lives with some certain aspects. In the course of events, Kalinda realizes that she is not completely ready for the marriage mentally and she is just going with the tides as she likes her fiancé, whereas there are lot of responsibilities in marriage which she had not thought of yet . Therefore, she ends up calling her wedding off as she thinks it is not an appropriate time for her marriage.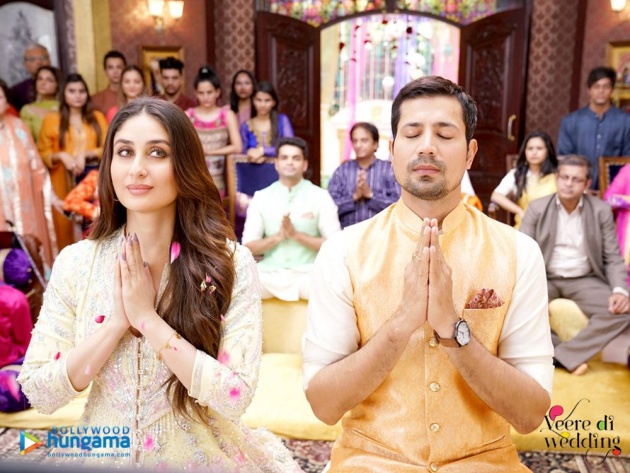 Image Credit: www.bollywoodhungama.com
Video Credit: Zee Music Company via Youtube.com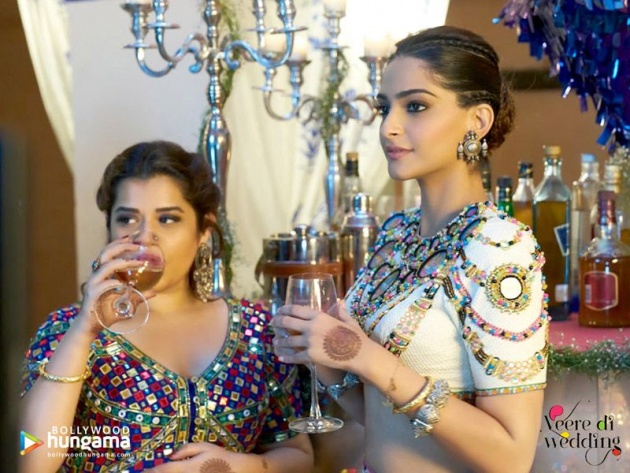 Image Credit: www.bollywoodhungama.com
✿ Here is Querlo Chat for you. Isn't it fun to chat with a Chatbot ?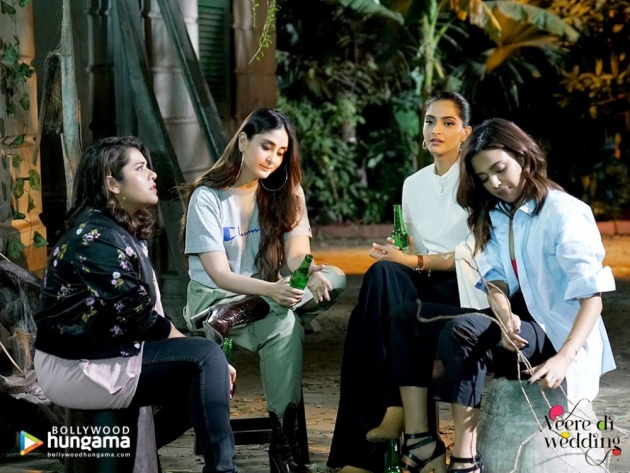 Image Credit: www.bollywoodhungama.com
✔ Conclusion
The movie "Veere Di Wedding" is a story of about four girls who have a happy go luck attitude in their lives and does not want to follow typical routines and common tide. The movie depicts the situation and mental approach of today's world modern girls who are somewhat confused in deciding their ways especially when it comes to the matter of marriages. The movie throws light on the issues of girls of these days as they are finding it hard to find their soulmates. In India situation is in real bad shape as there are lot problems like dowry, relationship problems with in-laws and the girl to boy ratio in the society which is getting disturbed continuously as there are more boys and less girls because parents do not want to have girls born in their family. This is so because of consistent struggles and hardships attached with the girl's life in their society. The movie spreads it message in a very good manner that girls should be allowed to make their own choices and their lives should not surround their marriage status only.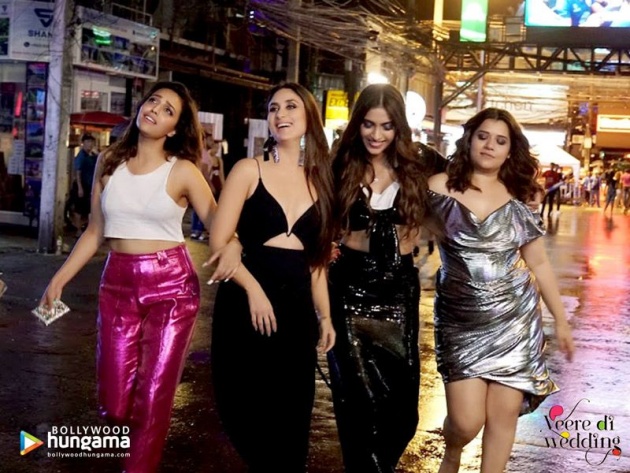 Image Credit: www.bollywoodhungama.com
✿✸✔✤✪ - - - - - - - - - - - - - - - ✿✸✔✤✪ - - - - - - - - - - - - - - - ✿✸✔✤✪ - - - - - - - - - - - - - - ✿✸✔✤✪

Thanks for Reading. This Blog was written by Rafaquat Noman (a Resident of Saudi Arabia and a Traveler) for bitlanders.
✿✸✔✤✪ - - - - - - - - - - - - - - - ✿✸✔✤✪ - - - - - - - - - - - - - - - ✿✸✔✤✪ - - - - - - - - - - - - - - ✿✸✔✤✪