The other day I saw the new Coen Brothers film 'Inside Llewyn Davis' and, unsurprisingly, it was incredibly good. In fact it was so good it hurt. I was expecting it to be very good, as most Coen Brothers films are impeccable, but it still caught me off guard with it's rather terrifying genius and relatable bleakness. So yes this is just another blog post saying how great the Coen Brothers are (a very unoriginal topic for film folk on the internet!) but...still...I just had to write it...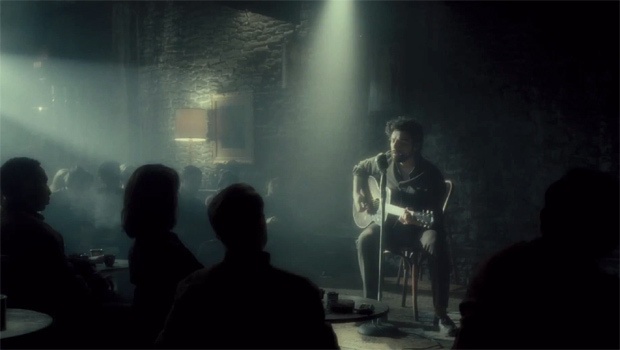 The film hurt and the film was scary for if you are in anyway pursuing a creative 'career' or even just managing your own personal art/creations, then I am sure you will find parallels between yourself and this film. And these parallels will not be pleasant but may be necessary and indeed eye opening...
The film follows Llewyn Davis, a struggling folk singer in New York City in the 60s. He sings excellently, but is a dreadful person, equal parts full of himself and yet utterly lost. He uses everyone around him while never gaining any true ground, creatively or personally. Opportunities are given to him but fail as he either rejects them or they get warped by related outside pressures...He wants to stay true to his 'art' but this 'art,' and it's pursuit, is killing him.
What could be more relatable to any creative person? While I am certainly no folk singer living in New York City in 1961 I completely got Llewyn's struggle and it made me shift uncomfortably in my cinema seat, let me tell you. As an 'independent filmmaker' (How I even hate to write those words as I don't truly feel them) who is 'pursuing' my 'career' here in LA I know competely how all-consuming such a pursuit can be and how painful it is pretty much, well, always. One wants to stay true to themselves, or their 'vision,' but how can one support themselves on 'vision' when their vision may not connect at all to a wider audience/reality and is pretty much in no way marketable? There's no money in this, to paraphrase F. Murray Abraham's character in the film, who says this to Llewyn after Llewyn gives an incredibly moving performance.
The creative sort wants to do everything they can to get their art out, but at the same time not compromise it, and the very nature of doing this may...compromise...everything else. Personal relationships, friends, 'real jobs,' everything. Pretty much it can reduce you to a chump. And a chump Llewyn is, and stays, throughout the film whose structure wanders off into the distance and back again, tricking the audience into thinking the main character has learned something, only to then pull the rug out from under them and reveal that, nope, nothing has been learned, and what you thought was new was just the same as before, only revealed differently...I'd describe this in more detail for it's a brilliant structural and editing technique...But I don't want to spoil the film as it's only been out shortly and I am sure lots of people have not yet seen it...
And even this warped structure is relatable for I often feel like I am repeating my own mistakes, career wise, creative wise, reality wise. And don't we all? One can't make progress without first making mistakes...And progress can only come from making mistakes, but still going forward...But that is a tough thing to do, and is exhausting, as Llewyn finds out....And the deeper fear that he has, and indeed we all have, is shown explicitly in the film: Just because we are good, or even think we are, doesn't truly mean much...If you aren't in the right place at the right time....Or, even if you are, that still may not matter for perhaps someone else will show up, a la Bob Dylan, oho, and wham, that's it for you.
I'll stop my rambling now before I get too dark and analytical, oh yes. But this film is a gloomy masterpiece and should be required viewing for all creative people, even if it fills them with nervous apprehension....