History
The Government of Pakistan adopted the Auditors' Certificate Rules, 1932 and the Companies Act of 1913 for regulating the profession of accountancy in the country. In the year 1950, the Government of Pakistan reframed the Auditors' Certificate Rules with necessary modifications to suit the prevalent needs of the profession. Under these Rules, the accountancy profession in Pakistan included practicing and non-practicing Registered Accountants. The Registered Accountants formed a private body known as the Pakistan Institute of Accountants (PIA) to safeguard and promote the interests of the Accountants.
The Pakistan Institute of Accountants persisted with the idea of establishment of an independent body. In June 1959, the Government established a Department of Accountancy with Controller of Accountancy as its Chief Executive. An advisory body called the council of accountancy was set under the auditor's certificates rules 1950 which recommended establishment of the Institute of Chartered Accountants in Pakistan which was accepted. The Chartered Accountants Ordinance 1961 received assent of the President of Pakistan on March 3, 1961 which was published in the Extraordinary Gazette of Pakistan on March 10, 1961.
Accordingly the Institute of Chartered Accountant of Pakistan (ICAP) was established on 01 July 1961 with the prime objective of regulating the profession of accounting in Pakistan. It was due to the vision and the foresight of our predecessors that today we are the premier regulatory body for the development and regulation of the Profession in the Country.
ICAP has indeed come a long way from small band of members to currently above five thousand professionals. Today our professionals are recognized and respected globally for their technical expertise and adherence to ethics and integrity.
The repute and the standing that ICAP commands today is due to the determination, courage and loyalty shown by the members and the leadership. The Institute was envisioned and established to regulate the accountancy profession in general, particularly the auditing profession and is responsible for imparting Chartered Accountancy qualification in the country. ICAP offers great services to the nation by fostering and nurturing the young talent for leadership through its robust education and examination system throughout the years producing high calibre professionals.
In addition to this, ICAP plays its role in strengthening the regulatory framework in Pakistan through working in cooperation with important policy making institutions and regulators including the State Bank of Pakistan, the Securities and Exchange Commission of Pakistan, the Federal Board of Revenue and other Ministries.
Role of ICAP within the country
In the history of the country, the members of ICAP have contributed playing key role for reforming and building of institutions with number of senior members still serving the boards of leading public and private sector companies. Professional accountants have a critical role in accelerating the progress of our country towards economic stability.
An accountant who works for private organizations also delivers a lot in the economy with their sound knowledge, professional skills and ethical responsibilities. If an accountant performs his duties with honesty, he serves the nation in various ways because he is generating taxes for the country, rightful documentation of the economy and provides an outlook of sector and company's performance level that helps the government.
ICAP continues to support and facilitate not only its members but also the government, the regulators and the business community in this respect. The Institute, being the custodian of the accounting profession in Pakistan, has gradually evolved processes to ensure transparency, accountability and good governance within the profession.
Simultaneously, the Institute has firmly established itself as a premier institution which produces qualified accountants, who are not only in high demand within the country but have also made a mark for themselves outside Pakistan.
This journey of ICAP has been a test of endurance. The institute has come a long way from a very small community of Registered Accountants to what it is today – a professional body of more than 7000 members.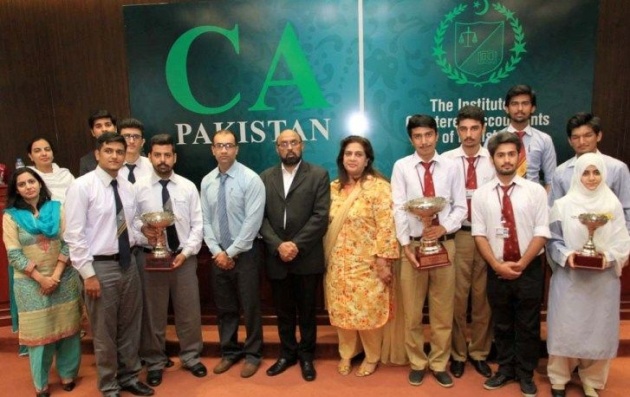 Our Vision
The profession of Chartered Accountants in Pakistan should be the benchmark of professional excellence upholding the principles of integrity, transparency and accountability'.

Our mission
'Our mission is to achieve excellence in professional competence, add value to businesses and economy, safeguard public interest; ensure ethical practices and good corporate governance while recognizing the needs of globalization.
The Council is responsible for formulation of strategic direction of the Institute and approving key policies,in the interest of the profession and the public.The Council Carries out its executive functions with the support of a management team headed by the Executive Director and comprising the Secretary and Directors of respective departments.
The Council consists of Nineteen members. Fifteen members are elected from amongst the members for a period of four years.Four Council members are nominated by the Government of Pakistan.
Past Presidents

Year

Name

1961-1962

S. Osman Ali

1962-1963

M. Ahmad

1963-1966

M. Aslam

1966-1969

Vaqar Ahmed

1969-1970

A. Rab

1970-1972

V. A. Jafarey

1972-1973

M. Yakub

1973-1975

Ejaz Ahmed Naik

1975-1978

Abdur Raouf Shaikh

1979

Aftab Ahmed Khan

1979-1983

H. U. Beg

1983-1986

Irtiza Husain

1986-1988

Ebrahim S. H. Dahodwala

1988-1989

M. Afzal Munif

1989-1991

Ebrahim Sidat

1991-1992

Abdul Hameed Chaudhri

1992-1993

Khalid Rafi

1993-1994

Muhammad Yousuf Adil

1994-1996

Syed Masoud Ali Naqvi

1996-1997

Sajjad Ahmad

1997-1998

Ahmad Dawood Patel

1998-1999

Najam I. Chaudhri

1999-2000

Shaukat Amin Shah

2000-2001

Pir Mohammad A. Kaliya

2001-2002

A. Husain A. Basrai

2002-2003

Khaliq-ur-Rahman

2003-2004

Mujahid Eshai

2004-2005

Zafar Iqbal Sobani`

2005-2006

Syed Mohammad Shabbar Zaidi

2006-2007

Nasimuddin Hyder

2007-2008

Imran Afzal

2008-2009

Syed Asad Ali Shah

2009-2010

Abdul Rahim Suriya

2010-2011

Shaikh Saqib Masood

2011-2012

Rashid Rahman Mir

2012-2013

Ahmad Saeed

2013-2014

Naeem Akhtar Sheikh

2014-2015

Yacoob Suttar
\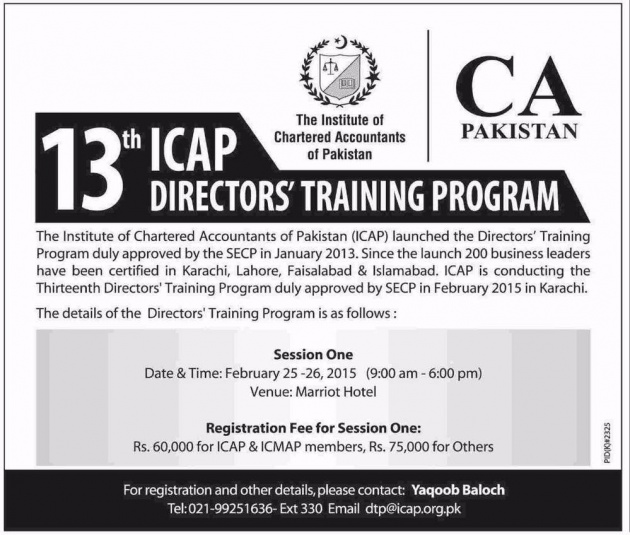 The Institute of Chartered Accountants of Pakistan (ICAP) is the premier accounting body in the country,with its head office in Karachi, and regional offices in Islamabad, Lahore, Faisalabad , Multan and Peshawar.
ICAP is introducing a new concept of providing easy access to modern rental facilities at its premises. This services manual has been designed to share with you information pertaining to the facilities and services which ICAP will provide.
When You Choose ICAP, You Choose Prestige
One of the pleasures of the business world is the opportunity to get together in regional meetings. As a conference organizer, you are providing a needed and appreciated service.The promotion of your conference begins as soon as you have announced a conference venue. A conference venue must be reputable, easily accessible, and must have adequate space to accommodate your guests.
ICAP is one of the premium places in Karachi to hold your meetings, away days and other events. The main building of the Institute is situated in its own premises and is centrally located at Teen Talwar, Clifton, Karachi.
Moosa D. Desai Auditorium
In a technology-driven environment, a critically important part of your conference is equipment and support. Therefore, it is essential that you schedule your conference sessions in rooms that have basic AV equipment.
The Moosa D. Desai Auditorium, located in the main lobby, is equipped with:
Multimedia for presentations
Hi-Fi Sound System
High Speed Internet Connectivity
The Auditorium is fully air-conditioned with provision of an Emergency Exit.
Seating Capacity
210 persons
Useful tip: When you confirm conference presentations, encourage your presenters to bring their own laptops whenever they can.
Conference Halls/Board Rooms
The ground and first floors of the ICAP building house the primary conference facilities — 2 Conference Halls and 3 Executive Board Rooms.
Our conference services provide support for our internal faculty, staff and student meetings and events, as well as for the education, and business and finance community at large. Whether you are hosting a small executive meeting, or a large training seminar, our trained domestic staff will be there to serve you. You will have access to the cafeteria, library, prayer room, and ample parking space.
The Conference Halls are equipped with:
Multimedia with Wall hanging screen for presentations,
Flip chart
Sound system w/cordless microphone
Cushioned chairs w/ single table top
Seating Capacity
Conference Halls – 100 to 200 persons depending on set-up
Executive Board Rooms: 2 small -10 persons each
1 large – 20 persons
Examination Rooms/Halls
To support our academic mission, and serve a vibrant student community, ICAP also provides facilities to conduct examinations on its premises.
Our 3 fully air-conditioned Examination Rooms and 2 Examination Halls, with provision of natural light, are purpose-built, and are used to conduct examinations of various national and international institutes such as the Federal Public Service Commission (FPSC), Pakistan Institute of Public Finance Accountants (PIPFA), Chartered Institute of Management Accountants (CIMA) and our own Registered Accounting Education Tutors (RAETs). They are also engaged to conduct recruitment programs of various companies.
Seating Capacity
Examination Rooms – 50 students each
Examination Hall – 150 students each
Contact Information
For details Please contact:
Mr. Mohammad Kashif : 111-000-422 ext.313, Cell 0300 3480373
Chartered Accountants work for big and small firms that offer fee earning advisory and management services to a variety of clients and businesses in the industrial, commercial and non profit sectors. They audit the accounts of these clients and businesses and can also be involved in specialist areas of financial advice such as tax. Chartered Accountants are also employed in commercial organizations, banks, and the private and public sectors.
To become a Chartered Accountant you need to be motivated, possess analytical skills, numerical ability, a keen sense of what is going on in the world of business and finance, and personal qualities such as reliability and discretion. You will be required to study business and corporate finance, economics, auditing, taxation, management and information systems.
Visit… for all your questions about Entry Requirements and Examinations
Why Choose a Career in Accounting
Chartered Accountancy is a rewarding career and there are excellent prospects for employment in audit firms as well as in local companies, multi-nationals, and local and foreign banks. The profession has stood the test of time, and career opportunities for Chartered Accountants are unfolding as corporations increasingly realize the importance of professional values, ethics and good governance.
Why Choose ICAP
The Institute of Chartered Accountants of Pakistan (ICAP)
Is a professional body of Chartered Accountants in Pakistan, and represents accountants employed in public practice, business and industry, and the public and private sectors. The Institute is a member of the International Federation of Accountants (IFAC) which is the global organization for the accountancy profession.
"ICAP has approx.as 5,322 members who are currently working in 46 countries worldwide. With thousands of students joining our prestigious fraternity, we offered approx. 382 ambassadors to the local and international market in the year 2011 The transformation to global financial reporting standards requires the internalization of new values and attitudes. At ICAP we realize that education is critical and holds together the centrifugal forces that continue to pull us towards diversification, yet persuade us to retain our distinctive identity.
The head office of the Institute is housed in its own premises in Karachi at Teen Talwar, Clifton with regional offices in Islamabad, Lahore, Multan ,Faisalabad and Peshawar
Revised rule of Exemption on the basis of PIPFA & ICMAP
June 22, 2015

The Council of ICAP has recently revised the rule of exemption for those candidates of PIPFA and ICMAP only who have obtained exemption in certain paper(s) on the basis of other qualification and has passed the remaining subjects. Such candidates are now eligible to apply for exemption from related subjects. However, their exemptions are subject to publication of amended byelaws in the official gazette of Pakistan by the relevant authorities.
ICAP offices may receive the registration and exemption forms of the above-mentioned candidates and their examination forms for Autumn 2015 on conditional basis. ICAP offices can receive their RE forms up to July 6, 2015 and examination forms up to the last date for submission of forms with 200% late fee i.e. July 21, 2015.
If the gazette regarding revised exemption rule is issued by July 6, 2015, all exemption applications will be accepted and they will be eligible to appear in the examinations accordingly. Otherwise, the applicant may opt for either of the following with regard to the examination fee:
i) Apply for refund of their examination fee; or
ii) Carry forward to the next examination attempt.
Fee Voucher for Students
REVISION OF FEE FOR THE YEAR 2014-15
The Council of the Institute in its meeting held on May 21, 2015 prescribed the following fee with effect from July 1, 2015.
Fee Description
2015-16 (RS.)
2014-15 (RS.)
Registration Fee Full Time Students (FTS)
13,500
12,000
Registration Fee Trainee Students
17,500
16,000
Transfer Fee for Trainee Student
13,000
11,770
Restoration of FTS Registration Fee
6,000
6,000
Registration as a new Training Organization
35,000
30,000
Opening of each new Training Office
13,500
12,000
35,000
-
RAET Application Fee
5,500
5,500
Induction of New RAET
150,000
150,000
Renewal Fee (Minimum charges)
-
25,000
RAET Annual Renewal Fee – Category A – First Campus
50,000
50,000
RAET Annual Renewal Fee – Category B – First Campus
25,000
25,000
RAET Annual Renewal Fee – Additional Campus
-
– Main Cities
25,000
25,000
– Other Than Main Cities
10,000
10,000
Affiliation Fee
5,000
-
Certificate Fee
2,000
-
Bonafied Trainee /FTS Student Certificate
500
500
Duplicate letter of completion of Training Contract
-
200
Duplicate Registration Card Trainee/FTS
-
220
Duplicate Card/Examinee Registration Card
300

220
Hassan Hamid
Accounts Officer
Engro Fertilizers Limited
CA is more than just a qualification. It is a journey whose effects can one can experienced by an individual right throughout his life. In addition to technical knowledge, it empowers you by developing critical thinking, effective communication and people handling. CA has greatly transformed me as a professional and the traits it developed in me, have enabled me to accomplish significantly in early stages of my career.
---
Taha Asif
Commercial Controller
Haleeb Foods
"Industry always has challenges and opportunities to which one is not exposed earlier. The responsibility for the shareholders finance and the ability to control and incurred cost has a great burden. Being in an FMCG requires one to be always on the toes and looking out on how to create value. Success in such a fast paced organization requires one to take ownership for the work one does and has to curtail cost and provide out of the box solutions to various issues both financial and operational. My success in Haleeb has been based on the very fact that as a chartered accountant I was able to understand the business operations and have been able to provide solutions to operational issues which have added value to the company. Having an understanding of the operations has resulted in me being a successor for general management positions as well." g