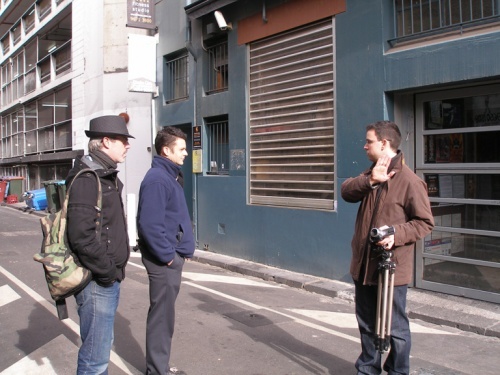 Ben Warner on the set of his film "Gunpoint Finance Creditor"
Australian filmmaker, Ben Warner, is the winner of
War of Films
(April Contest) with his short film
GUNPOINT FINANCE CREDITOR
. We had the chance to have a brief conversation with him about the film and what he did in order to promote it on the web. You can check out Warner's work on his Web TV at
digicosmtv.com
.
F.A. The film opens with the voice-over of a news anchor talking about the Lehman Brothers bankruptcy. How much were you influenced by last year's financial crisis in making this movie?
B.W.
The global financial crisis was certainly in an influence in the film, but I think what sparked the whole endeavor for me was everyone's reaction towards it. The media seemed delighted that they had a 'crisis' to sell newspapers, including the creation of the now infamous 'GFC' acronym – it makes for a great headline! That's why there is a news reader voice-over in the film, to reflect that idea. There was the dramatic reaction of governments, with this contradictory idea that they could solve a debt-driven financial crisis by getting in to debt themselves. And then there were the everyday people who finally learnt that you could not live beyond your means. All of this put together led me to this core idea that society functions on debt, and we probably won't learn anything from this. It was an idea that I felt could be communicated well in a short film. The reason why the two characters in the film do not have names is because they represent what this crisis was about, either on an institutional level, or a personal level.
F.A. How big was your crew and budget?
B.W.
The film was made with three crew members, my fantastic producers in Stephan Kern, Tiffany Murphy and Jon Fabian, who also doubled in various other roles during the production. With films like these I like to travel light on production to reduce logistical complications, and with digital filmmaking, you can do those things. And Richie Brownlee supplied a very brooding and effective musical score. The film was made on a budget of $20,000.
F.A. Did you put the film on the web right after it was completed or have you tried other distribution methods first, such as submitting it to festivals, etc?
B.W.
The first places I put the film out to were film festivals, and we were fortunate to get selected for the 'Firstglance Hollywood Online Shorts Contest' which runs until May 18th. With some festivals, they have restrictions on where the film has been screened previously which can prevent you from putting the film online, or elsewhere. However, given the huge audience afforded through Film Annex, and in particular the growing audience numbers on its webtvs, I felt I would be silly not to put it online on those platforms.
F.A. What was the reaction like to the movie from the internet audience?
B.W.
It's been excellent. "GFC" has been watched thousands of times through our Web TV "Digicosm TV" since it went online, which is unbelievable for a short film. We've also been getting some great feedback through the comments on Film Annex. I'd like to thank everyone for watching the film and letting us know what you thought.
F.A. How did you promote the film?
B.W.
Aside from putting the film out to many festivals, I created a website for the film:
www.gfcfilm.com
. This website functioned as an online press kit, providing an easy place for anyone to read up on the film, and browse through synopses, stills, posters and other information about the film.
F.A. What advice do you have for other filmmakers who are competing in the War Of Films?
B.W.
Aside from "you've got to be in it to win it", you also have to participate to win it, and get as many people as you can to participate. I would recommend filmmakers to submit their films because even if you don't win, you'll get a lot of exposure and hits.
F.A. Any future projects on the horizon?
B.W.
I've got two new short films coming up. The first is "The Monster In The River", a quirky comedy about a man who becomes obsessed with the idea that he has seen a loch-ness style monster in a river. The second is "Trial 159", a horror film about a malevolent force using a man to conduct an unearthly experiment. More details are on our "Small Wave Films" website. These films will be made for "Digicosm TV", and we'll also have cast/crew interviews and making-of videos as well.