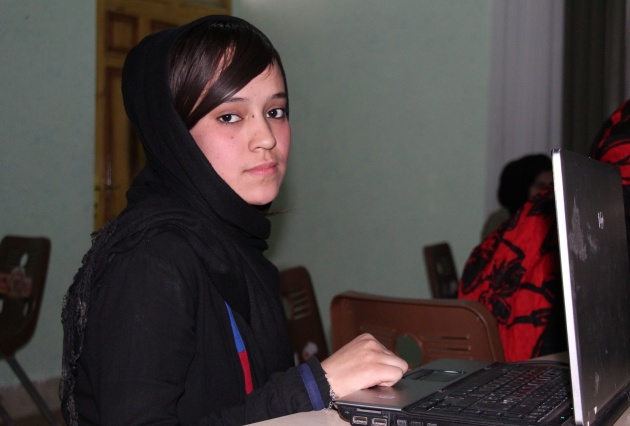 Parisa Ehsas is one of the Hatifi High School Students; She was born in Heart – Afghanistan. She is studying in 11th class of Hatifi School. Paris is one of the students who joins to the Film Annex community and write very interesting blogs.
Here is a brief interview with her about social media and her personal interests:
WA: Do you have any social media networking profiles? what do you use them for?
PE: Yes, I have five social media profiles such as Facebook , GMail ,Linked in , Film Annex and so on, I use them because they are useful for me and I can exchange information with other peoples , they are very useful social media.

WA: Who have you met on WA/FA and what have you learned?
PE: I have met with Elaha Maboob, Fawzia Noori and Farhad Hakimi because they are working in Afghan Citadel and I learned a lot from them about social media and how to live as active person in society.

WA: How did you find your writing experience in Film Annex platform?
PE: It is very good for me, I am very happy about that I enjoy writing blogs in Film Annex and learned different subjects from Film Annex and I familiarized with writing blogs.

WA: What are the most interesting topics you are following online?
PE: I study all of the blogs from my friends also specially some articles are very interesting to me such as force marriage in heart, superstation in Islam and Afghanistan and etc.

WA: How much did you get benefit of Women's Annex project, which builds Internet Classroom for High school girls?
PE: I have got benefits of Women's Annex project and I become a better writer and now I can share my ideas with other people without any problems and I familiarized with all social media sites, besides of that I earn money by the way which is really helpful for me and thanks from Women's Annex project.

WA: What courses do you enjoy the most? Why?
PE: I went to math course, English course, chemistry course and Internet course, I enjoyed the most from Internet class, because I take information and also we can learn new methodologies which are available in Internet about our school subjects or other things which are really helpful for us to improve our knowledge.

WA: What courses are the most challenging/difficult for you? Why?
PE: When I go to a course I try a lot and study more than other students and it isn't difficult for me but unfortunately math course is more difficult for me because I don't like math subject.

WA: What articles/books have you read during this year that has a special meaning to you?
PE: In this year I just studied Internet books and articles about social media and schools books. It was very nice for me to become familiarize with the new world.

WA: Do you have any hobbies or special interests? What are they?
PE: Now social media and working with computer becomes one of my big interests.

WA: Where do you see yourself in 5 years?
PE: I see myself as student who is studying in medical faculty, and also as active women in society.

WA: How do you spend your spare time?
PE: Mostly I spend my time for working and studying my school subjects and working with computer.

WA: If you could go to any place in the world, where would it be and why?
PE: I wasn't travel to any place in the world but I like to go America because it is very developed countries in the world and also it's my dream country.
WA: Have you ever written an article or blog? What was the topic about?
PE: I have written 16 blogs and they are about Afghanistan, society, technology and other things.

WA: If you want to express yourself in three sentences what would it be?
PE: I am a social person, kind and always help the poor people.

WA: Do you play any games? Which games do you like the most?
PE: When I was child I played everything's but now I don't have too much interest to plying game.
Please subscribes to the Parisa Ehsas Blogs in Film Annex.