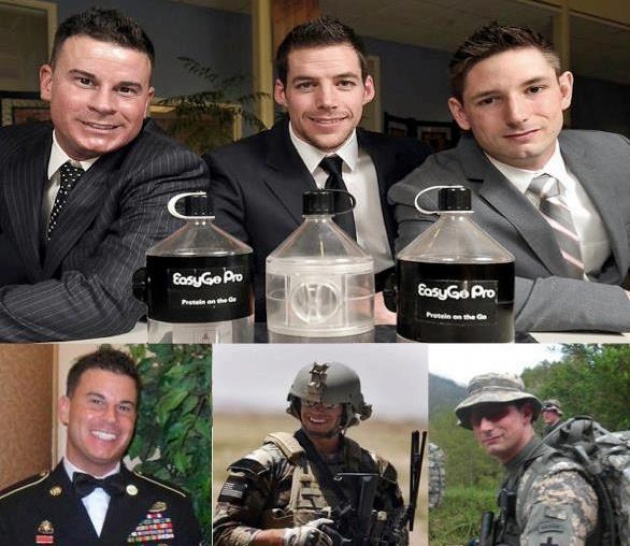 Michael Pett, Blake Schroedter and Tony Genovese, Veterans and now business men, turned an idea into a product and launched their company in March 2012. In our effort to empower war Veterans and help them with their business ideas through (G.I.V.E), and to give a real example of the realization of an entrepreneurship project, we interviewed Michael Pett about their product, promotion strategy and what the future holds for them.

Film Annex: Can you tell us a little bit about you and how you met your business partners?
Michael Pett: The members of Easy Go Dispenser are all Combat Veterans. I served in OIF from the end of December 2003 to March of 2005.  Blake Schroedter and Tony Genovese served in Iraq at the same time as me but were also in Afghanistan from 2009 to 2010. I have known Blake for close to 10 years when we met
as members of the Illinois Army National Guard. I first met Tony through Blake when they returned home from Afghanistan. I graduated from the University of Illinois (home of the Fighting Illini) in 2007 with a BA in Sociology and Blake graduated in 2008 with a BA in Psychology. I am currently a recruiter for the Illinois Army National Guard and Blake is a Ph.D candidate at the Adler School of Professional Psychology. Tony is a Senior in Marketing at the University of Illinois-Chicago. We are not engineers or scientists, just military guys who took an idea and turned it into a reality.

FA: Tell us about your product. How did you have the idea and when was it conceived?
MP: We have several products in the Easy Go tunnel but as of right now we are selling the EasyGo PRO and the EasyGo Baby. Both products dispense a spill free and specific amount of protein or formula into any standard sized water bottle, shaker cup, or baby bottle. We first came up with the idea after Blake and Tony came home from Afghanistan. We realized that we all experienced the same problem while we were deployed. Blake came up with the idea and decided to team up with myself and Tony to turn the idea into a prototype. At first we concentrated only on the fitness markets but as time went on, we realized there was a much larger need for our dispensers.

FA: What makes your product different? What are its advantages? Who do you target?
MP: Our product is unique in many different ways. We focused on functionality and convenience first because we knew that much like ourselves, consumers wanted something that was going to be easy to use and did not add any more headaches or bumps in their already hectic lives. We made it so that our patent pending products can dispense protein in 15 gram increments into any standard sized water bottle or shaker cup. Everyone at EasyGo works out religiously so we wanted to make sure that this product was going to be something that even the casual gym goer would use. It allows people to put the funnels back in the garage, put the Tupperware and Ziploc bags in the kitchen and just have one portable dispenser that stores up to 180 grams and does everything for you. The EasyGo Baby was much more difficult to develop because of the incredible safety and aesthetic requirements that we wanted to make sure we covered. We made sure that the EasyGo Baby is a smaller product in comparison to the EasyGo PRO. It needed to fit into cup holders and be easy for all types of caregivers to use while ensuring the functionality was not compromised. The EasyGo Baby has a metering unit that dispenses a scoop of formula that is similar in weight found in Similac and Infamel formulas. Our product was found to be much more efficient than the scooping methods or other dispensers such as The Munchkin or Tommie Tippee. Currently we are targeting several markets including Fitness enthusiasts and gym goers, parents with infants and caregivers, and the entire weight loss community.

FA: What are your distribution channels?
MP: We are currently taking pre-orders on Kickstarter via our website (www.easygodispenser.com) which is allowing us to generate the capital for tooling. We launched on March 10th (2012) and have already sold 19,500 dollars worth of pre-ordered product. We are currently selling to gyms and franchised GNC's in the Chicago-land area, where our products will be found starting in August. We are still formalizing relationships with baby boutiques and working to get our EasyGo Baby product whitelabled with baby formula companies.

FA: How do you promote your product online? Do you use social media?
MP: Currently we are using all forms of social media from Facebook to Twitter, and Linkedin. We have spent 18 dollars on advertising and have sold 19 thousand dollars worth of product which makes me smile every time I say it!

FA: Can you tell us how you see the future of your company? Are there other products you'd like to develop?
MP: In regards to the future of the company, we are coming up with new ideas everyday and sending them to our design team to have them turned into CAD renderings. We know that we will not save the world with our products but if we can continue to solve problems for our customers and make their lives easier then we all know that we have done our part to make people breathe a little easier and maybe even smile.

You can learn more about their EasyGo Dispenser, or order it on their website.