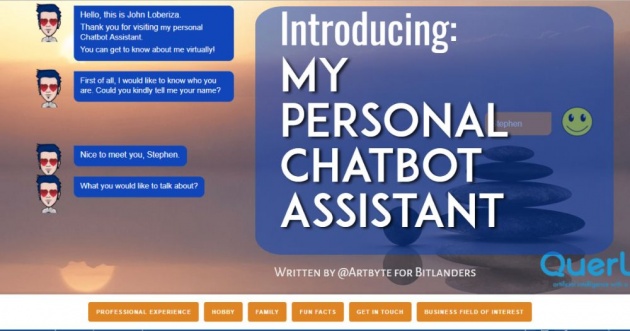 Image Credit: created by @artbytes for bitlanders
2 Weeks ago, Micky, TheSlanted Salerno announced the Querlo Chatbot Assistant. At the same time, it is the new Double Bonus Reward Topic.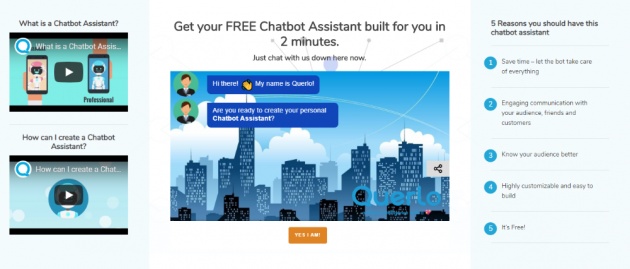 Image Credit: Chatbot Assistant by Querlo
I did not waste a moment and created my own chatbot assistant immediately. Creating your personal chatbot assistant is very easy indeed. If you have a Linked account, it would be much quicker to create.
Video Credit: @artbytes via Bitlanders
When I first created my first personal chatbot assistant, I selected professional. Then I also created a 'casual' version. I don't see much difference between the two. At least for now...
Then, I looked at the chat list on my Querlo account and I saw a couple of templates. One is for the professional version and the other is for the casual version.

I duplicated the casual version and customized it further. After adding my host and client avatars, I added and edited a few more information.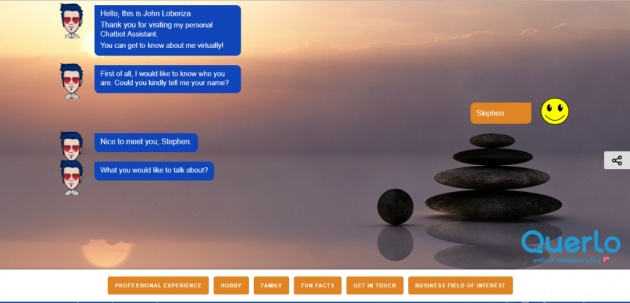 Image Credit: screenshot of my personal chatbot assistant
Interact with my personal chatbot assistant and find out something about me. Hopefully, you would share some information about yourself too.
I hope you enjoyed your interaction with my personal chatbot assistant. I will continue to customize this particular cblog in the coming days and find out more how a blogger or a business could benefit from it.
Thanks for chatting.
~°~°~°o0O0o°~°~°~

Please Check My Other C-Blogs
~°~°~°o0O0o°~°~°~
If you like this chat-blog, please share.
John Reynold Loberiza (a.k.a @artbytes) is a freelance graphic artist, web developer, and blogger. He is also a licensed Financial Adviser under Insular Life.
The content of this blog post is the author's original work. Proper credit is always given to the respective sources of information and images. Please feel free to check out my other blog posts: http://www.bitlanders.com/Artbytes/blog_post
If you have any reactions or inquiries regarding the subject of this post, please write it in the comment or send the author a private message.
For more information or questions you can also:
~°~°~°o0O0o°~°~°~
Join Bitlanders

If you are not a member of Bitlanders yet and you are a content creator- a writer, blogger, photographer, an artist or a hobbyist, you can earn from your creations (blog posts, photos, artworks, or videos) by uploading them in Bitlanders.
You can join Bitlanders by clicking this link-> http://bit.ly/Join_bitlanders