Video Credits: Jason Whaling via YouTube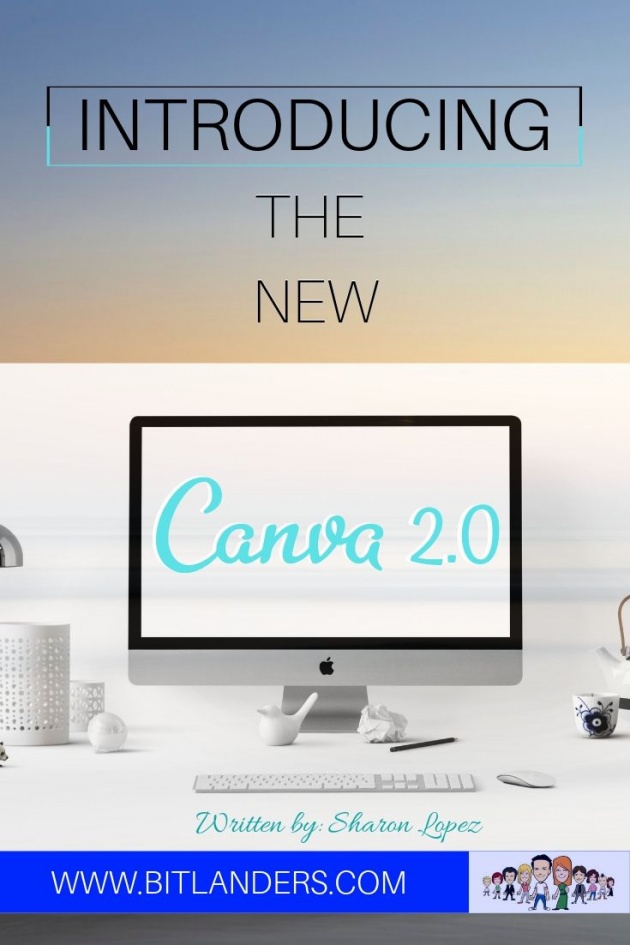 Image Credits: Sharon Lopez via Bitlanders
It's been a while since I started using Canva and I must say that I couldn't do my blogging thing without it. This has been the first design software that I learned to use and still using up to this time. If you are a Canva user, you will definitely agree with me if I will say that this is one of the best tools that bloggers, marketers, and freelancers, should be using.
The 10 million individuals who are using Canva can't be wrong. This is truly an awesome design tool! Simple, easy and above all, we can use it for free.
WHY CHOOSE CANVA?
In the past, I shared with you a blog post on How to create Awesome Graphics Using Canva where I introduced the basic steps in creating designs. I also shared Why I Love Canva? And Why You Should Too? where I presented the reasons why I love this design software.
As bloggers and marketers, we share our articles on social media in order to generate more traffic to our site. The more visitors we have, the more opportunity we have to present our products to other individuals. Thus, more traffic means a better opportunity to earn more.
While it is true that we need to write informative posts, content with pure text might cause the audience to get bored. With today's high competition in the market, we need to find a way in order to stand out from the group. One of that is having awesome graphics along with well-written contents. When we share contents, the first thing that will usually catch the viewers' attention is the preview image.
People love beautiful things, that's the reality. We tend to retain information if it is associated with images. Our brain is designed to absorb information faster when the information is delivered with visual content.
Here is an explanation as to why we tend to retain information if it is associated with images and videos.
A task made simple by Canva, a graphic design tool used by millions even without studying design course. I am one of these people and that can be you, too.
WHAT'S INSIDE CANVA 2.0?
In today's blog post, we will talk about the New Canva - also known as Canva 2.0. I will be presenting the new awesome features which you will surely love.
Some of us may have been using Canva for a considerable amount of time and we might have designs which we have created using the Old version or the Canva 1.0. By default, you can edit those designs with the old version. However, if you wish to edit the design using the Canva 2.0, you have to make a copy of the design so that they may be edited using the Canva 2.0.
Here's how:
In order to have your designs created using Canva 1.0 be edited using the Canva 2.0, you have to Make a Copy to Canva 2.0. Start by clicking the three small dots on the uppermost right portion of the design. Next, click Make a copy to Canva 2.0 from the drop-down menu. This will open to a new tab.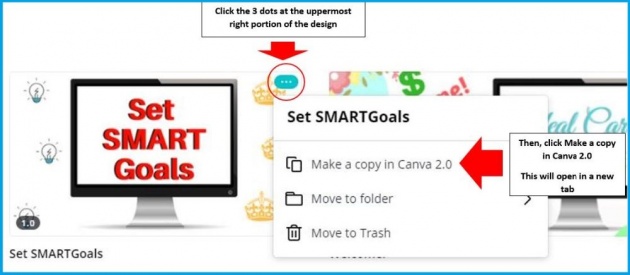 Image Credits: Sharon Lopez via Bitlanders
You can now edit the design using Canva 2.0.
Here's what your design will look like. On the left is the Canva 1.0 editor while the one on the right is the new Canva 2.0 editor. As you can see, there are some changes in the design editor. In Canva 1.0, there are 5 buttons to the left that correspond to layouts, elements, texts, backgrounds, and uploads.

Image Credits: Sharon Lopez via Bitlanders
While in Canva2.0, you can see added features represented by three small dots and the word MORE right below the folder. For upgraded members or those who have Canva for Work account, they can enjoy new features such as Animation Pro, Organization Pro (unlimited folders), Brand Kit, Fonts Pro, Magic Resize, Image Pro, and Transparent Background.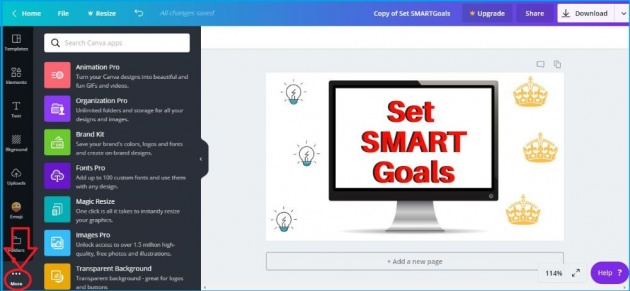 Image Credits: Sharon Lopez via Bitlanders
For free members, additional features are Embed, Emoji, Use of Facebook photos, Use of Instagram photos and soon to come it the feature which allows the use of unlimited images. Stay tuned for a comprehensive discussion of these new features on my next blog post.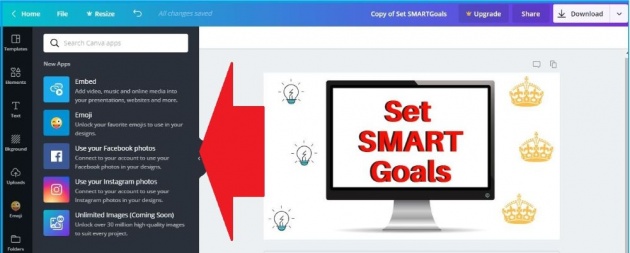 Image Credits: Sharon Lopez via Bitlanders
For this blog post, we will talk about the major features added by the management that can help you create more awesome images through the use of Canva 2.0.
CANVA HOMEPAGE SEARCH BAR
One of the newest features Canva 2.0 offers is the homepage search bar. Instead of browsing through the different design templates which will certainly take more time, we can enter the design we are planning to make and choose from among the options presented.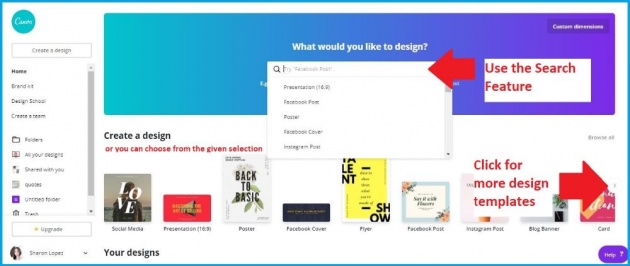 Image Credits: Sharon Lopez via Bitlanders
RECOMMENDED TAB
Right below the Homepage Search Bar is the recommend tab where you can search what specific design category you may want to work on. Please to the image above.
THE EMBED FEATURE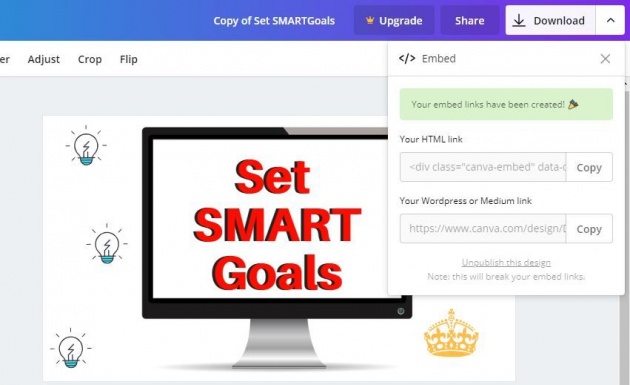 Image Credits: Sharon Lopez via Bitlanders
It's a new feature wherein you can directly embed the photo to your site. Any changes you made to the images will reflect immediately to the site. Just copy the HTML link or the link and embed it on your blog. If you want to implement some change on the design, just edit the Canva image and it will automatically be reflected on your blog.
PRESENTATION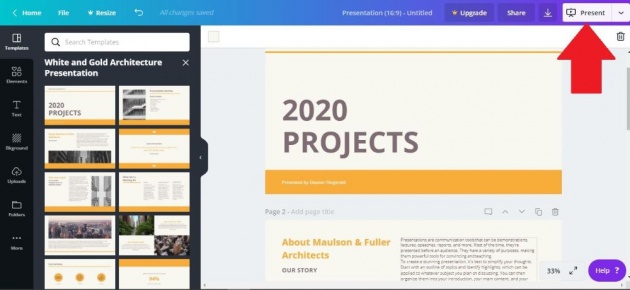 Image Credits: Sharon Lopez via Bitlanders
With Canva 2.0, you can now create a presentation right at the platform. Why it is an added advantage? You can create a presentation for your product or service and share it directly on your social media account. Isn't that great? That's a lot of saving both in time and effort.
PUBLISH DESIGNS DIRECTLY TO FACEBOOK, PINTEREST, LINKEDIN, TWITTER, AND OTHER SITES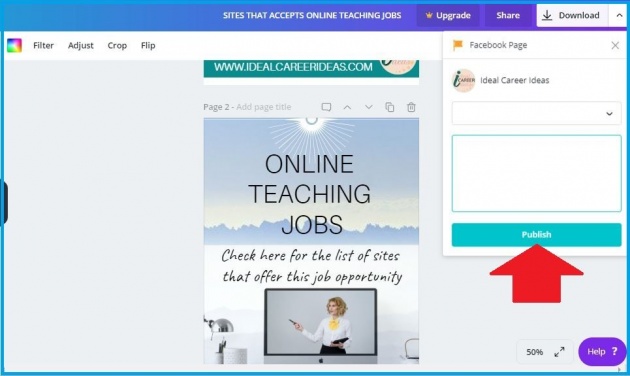 Image Credits: Sharon Lopez via Bitlanders
One of the most interesting features for Canva 2.0 is the ability to post your work directly into the different social media accounts.
SOME CANVA FOR WORK UPDATES
I just can't wait to share this with you! But of course, we will talk more about these on my next blog post.
MAGIC RESIZE
We probably knew that different social media use different sizes for their post. It would be unlikely if we will post a design which is bigger or smaller than the template.
I would create designs repeatedly in order to meet the size requirement of a certain size. That is time-consuming!
With Canva 2.0 for Work, we can automatically resize our design.
CANVA SCHEDULE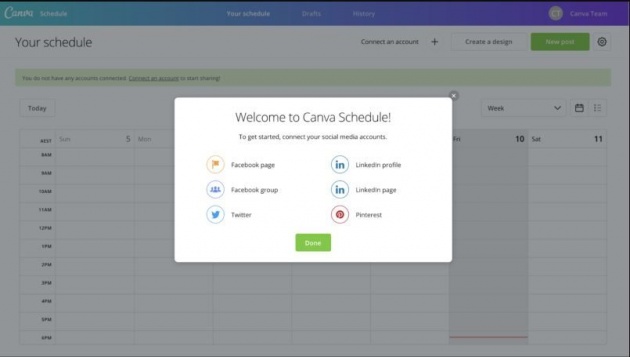 Image Credits: Canva.com
Now, here is the latest and the most exciting update!
Members can now schedule their posts on the social media sites of their choice. Isn't that something to look forward to? We don't need to pay for a scheduling app anymore! Canva 2.0 for Work can do it for you.
CANVA FOR WORK PRICE
Canva for Work is $9.95 per user per month and billed to you at $119.40 per year. Or you can avail of the monthly payment scheme of $12.95/month.
ON THE FINAL THOUGHT:
If you love Canva 1.0, you will surely love the new Canva 2.0 version even more! Learning new steps every day will make you an expert in no time. For some like who has a very limited time, Canva has been a great help with my blogging design needs. there is so much to explore!
Here is another video that will help us explore and use the different designs and features of Canva 2.0. Enjoy watching!
Thank you for reading my post.
DISCLAIMER: The views and opinions expressed in this blog post are that of the author and does not in any way represent the agency or department she currently belongs.
ADDITIONAL NOTE: The sites mentioned in this post are for information purposes only and links are provided for easy access. The author does not receive any remuneration from the said companies or sites.
-oOo-
Written for Bitlanders
by ♥Sharon Lopez
Date: March 01, 2019
Connect with me!
♥ IDEAL CAREER IDEAS ♥ FACEBOOK ♥TWITTER ♥ PINTEREST ♥ LINKEDIN ♥