Video Credits: Flipped Classroom Tutorial via YouTube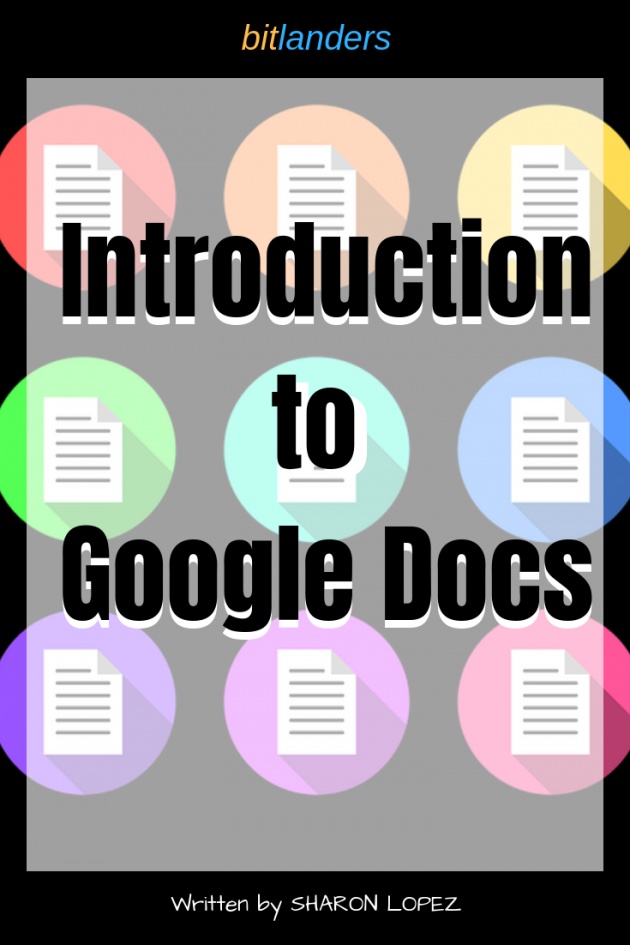 Image Credits: Sharon Lopez via Bitlanders
(Image courtesy of Typographyimages via Pixabay edited via Canva)
The first computer program that I learned to use was Microsoft Word way back in 2004. It is part of the Microsoft Office Software which was developed by Microsoft with its principal founder Bill Gates. Microsoft Word or more commonly called as Word is a word processor where users can use to input, edit and print the output as documents. Technically, it replaces the old typewriter we had in the office.
Apart from Word, I also learned to use Excel, PowerPoint, and Publisher. I had been using these programs for years and even I started to work online and learned different online applications and platforms, I continued to use these programs. It was only last year when the office decided to adopt online collaboration for the submission of the reports when I decided to do an in-depth study of using Google Sheet.
Google Docs - A Brief Description
Image Credits: Google.com.ph
Looking into the possibility of setting up a new blog in the coming months, I decided to learn more about Google Docs. I know it would be an ideal measure since I am looking for a good way to save space on my laptop.

Image Credits: Google.com.ph
Google Docs is part of the web-based office suite software offered by Google. If you are familiar with Microsoft Word, it would be easier to learn Google docs because of the similarity on the major functions.
Showing below is a screenshot of the Google Docs and Microsoft Word. We can see that the tools for editing a document are almost similar, only that they are placed in different locations or with a different name.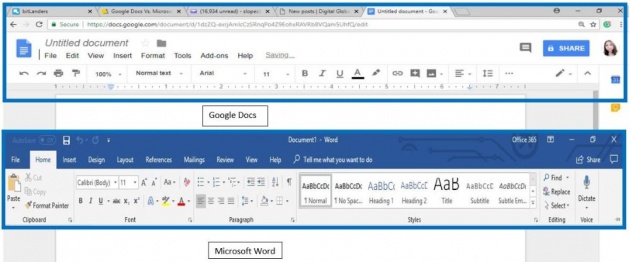 Image Credits: Sharon Lopez via Bitlanders
How Google Docs Differs from Microsoft Word?
There are several differences between Google Docs and Microsoft Word which we could identify.
1. Google Docs is a Web-based application only while Microsoft Word is both installed on our computers or laptop as well as a web-based application.
2. Google Docs is free to use while Microsoft Word is a part of the Microsoft Office program which we need to buy and installed in our computers before we could actually use it. The program is pricey. But currently, Word online can also be used for free with some limitations.
3. We need an internet connection before we could be able to use Google Docs while Word can be used even if we don't have an internet.
Benefits of Using Google Docs
When it comes to functionality, Google Docs can be considered useful in many ways. Here are the benefits of using Google Docs.
1. You can save disk space because you don't need to save the document in your computer. Since it is a web-based application everything you created will be saved directly to your Google Drive account.
2. You can access the document you created anytime as long as there is an internet connection.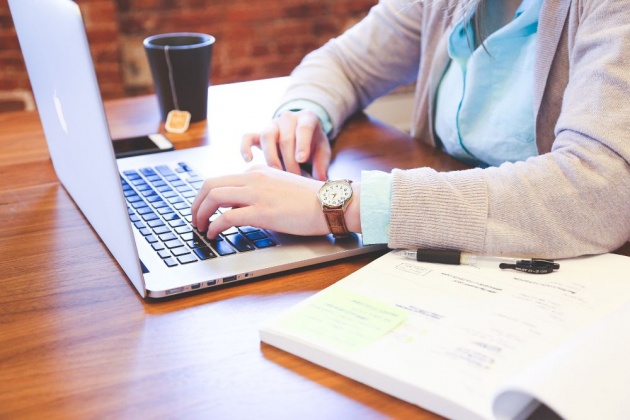 Image Credits: StartupStockPhotos via Pixabay
3. Google Docs is the best for collaboration. Meaning, we can share the document with other people who can view or edit a particular document. This feature can be very useful in an organization.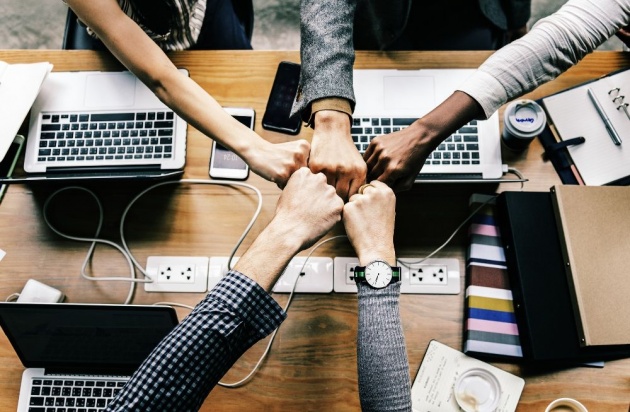 Image Credits: RawPixel via Pixabay
4. For bloggers like us, we can create our documents with Google Docs and have it exported to our blogs at the right time.
How to Use Google Docs
There are a few easy steps in using the Google Docs, here they are:
First, we need to have a Gmail account which is the basic requirement before we could gain access to the Google Drive.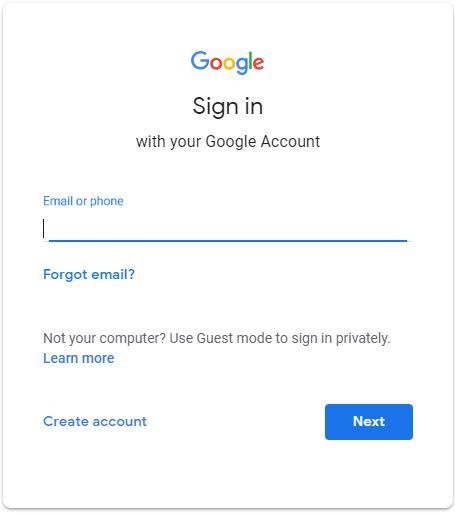 Image Credits: Sharon Lopez via Bitlanders
(Screenshot of actual Google page)
Once you logged in to your Gmail account, you can go to the Google Drive by opening the Google Apps which can be accessed through the drop-down menu on the upper right side of the Google page. From there, you can click My Drive and choose Google Docs from the menu options. You can choose to open a blank document or a template.
There is a wide range of available templates which you could use on your documents such as resume, project proposals, letters, and many others. Once you chose either a blank document or a template, the Untitled document will be opened automatically in another tab. You can rename the document by editing the Title field. no need to worry about losing a document because it is automatically saved in Drive as you type.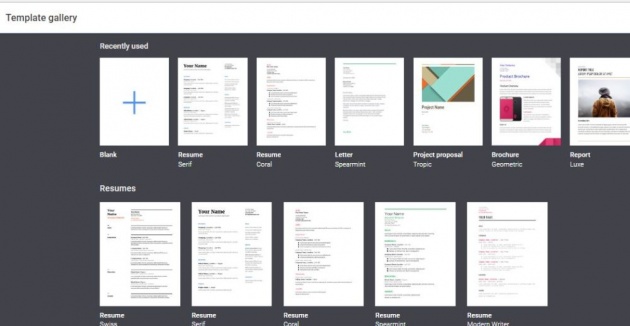 Image Credits: Sharon Lopez via Bitlanders
(Screenshot of actual Google Docs page)
Useful Tools
Google has come up with different tools which we can use to create an excellent document in Google Docs.
Word Count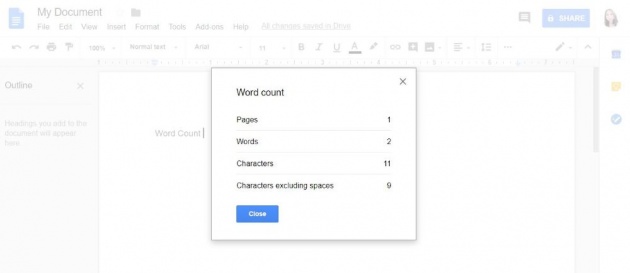 Image Credits: Sharon Lopez via Bitlanders
(Screenshot of actual Google Docs page)
It is important to know the word count of our contents as we progress so as we know if we already complied with the requirement. google Docs has also this feature which can be accessed by clicking Tools from the menu area.
Spell Check
One of the most important factors in writing a content is to eliminate errors especially with that of spelling. Google Docs has this feature which can be accessed from the Tools menu.
Voice Typing

Image Credits: Sharon Lopez via Bitlanders
(Screenshot of actual Google Docs page)
I am truly impressed with this feature. Anybody can talk and the statement will automatically be incorporated in the document.
The KeyBoard Shortcuts Keys
Knowing the shortcut keys for the commands may help you in faster completion of the tasks. Here is the link for the Keyboard shortcut keys for Google Docs.
Here is an advanced tutorial in using Google Docs
Video Credits: Flipped Classrooms Tutorials via YouTube
Wrapping it up...
Google Docs is a useful document processor we can use whether we opt to work alone or with a team. The advanced features are very timely considering the current work environment that we have. Learning new ways to ensure the best output is necessary. Updating our skills and knowledge to attain fast and more accurate results is one of the few things to consider. The world is changing and so we must.
Thank you and have a great day!
Meanwhile, here is a Querlo Chat for you...
More from this Author:
Exploring the Google Street View
Different Ways to Earn From Our Blogs
10 Blogging Lessons I Learned From Bitlanders
-oOo-
DISCLAIMER: The views and opinions expressed in this blog post are that of the author and does not in any way represent the agency or department she currently belongs.
ADDITIONAL NOTE: The sites mentioned in this post are for information purposes only and links are provided for easy access. The author does not receive any remuneration from the said companies or sites.
______________________________________________________________________________
Written for Bitlanders
by ♥Sharon Lopez
Date: September 14, 2018
Visit my blog profile for more ♥BLOG POSTS
Let's connect on ♥Facebook
Want to earn from sharing your opinions through blogging? Join us in Bitlanders and claim your 1 DOLLAR REWARD upon signing up. CLICK HERE TO JOIN