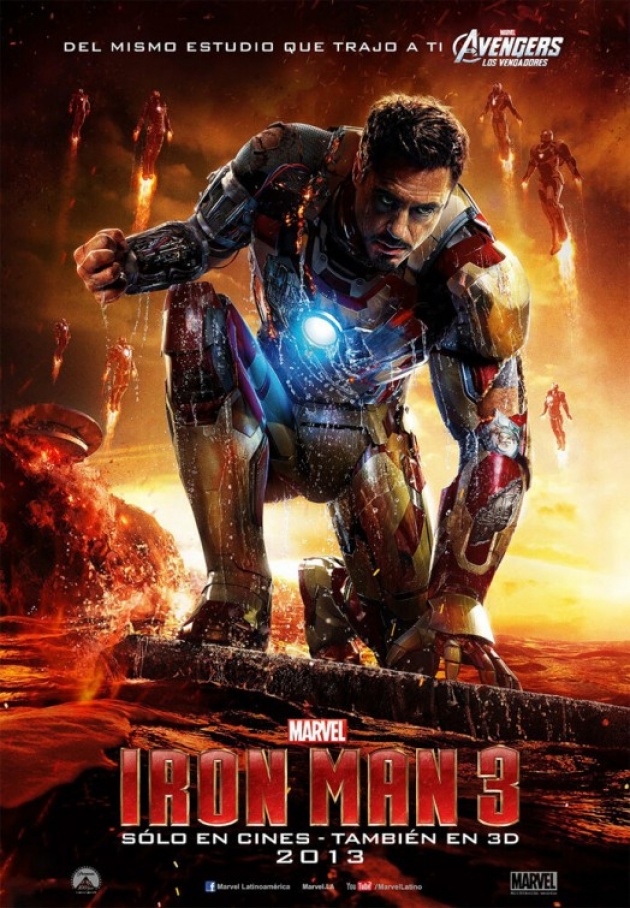 It's all muscles and testosterone at worldwide box-office. "Iron Man 3" proved to be a healthy franchise with a massive overseas debut of $195.3 million! Back in the U.S., "Pain & Gain" took the top spot with a $20 million opening.

Starring Robert Downey Jr. as our favorite metallic superhero, "Iron Man 3" is set to conquer the U.S. box-office this coming weekend. Which meant that Dwayne Johnson and Mark Wahlberg of "Pain & Gain" must bow out of the top.

"Iron Man 3" was colossal that it even beat Marvel's "The Avengers" which opened the same weekend last year with $185.1 million.

Previous domestic box-office winner, "Oblivion" starring Tom Cruise, fell to No. 2 with $17.4 million with a total of $64.7 million.

At No. 3 was the Jackie Robinson drama, "42," starring Harrison Ford with $10.7 million. Debuting at No. 4 was Lionsgate's nuptial comedy, "The Big Wedding." The ensemble cast headed by Robert De Niro, Robin Williams, and Katherine Heigl flopped with just $7.5 million.

Rounding out the Top 5 was the animated flick "The Croods" with $6.6 million. Here's the estimated Top 10 box-office films for weekend of April 26:

1. "Pain & Gain," $20 million.
2. "Oblivion," $17.4 million ($12.8 million international).
3. "42," $10.7 million.
4. "The Big Wedding," $7.5 million.
5. "The Croods," $6.6 million ($13.1 million international).
6. "G.I. Joe: Retaliation," $3.6 million ($10.2 million international).
7. "Scary Movie 5," $3.5 million.
8. "Olympus Has Fallen," $2.8 million.
9. "The Place Beyond the Pines," $2.7 million.
10. "Jurassic Park" in 3-D, $2.3 million ($410,000 international).