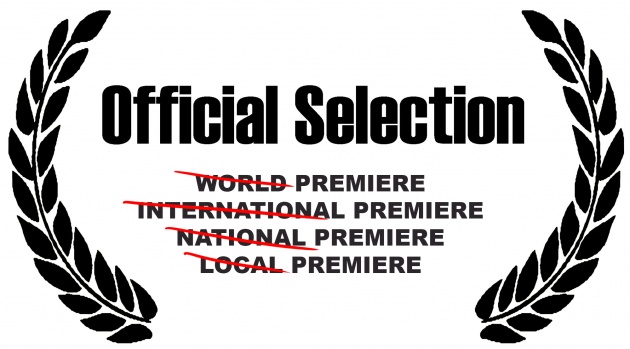 I recently just got back from the Melbourne International Animation Festival in Australia. While there I presented a talk at the festival's Render Animation Conference about running my small boutique animation studio. The festival's Executive Director, Malcolm Turner, also delivered a great presentation about the state of animation film festivals and international film festivals around the world. As founder of the MIAF and programmer for many other festivals around the world, he's definitely been to his fair share of festivals and had some great observations and insights. He made a very good point when he talked about abolishing the "Premiere Rule" since it makes no sense for short films to be restricted to have to premiere in a particular city or country…or continent to be accepted to screen at any film festival.
Yes, it makes sense for feature length films to have a "Premiere Rule" since the feature is the main draw for film festivals and can garner the festival prestige and press to have a particular film premiere at that fest. Although for short films, they are usually packaged or played before features, thus the argument is, who cares if the short has already screened in that particular country or city. Shorts don't have that much draw unless they have been nominated for an Academy Award…but even by the time it is nominated, the short has usually already been around for a year and has had a healthy festival run...which means it probably won't be a premiere by the time a festivals programs it and markets it as an Academy Award nominated/winning short.
It's true that for most filmmakers the dream is to premiere their new short film at some top tier film festival like Sundance. Although, chances are with 12,000 films being submitted each year, don't hold your breathe that you'll be one of the 200 selected. Most filmmakers will keep their films off the internet until they've had a healthy film festival run. Some film festivals still have rules where they will not accept a film if it is already online. While some other festivals like the prestigious Clermont-Ferrand International Short Film Festival in France have been progressive and done away with that rule. Being one of the biggest and most important short film festivals, that's a pretty big deal.
Thus, Clermont-Ferrand opts instead to select the best short content regardless of where it has been or screened before or had a million views online. I have experienced this first hand when my 2007 film, Yellow Sticky Notes, had already been online for a year and was well traveled when it was accepted to the 2009 Clermont-Ferrand festival. The film even ended up winning the Prix du Public in the Lab Competition so that goes to show that having the film online and having already gone viral may have actually helped the film's popularity at the festival.
There are many reasons why other film festivals feel the need to be exclusive with their short film selections by requiring a premiere status. It seems from my experience applying to festivals that it is mostly the second tier film festivals which have this rule. I suspect it is because they are trying to create more clout for themselves on the international stage and boost their image by competing with each other to be bigger and better...thus garnering more submissions and worldwide attention. Anyone who has used Withoutabox, Short Film Depot, and Reel Port to submit your films will notice that every year there are hundreds of new film festivals popping up. Yes, they are supporting filmmakers by screening our films on the big screen, but they are also organizations that need money to operate. I notice this more and more as submission fees increase each year and festivals are providing filmmakers less and less to screen their films. Gone are the days of screening fees, big cash prizes, hotel and flight comps for short filmmakers...and even for feature filmmakers for that matter.
So for us short filmmakers playing this "Premiere Rule" game are we the ones losing? Instead of trying to fish for premieres, we could be capitalizing on our festival success by trying to sell our film's rights while we have big festival buzz instead of holding out for festival acceptances. Sometimes filmmakers will hold back deals because they think it will jeopardize their festival run if they release the film too early via broadcast, DVD, or online. At some point filmmakers will have to ask ourselves what is the true benefit of film festivals anymore in the age of the internet and self distribution...but that's a blog post for another time!
Here's a scenario on why the "Premiere Rule" makes no sense. This actually just happened to me today. A really cool smaller animation festival in town wants to screen my latest short film in the fall. Although, I can't say yes yet. I have to wait to see if the big international festival is going to accept my film first since they have a "Premiere Rule". The big film festival just happens to be a week after the animation festival in town. So I can't say yes to screening at the animation festival until I hear back from the big international festival on whether they are going to officially accept my film. Although, I know I'd have a really cool audience at the animation festival who would appreciate the film a lot. As well, it's a different audience than those that attend the big festival. So the animation festival might pass on the film since they need an answer right away but I'm at the mercy of hearing back from the big international film festival...and who knows when that will be. Yes, I could just say screw the big festival, but I know there will be more opportunity at the bigger festival in terms of networking, exposure, etc. if I get accepted.
Also, let's say two competing festivals in the same city have a "Premiere Rule". They will not show your film if it has premiered in the region already. So you want to apply to both festivals just in case you don't get into the other one. Well you pay two submission fees of $50. You find you get into both festivals. But you can only screen at the first festival since the second one also requires a premiere. So instead of getting to screen at both festivals, which have different audiences anyways, you just wasted paying $50. Thus, not only is it wasted time, it's a waste of money trying to play the "Premiere Rule game". Also, if I had a dollar for every time I had to hold off applying to a particular smaller niche festival (that doesn't have a "Premiere Rule") because the big city festival required a premiere, I'd have made my $50 back a long time ago. It's time to end the "Premiere Rule!"
A reason, I've kept my latest film Yellow Sticky Notes | Canadian Anijam offline is because some festivals do have issues with the film being online and will not accept it. As well, the film has to be offline to qualify for an Academy Award. There are a bunch of film festivals that count as Academy qualifying film festivals. If you win an award at one of those festivals, you can qualify to apply to apply to the Academy Awards in that particular category. So most filmmakers, keep their films online for this very reason.
So the question is when should you put your film online. If you get a short film distributor, they'll dictate that. But if you do it yourself you're at risk of disqualifying yourself from a bunch of international film festivals. Although, the upside is you could benefit immediately with worldwide exposure and online monetization. When I created Yellow Sticky Notes, I didn't want to put my film online so quickly after its premiere but I was offered a good amount of money to do it. Did it hurt me getting into some film festivals? Not really, the film ended up screening at over 80 international film festivals and many of them even discovered the film from its online presence. Although, truth be told, it did disqualify me from some of the big prestigious festivals that did have "Premiere Rules" that I really wanted to apply to.
Personally, if I get a chance to see some awesome short I've seen online, I jump at the chance to see them on the big screen to get the full effect of their awesomeness! I love film festivals and have a wonderful time, seeing my film projected in a theatre, meeting new filmmakers and building a fan base up close but we just need to stop being so precious about the "Premiere Rule" when it comes to short films. I would love nothing more than to have my latest short film Yellow Sticky Notes | Canadian Anijam online right now to share with the the world, but I'm waiting to premiere the film at a bunch of festivals that require the film to be offline.
So here's my advice. If you finish your short film and realize that you are not getting into the big top tier film festivals or even the second tier film festivals, put your film online with a site like Film Annex...at least you can monetize with your film right away and make some money. Distributors are paying crap these days for a short so you're bound to make more with your own online exposure and monetization. You'll gain more exposure and have a wider international audience than the 200 people sitting in a dark theatre watching your film at a festival. As for the "Premiere Rule" for shorts…I think it's time festivals started looking at quality instead of worrying that a small handful of their audience might have already seen one of the films before in the program. Seeing a short film on the big screen is an experience and a rarity. It's hard enough seeing short films in theatres…Celebrate short film as art and give them the recognition they deserves without restriction.
Please subscribe for updates on future blog postings and video uploads. Thanks!
Here's the trailer for my latest animated short Yellow Sticky Notes | Canadian Anijam! For festival screening dates, please check out www.yellowstickynotesanijam.com