According to reports Saddam Hussain buried weapons in different part of Iraq, which is now used by Saddam's soldiers who have regrouped with ISIS. They are using these weapons without ant fear. According to Al Arabia news ISIS is marching towards Baghdad and they are now only 13 kilometers away. There are reports that ISIS has occupied 40% of the territory in Iraq. It is very strange that all the terrorist outfits are nurtured and encouraged in muslim countries. Even US bombardment didn't stop ISIS on the way. Us philosopher revealed that ISIS is launched by Americans to destroy Iraq. He said in an interview "I believe the creation of ISIS is one of the most brilliant and dazzling CIA achievements since the beginning of this century, ISIS is Saudi and US made product."
The links between Pakistani Taliban and ISIS is not a good sign for Pakistan because Pakistan is already fighting a war against terrorism. Taliban in Pakistan have declared that they will support ISIS in Pakistan. Unknown persons also pasted stickers and posters of ISIS in Lahore. This a very danger sign for the people of Pakistan. Fata and Balochistan are very suitable venues for ISIS to launch their campaign in Pakistan. There are also some rebel groups which are anti state and are against Pakistan fighting in Balochistan like BLA and BRA.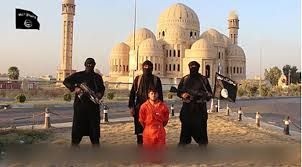 Information Minister in Pakistan Mr. Pervez Rasheed stated that whosoever carries out terrorism under any name be it "ISIS" will be dealt strongly on a similar pattern to North Waziristan operation.
I think Pervez Rasheed should also consult Mr. Rana SanuAllah on this issue.
Pakistan is already engaged in the war against terror and now the presence of ISIS is not a good indication. One positive thing is that Pakistan is already fighting with the terrorists so it would be easy for Pakistan to deal with any kind of terrorists as they are doing it in operation ZarbEAzb and Khyber1.
May Allah have mercy on Pakistan and every other country suffering from the disease of terrorism.