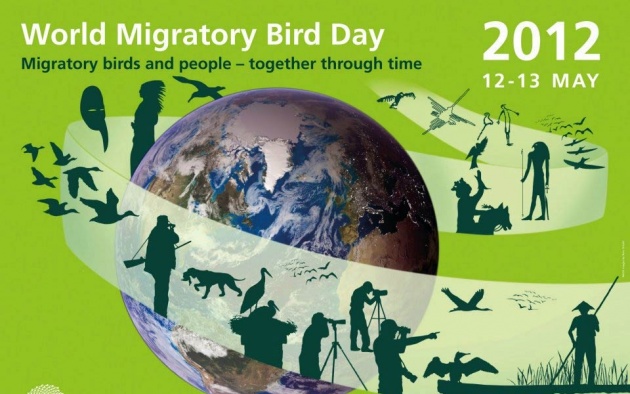 "Birding plays a significant and growing part in the tourism industry, and creates direct and indirect economic benefits for many countries and communities, also amongst developing countries," according to Elizabeth Maruma Mrema,of the Convention on the Conservation of Migratory Species of Wild Animals (CMS). This weekend, May 12-13 is World Migratory Bird Day. Initiated in 2006, the Day is an annual campaign organized by CMS and the African-Eurasian Migratory Waterbird Agreement (AEWA) – two intergovernmental wildlife treaties administered by the UN Environment Program. The day is devoted to celebrating migratory birds and promoting their conservation worldwide.
Observation & Conservation:
World Migratory Bird Day highlights economic benefits and also raise awareness of the importance of protecting birds, which face a series of challenges each year in their journeys. "Conserving migratory birds is highly challenging because their annual migration often spans several countries, each governed by its own jurisdiction and national conservation strategies," Ms. Mrema said. Events to mark the Day are due to take place in 70 countries, including bird festivals, education programs, presentations, film screenings and bird watching trips, run by hundreds of volunteers and organizations. The Day will be followed by an AEWA intergovernmental conference on migratory waterbirds, which will take place on 14-18 May in La Rochelle, France, and will focus on the role that wetlands play as a vital habitat for migratory birds and people and as a source of livelihoods for communities, particularly in Africa. Also see our Blog for Film - http://diplomaticallyincorrect.org/blog_post/millions-of-bird-deaths-unnecessary-by-ambassador-mo/42071
Contribution to US Economy
UNEP notes that global spending on all areas of ecotourism is increasing by about six times the industry-wide rate of growth, and underlined the potential economic benefits of bird-watching in particular. In the US places the economic value generated every year by bird and other wildlife watchers at around $32 billion. This amount corresponds to the gross domestic product of Costa Rica, which is also a popular destination for US birdwatchers.
Ambassador Muhamed Sacirbey - FOLLOW mo @MuhamedSacirbey

Facebook-Become a Fan at "Diplomatically Incorrect"







Twitter – Follow us @DiplomaticallyX







See more at our Popular Video Blogs & Current News Event Articles – Ecology-Diplomat Channel