Yes I know. It's been a while since my last post and it goes straight against my first will of posting frequently. But what can I say… lots of work, little time, tiredness and not precisely loss of weight.
So before updating what I was pointing out lately (Pranayama), I would like to share the experience of this last job in which I was so immersed.
First of all, as a depiction of the context: this job was part of a reading promotion program for children released on my country seeking for motivation upon reading and writing skills on scholar age children. Kids were prompted to write a short story about their vacations and set on a competition they had the chance -by wining the first prize- to get their stories made as short animations.
I work on this with my friend and colleague Ignacio Ruiz, whom is a frequent blogger here on FA. So further or more info on this short animations, you'll surely find checking out his posts too.
So let's check some stuff.
Storyboard and Technical Script Sheet.
Important tips over this tool: of course it's needed to provide all our staff with the storyboard and technical script, in order to check and review info on what is meant to be done on each scene and frame of the project. Besides this, two important things:
1.- Print it!
Yes indeed we may believe that digital means are enough, but flipping through a real document is much more helpful than overviewing a digital doc such as .pdf or .doc, keeping in mind that you may be already working on your computer and its a time saver to do without switching from your current digital workspace to the preview of your, for instance, techscript pdf.
Also it's fatser to take notes over a physical document. Provide yourself with color pens and/or sharpies, which you may use for different purposes meaning for instance: correction notes, advance checkpoints, etc.
2.- Hang it!
Besides the personal fastened document, also have a hanged version which you may overview with out the need of flipping through. So let it be completely displayed over a board or a wall. This second aproach for overviewing and checking your progress gives you a sight of the whole. You are able to have a complete view of the script and storyboard, jumping from the begining to the end at a single glimpse.
It's also very useful to discuss with your partners upon ideas, problems/solutions, explanations, and stuff when you can approach the storyboard by these means.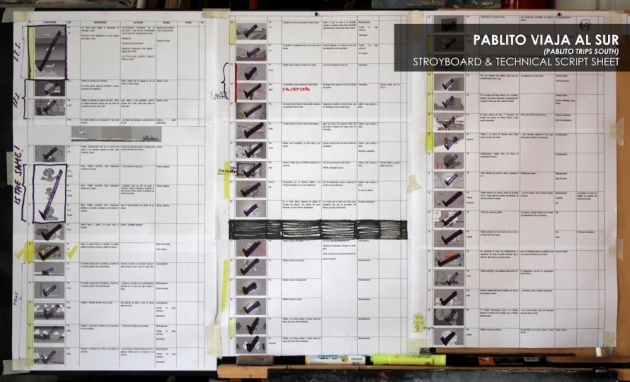 A printed & hanged version of the sb & techscript.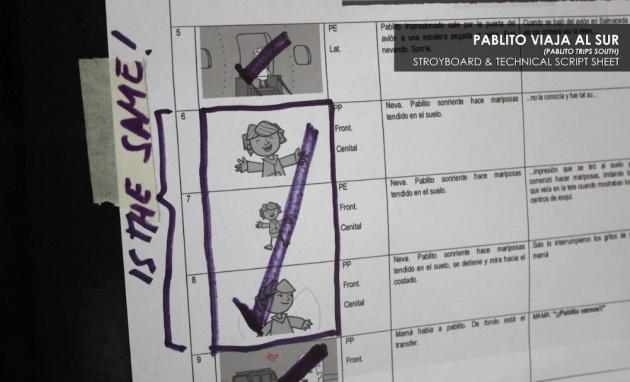 abrazos!