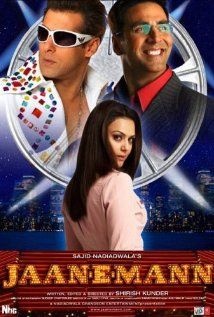 SUPER HIT HINDI MOVIE JAAN-E-MAN
Cast
Credited cast:
Salman Khan
...

Suhaan Kapoor

Akshay Kumar
...

Agastya Rao

Preity Zinta
...

Piya

Anupam Kher
...

Bonney Kapoor

Tom DiNardo
...

Diaper Commercial Director

Ann Marie Seall
...

Diaper Commercial Casting Assistant

Soni Razdan
...

Mrs. Goel

Rest of cast listed alphabetically:
Steven Baker
...

Party Guest

Rajat Bedi
...

Vishal Goel

Matt Brandstein
...

Hip-Hop Dance Enthusiast

Michael DeBarge
...

Dancer

Edward Lovebane
...

Waiter

Joel Ney
...

Hip-Hop Dance Enthusiast

Ragini Parmar
...

Dancer

Sanjay Sharma
...

Pandey
PLOT
She complete with eye-glasses and braces, Agastya Rao alias Champu, has a crush on Piya Goel, and is thrilled when she invites him to go to a dance, only to be heart-broken when he finds out that she really digs another guy. Years later, Agastya has graduated, re-located to the U.S. where he is an astronaut with NASA, and when he finds out that his college sweetheart is about to divorce her husband, decides to try his hand at wooing her. He gets the unsolicited help of one-time Bollywood wonder Suhaan Kapoor, who accompanies Agastya to New York, assists him in successfully wooing and proposing to Piya. On the night of their engagement, Agastya will find out that Suhaan only wanted to help him because of Section 25 of the Hindu Marriage Act - so that could relieve him of the financial burden of paying alimony to Piya, who was the girl he had secretly married much against the wishes of the entire Goel clan. Watch what happens when Suhaan finds out that he has a.......
USER REVIEW
This movie is another extension of series of movie made or to be made in bollywood on love triangle. The story line is old but successful.what i like about the movie is the treatment of the roles and its usefulness in the story. Firtstly i must congrats sallu miya for his another outstanding role in this movie .the role may shut the mouth of his critics who believe he is not actor.In nutshell he has justified the role as a rock star, as a die-hard lover and benevolent human being. his partner akshay though Short in role has done his job and made the movie Worth watching Priety Zinta not very attracting may her age has coming to her role as young lady she is good at dialog delivery,good at acting and overall justify the role Anupam Kher a legend in acting is amazing this movie is a work of romance go for it its good bye vinod
Director: Dharmesh Darshan.