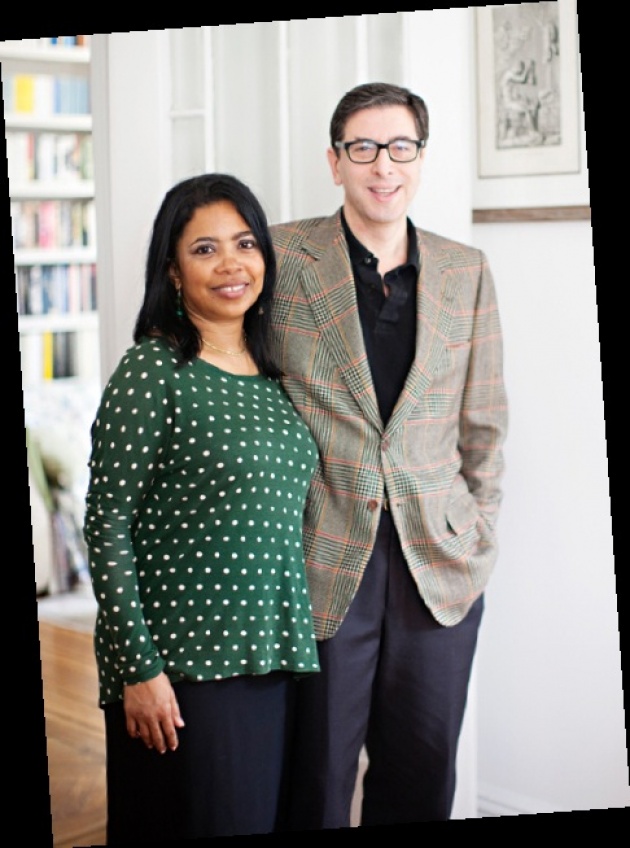 For more than 15 years, Jacquie Greaves Monda and her husband Antonio Monda, have entertained international stars in their apartment serving excellent food to extraordinary company.
By Riccardo Costa

Jacquie and Antonio first met in '85, and both did not speak each other's language. He came from Italy and she's Jamaican, but they clicked right away through Neruda's poems. They married, had three children and now live on Central Park West where they entertain politicians, writers, actors, directors, and international stars. All delicacies are prepared by Jacquie. Mrs. Monda expresses her art in the kitchen where she invents and re-creates recipes that combine the Italian and Jamaican traditions.

Watching Jacquie cooking is a true spectacle, and observing the reactions of Meryl Streep, Renzo Piano, Robert DeNiro, Al Pacino or Philip Roth who suddenly become speechless from being impressed by her dishes is even more surprising. I asked Jacquie who was the guest she was most afraid to satisfy and why. With a big beautiful smile, she answered definitely Meryl Streep.

"First of all because it was the first time she would come to our home. This, however, was a somewhat intimate dinner – I believe we were 10 – and it was following the film Julie & Julia. I didn't know if Meryl Streep truly liked to cook, but in any case she is a consummate professional and I was sure that she had spent hours in the kitchen preparing for her role as Julia Child. Well, the only thing to do, is invite the right people, who were not only impressive enough for a star like her, but also true friends, people who would make me feel comfortable as well. The menu was made to impress but always my style, which is home cooking, nothing fancy but from appetizer to dessert something that would either be a bit different and possibly a surprise in an American kitchen."

And Jacquie clearly impressed her since Meryl Streep called her the next day to ask for a particular recipe.

Jacquie is also a perfectionist. Paying attention to every detail, she never stops until a dish is exactly the way she wants it. When asked if she remembers a moment of panic in the kitchen during a dinner, she easily responded

"Panic is always in my kitchen. I am always afraid of forgetting something or botching a dish, especially since I never write anything down. Only now that I am seriously working on a book am I measuring and timing myself. I never think, oh God how many people will eat pasta, so many grams per person. Actually, if you want to irritate me start talking about grams of pasta per person and I turn into a fire breathing dragon. I make what I think people will eat. I assure you people always have enough and they are also never ever dissatisfied".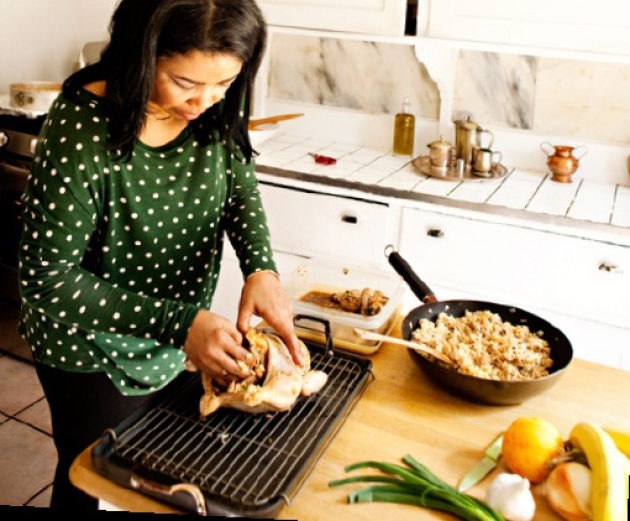 stockfood/clycom

"Another panic moment is when people arrive and at that point, they tell you they are on a special diet or are allergic to something and again I just want to scream. Then there are those who turn up their nose at everything you have prepared. When I am invited, I eat everything I am offered unless they are real friends. Then I will tell them at the point of the invitation and remind them when I arrive at their home."

That triggered another question to ask her. When she invited a guest, did she ask if there were any dietary or religious restrictions? Since we're both chefs, we smiled at each other knowing we all have been through that. Then she said:

"More and more this is a problem, not in terms of religious diets. That is relatively easy to get around. There are so many dishes that have substitutions or just eliminating an ingredient like using smoked mozzarella to give the taste of pancetta in a recipe. I hate when a guest isn't able to eat. This goes back again to the idea that a guest should tell the host prior to the meal that they have an allergy. Once I had a guest at a party who was only able to eat dessert because they were allergic to black pepper. I was totally stumped as I put black pepper even in my salad dressing. I would never think about cooking without black pepper. Here again, the only people I have ever met who have said they are allergic to black pepper are Italians (her husband is from Italy). I can't figure out if they are just not that used to it (cultural difference again) or whether it is really true. For me, black pepper is like the air. How can you live without it? I am playing around more and more with gluten-free products, but never pasta. That is pretty "sacred" in our house, and in any case I am gluten intolerant but I can live without pasta. I know. It sounds strange coming from me but it is the truth. I always prepare a gluten free second first course for our parties. "

There's a dish Jacquie is proud to have made and that is the sartu`of rice. She made it for a big party as she always likes to have only one pasta dish and then a second choice. She has since made changes – eliminating all the meat (prosciutto etc.) and it is made with grilled vegetables (not fried) and smoked mozzarella. It tastes as if there is pancetta but it is the cheese that gives it the flavor. So vegetarians can eat it as well. Also it is gluten-free. Among the dishes she doesn't like to cook is pasta with bottarga, a dish that everyone loves – Americans and Italians. The reason is because she's Jamaican and raw fish and those fish egg dishes are not traditional to their cuisine and she just won't even try it. This pasta dish is exquisite but one of the simplest to prepare and it makes a very elegant and surprising first course especially as few people still know of its existence.

We're talking about different dishes and it comes to my mind to ask her what's the dish she never prepared but would like to try and if she's a little bit frightened. "Surprisingly enough any pasta with eggplant. I truly don't know because I came to love eggplant in Italy and I grill it to make eggplant balls for the sartu`, but I never ever use it except sometimes in lasagna. I am terrorized at doing it wrong even though there is not anything particularly difficult about it. I really think it is psychological as in some way eggplant symbolizes something truly Italian and I am definitely not Italian."

Jacquie and Antonio are the true Masters of Ceremonies, nothing is missing in their homes: the excellent food prepared by the multi-talented Jacqui, good company and the feeling to be in a family that puts you at ease right away. Antonio decides the seat assignments but Jacquie has the final approval of the plan as she does regarding who gets re-invited. Luckily, I'm one of them.

Jacquie is preparing a book - "Culinary Matrimony" that contains her best recipes. After the book is published, with some basic kitchen skills, imagination and the right ingredients, you too can recreate her amazing specialties at home. With your own guest list, you can graciously entertain just as Antonio, an Italian at one end of the table and Jacquie, a Jamaican at the other end, do at one of New York's most prestigious tables.

Photos by Contrasto/Corbis/Stockfood/Clycom