It is again time for my monthly earning review since it's already February. February is a month of love and of course a travel time for me and my husband for our first wedding anniversary.
But before we go to that part, I want to share the earnings I had gained for the month of January.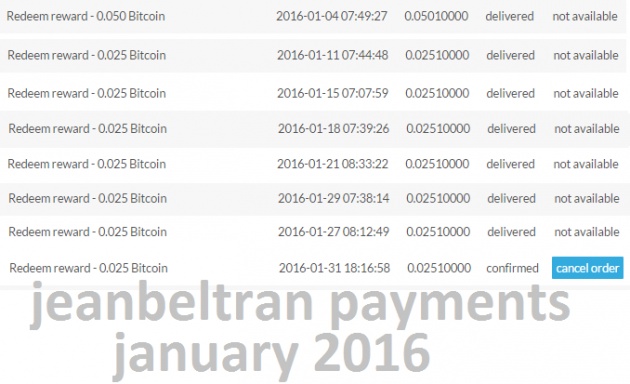 So I got only one 0.050 Bitcoin withdrawal but I have seven 0.025 Bitcoin withdrawals. I don't want to really check the specific peso equivalent but I just want to share that these earnings had helped me and my family.
The earnings have been saved on my coins.ph account and with the new announcement that the future payments will be done through paypal, it had saddened me. Why? There are lots of reasons why I dislike to have it in Paypal.
1) PayPal has fees when transferring to bank accounts here in the Philippines
2) I have to wait for a long time before I can transfer a specific amount from PayPal to my bank account, it usually takes 2-4 working days unlike bitcoins thru coins.ph, only 1 working day and same day if it has been processed before 12nn.
3) I won't be able to tap up load on Paypal account. I have been using coins.ph with my bitcoin earnings to load my mobile phones. It's easy and it has rebates. So that means good bye to rebates as well.
4) Paypal customer service takes time. While with coins.ph, I can do certain chats with them.
So I do hope that we can still have the option to use bitcoin transfer for payment modes.
check out my other blogs about my monthly earning here in bitlanders: