Shoga-yaki (しょうが焼き)is simply one of the best meat dishes in Japan. The simple combination of pork and ginger, sauteed in a soy based sauce is a perfect harmony. This easy to prepare dish can be served on the side with rice or it's equally well "donburi" style, served on top of a bowl of rice.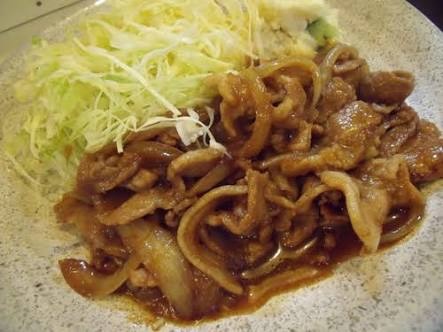 Ingredients:
14 oz. (400g) pork, thinly sliced
1 onion
2 Tbsp. soy sauce
1 Tbsp. mirin(or..1 Tbsp. sake + 1 tsp. sugar)
1 knob freshly grated ginger
1 tsp. sesame oil
vegetable oil
cabbage leaves, diced
Directions:
Spread out all the pork slices, one on top of another.(Marinating 2 slices of meat staked together makes for a more balanced flavoring)
In a bowl, make sauce by combining soy sauce, mirin, grated ginger and sesame oil.
Marinate pork in sauce for about 10 minutes.
Cut onion into slivers.
Saute pork over medium heat on one side, add onions and saute together until pork separates and both sides are lightly browned.
Serve with diced cabbage.