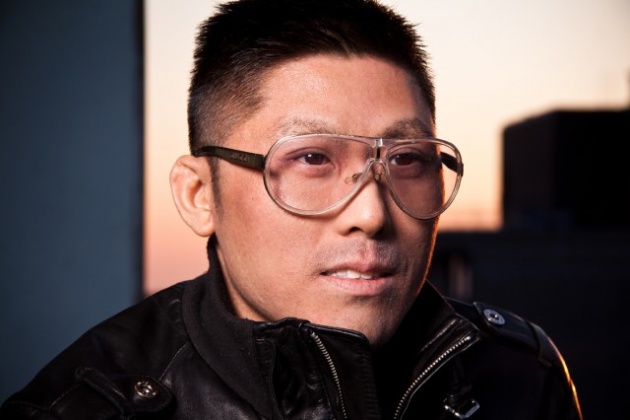 "Make lots of films and post them on Film Annex!" - Jonathan Ng
Jonathan Ng is a Montreal-based animation filmmaker who has already worked on several feature films like The Mummy 3 and the French animation Le Jour des Corneilles. His latest short film Requiem for Romance is currently touring Festivals. Jonathan is part of Eren's Picks and actively promotes his films and blogs by sharing on social media.
You can follow him on Facebook, Twitter, LinkedIn and via his website.
Below is an interview of Jonathan about how he uses social media as a film promotion tool and his thoughts on online film distribution.
Film Annex: When did you start promoting your work specifically on social media platforms?
Jonathan Ng: I started specifically promoting on various social media platforms this year. I was always on Facebook, but not for the purposes of promotion. It coincided with me joining Film Annex in May 2012.
FA: What social media platforms do you use? Which one(s) do you think is(are) more efficient for filmmakers to use to promote their work and why?
JN: I use Facebook, Twitter and LinkedIn. Facebook is set up more like a newspaper, with photos, stories and comments. Twitter is more like radio, in that it is a steady stream of thoughts, points of view and information. And LinkedIn is a bit more like the yellow pages, with business and career listings. I use Facebook more like press releases, big stories. Twitter is more for the little day-to-day stories, moments to moments, but still including the major stories when they happen. I use LinkedIn in a similar way to Facebook, but it is specifically to share with my professional contacts and potential clients.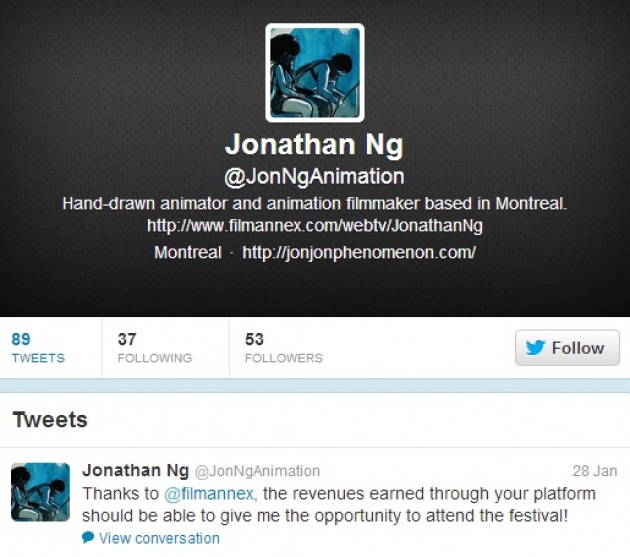 FA: Did you make interesting contacts or create business opportunities by sharing your work on social media?
JN: I generally find that the best way is to meet in person at a business or social event, and then continue the relationship via social media, as a way to stay in touch or keep informed. Once people are connected to you through the different social media platforms, it's a great way to let people know about more upcoming business meetings, social events, film screenings, art shows, etc.
FA: Give us an example on how you promote your Web TV or work in general on social media?
JN: I just post the links using the buttons on Film Annex. I try not to post the same content to the different media platforms, that way people will have a reason to check you out on all of the sites. They all lead back to my own website, which in turn has links back to Film Annex.
FA: Did you see a change on your revenues on Film Annex after promoting your Web TV on social media?
JN: I see it fluctuate. If I don't have much activity for a while, the revenues definitely drop down. I try to pace myself with genuine quality content, so when I have something that is genuinely new I will post a video and write a blog. I try not to over-saturate with content for content's sake. I also like the fact that I can update as I see fit, and that we aren't bound to a set schedule for content release. There isn't really a regular schedule for independent filmmakers, some projects take longer some shorter, so it's nice to just have a place that lets you post at your own pace but still earn decent revenues.
FA: Do you have any tips for other filmmakers on how to promote your films on social media?
JN: Make lots of films and post them on Film Annex!
Watch Jonathan Ng's interview on social media and online film distribution:
Click
here
to read more about promoting films online and on social media platforms.