A few days ago, I was invited to attend a round table about the Save Olympic Wrestling movement and how to support the idea to bring back Wrestling into the Olympics. The controversial decision of the IOC to possibly eliminate Wrestling from the Summer Olympics is a haunting thought. During the meeting, a few people advocated to elevate Wrestling to a more entertaining and star-studded sport, connect it further to the professional world of MMA and UFC, and manage it with the same basis as professional team sports like the NFL and the NBA.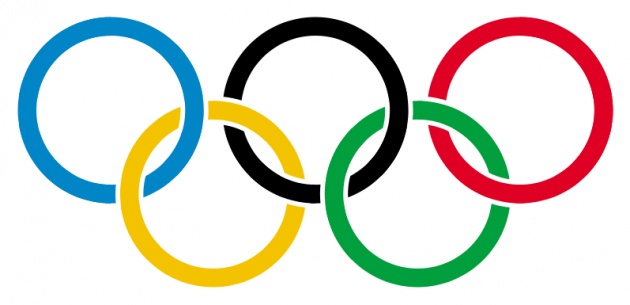 My position was different. I proposed a serious development of the educational values of Wrestling. My proposal is to arm the coaches and athletes with media tools like blogs, articles, social media and video production that document the importance of Wrestling in the mental and physical development of athletes of all ages, their economic and educational level, and location, in particular in developing countries and less affluent regions.
This conversation brought to my mind the values of Judo and made me discuss them David Sigg, a Swiss world team member and businessman residing in NYC, and training with me on a regular basis at the NYAC . His reply to my first email was very explanatory: "Judo is more than a sport, it's rather a movement. In my hometown's judo club in Switzerland, we have roughly 350 members, out of which 50% are younger than 16. Roughly 100 people quit doing Judo annually and are replaced with new members. The club celebrated its 50 anniversary. This means that we have at least taught 5,000+ people in Judo (plus their families, etc.). In my hometown in Switzerland, we have 35,000 people, meaning at least 15% of the people did Judo personally. That's a huge impact..."
This morning, I was training with US Judo National Champion Garry St Leger. He showed me a picture of him training with UFC champion Georges St-Pierre: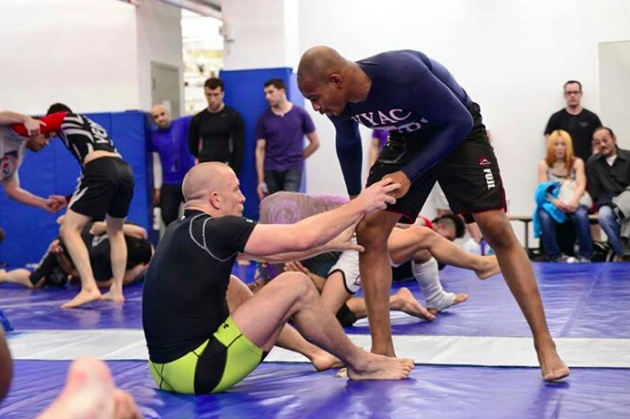 My eyes connected it to his belt where he holds the name of his coach, Parnel Legros, one of the most inspirational people I have ever met, and a man with an incredible charisma, a voice that can intimidate any fighter, and who changed the life of thousands of children in Brooklyn, NY.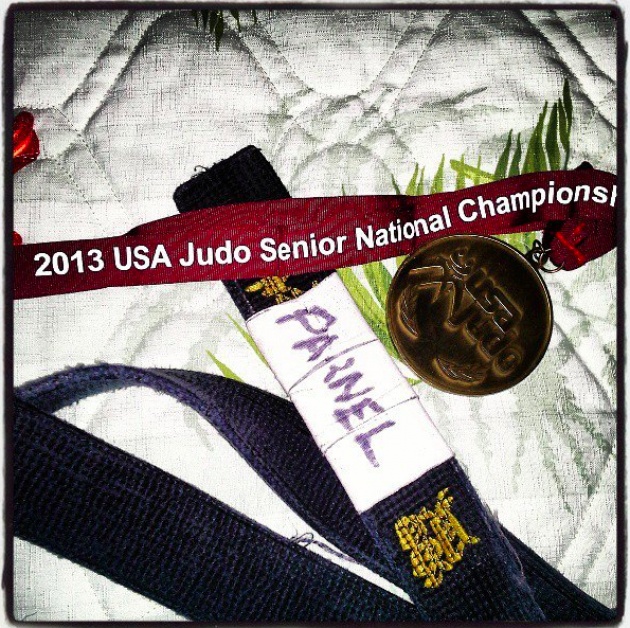 The reality is simple. Georges St-Pierre benefits from the wisdom and dedication of Parnel Legros through the work of Gary St-Leger. Judo is the glue and the point of contact between people from all over the world, in terms of discipline, mental and physical development.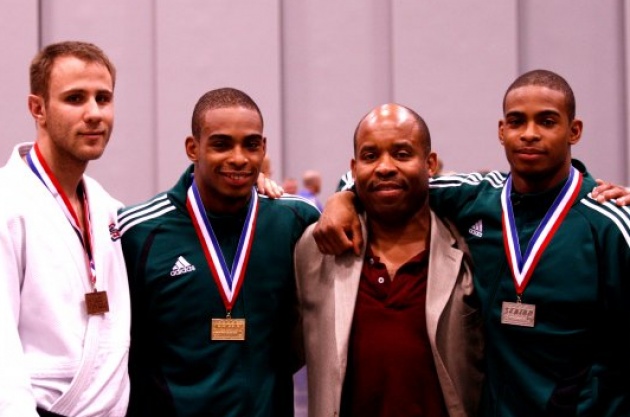 I would not be where I am if it wasn't for Judo and educators like Parnel Legros. Judo shaped my life and shapes the life of thousand of young girls and boys all over the world. To preserve Judo, Wrestling and other form of amateur sports, it's important to tell the story. Tell the stories of coaches like Parnel Legros and what their work has done for young women and men, tell the stories of what Judo has done for the mental and physical development of millions of people, tell the stories of how Judo has shaped their personal and business lives. It's important to document and explain why we must keep sports like Judo and Wrestling in the Olympics. This is not a matter of TV ratings or individual athletes and stars. It's really all about education, and mental and physical development.
The New York Athletic Club is my club. It was founded to sponsor amateur athletes to achieve National and Olympic success. Today, it's important to document those stories from the ground up, as millions of people walked on those mats and faced an opponent of the same size and age. They fought and overcome the fear of measuring themselves with reality. This is also why Film Annex sponsors the Film Annex and NYAC Judo Cup every year, where athletes from all over the world represent their country with respect and pride:
In the last 12 months, I have been deeply involved in Building Schools in Afghanistan, working with Roya Mahboob to create a network of Internet classrooms so that 35,000 students could connect to the World Wide Web. Of those, 5,000 girls use the Examer Vocational and Educational Software. Many people ask me, "Why such a challenge, why enter such an unusual field with so many risks, and possibly, issues?" Maybe it's because when you are a Judo fighter, you know you can face problems with a different attitude and always find that strength, just like the voice of coach Parnel on the side of the mat for Garry St Leger.
It is not a coincidence that one of the most appreciative people about Roya Mahboob's inclusion in Time 100 was my Judo friend Jimmy Vennitti, a man of great integrity, respect and mental strength that appreciated the achievement as a real Judoka.