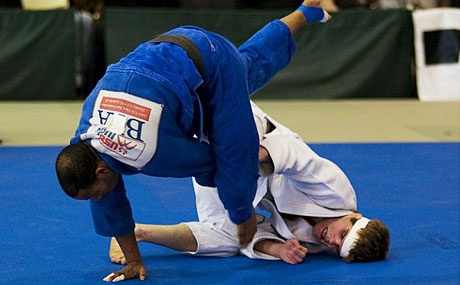 NEW YORK, NY – The New York Open Team Judo Championship will be a showdown of Germany, France, Canada and USA on Sunday, March 4, 2012, in NYC at the New York Athletic Club. The teams in the Judo tournament include some of the strongest players in the world, featuring World Champions and Olympic level athletes, some of whom will be competing in the London 2012 Olympic Games. The tournament is sponsored by Film Annex, United Water and the New York Athletic Club. Each team consists of five athletes in the following weight divisions: 66 kg, 73 kg, 81 kg, 90 kg and over 90 kg. The winning team will receive a $2,000 prize as well as a coveted champion's plaque to proudly bring back to their native country. Germany, the 2011 New York Open Team Champion, is returning to defend their hard fought title. Team USA will be fighting to take revenge over their narrow loss in the final against Germany. Team France, coming fresh from the French Open Championship and competing for the first time in the team event, will be power-packed and looking for Gold. Team Canada, the 2011 New York Open Bronze medal winner, is always a strong contender in the quest for the Gold medal. The competition will be in a five-man team format utilizing a round robin format. The coach of Team USA is Jason Morris, Olympic Silver Medalist and the former Coach of the US Olympic Judo team. Team USA members are Brad Bolen (66kg), Nick Delpopolo (73kg), Travis Stevens (81kg), Garry St. Leger (90kg), and Kyle Vashkulot (+90kg). Team Judo is considered to be the most exciting in the world to watch, and cheering for your favorite country is encouraged. Fans wave country flags and root for players, rocking the room with energy and good-natured rivalry, and at this event a DJ will add to the spirited atmosphere. The tournament will also have five-time US National Champion Carrie Chandler as live commentator on the action. The judo tournament will be held at the New York Athletic Club, located at 180 Central Park South on the 6th floor. All spectators are welcome, and tickets can be purchased for $25 at the door for general seating, $85 for VIP seating. The tournament action will begin at 2 pm and finals at 4 pm. For more information about the New York Open Team Judo Championship, visit
www.newyorkopenjudo.com
or facebook.com/NewYorkOpenJudo.
About Judo
Judo debuted as an official Olympic sport in 1964 and is practiced by millions of people throughout the world today. The discipline of Judo is a Japanese martial art and combat sport that originated in Japan in the late nineteenth century. Best known for stunning throws, Judo also involves much grappling on the ground like wrestling, using controlled holds, pins and arm locks. Judo, translated as "gentle way," teaches balance, leverage and flexibility in performing throws and other skills, and helps to develop complete body control and fast reflexive action. Skill, technique and timing, rather than brute strength, are the essential ingredients for success in this sport. Worldwide, over 20 million people practice judo, with all age groups, both sexes and disabled persons all able to participate in learning and practicing in the sport. Judo develops self-discipline and respect for oneself and others, and helps teach self-confidence, concentration and leadership skills. It's no coincidence that several world leaders have also studied Judo, including Russian Prime Minister Vladimir Putin, former Prime Minister of Canada Pierre Trudeau, former U.S. Senator of Colorado, Olympian Ben Campbell, and former President Theodore Roosevelt, as well as many celebrity judo practitioners, including director Guy Ritchie, actors Chuck Norris, James Cagney and Peter Sellers.
Watching a Judo Competition
After a ceremonial bow, each judo match begins with each opponent grabbing each other by collars and sleeve of the judo uniform, the judogi. The objective of the match is to score an "ippon," which wins the match – this is akin to a knockout in boxing or a pin in wrestling. Scoring an ippon can occur from a) throwing the opponent to the ground so he lands on his shoulder or back; b) pinning him to the ground on his back for a length of time; or c) subduing him in a choke, strangle hold or armlock. Any of these score ippon and win the match. Although an ippon is the objective, there are also partial points scored during the match. Points can be awarded when a variety of throws or blocks are successfully accomplished. At the end of the match, the highest quality score wins.
About Film Annex
Film Annex, an official sponsor of the event, is an online film distribution platform and Web TV Network with over 250,000 users and 1.5 million viewers a day. The company creates free Web TV channels for content providers and supports them financially through an ad-revenue sharing model. A meeting point for filmmakers, film festivals, film enthusiasts, companies, and organizations, Film Annex educates and entertains audiences by making meaningful, diverse, and high-quality films available to a global audience. Film Annex also supports athletes and Olympic sports like Judo and Fencing. For more information about Film Annex, visit
www.filmannex.com
.
About United Water
United water is a division of Suez Environment. The company focuses on protecting our environment and serving the community, Today and tomorrow. We know the two go hand in hand. That's why everything we do is focused on what you need today while we plan and prepare for what the world might need tomorrow. Clean water. A healthy Earth. For your small corner of the world and for the global community. Every day we're your vital resource, providing stewardship of our most vital natural resources. For more information, visit
www.unitedwater.com
. #### CONTACT: Carrie Gray, New York Open Judo PHONE: (516) 967-4729 EMAIL: publicity.judo@gmail.com
www.newyorkopenjudo.com