Competition News
Results of the 9th Annual Summer Slam Judo Championships
Hassan Essaheb – 1st Novice
Nick Kossor – 1st - 60kg and 66kg (Tournament Outstanding Player)
Patryk Obiedzinski – 1st - 73kg
Marti Malloy Takes GOLD At Grand Prix Miami on "Home Soil"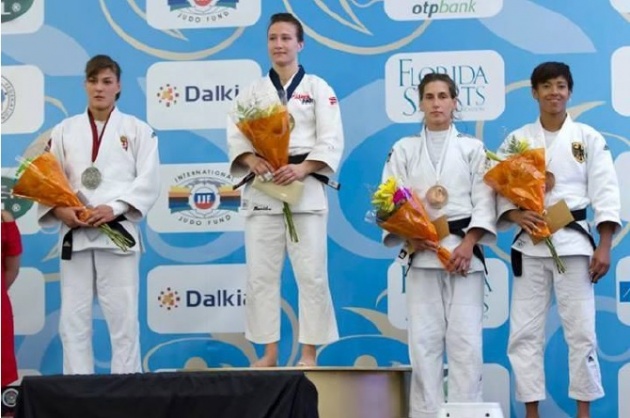 June 15, 2013 - U.S. Olympic Bronze Medalist Marti Malloy got exactly what she wanted: "a win on home soil," a gold medal victory at the first super-elite international Grand Prix ever held in the United States.
"When I heard there was going to be a Grand Prix on home soil, I wanted gold," said Malloy of San Jose, CA, on the way to the podium to collect her medal. "This is all I've thought about. I wanted a win on home soil. I've been training very hard for this tournament for the last few months. I wanted to hear the National Anthem, and I wanted U.S. supporters to hear it on home soil. It was great to be on the mat and to hear everyone cheer to USA. It is amazing to feel that support, and I am very proud."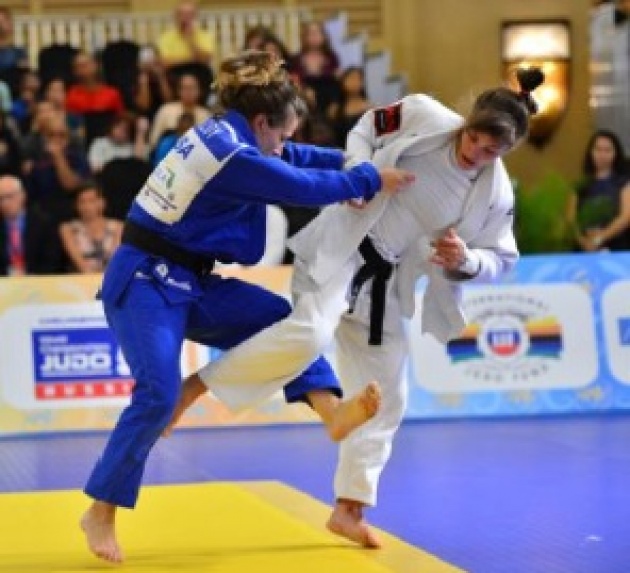 This would be the only medal for the United States on the first day of competition among more than 40 nations that converged on Miami for a shot at top competition, the valuable international ranking points and a purse worth $100,000. In fact, no nation won more than one gold medal, and Hungary came in first among nations having won a single gold and only two silver and no bronze medals. For complete results and brackets, go to IPPON.ORG.
Malloy, who trains at the USA Judo National Training Site, San Jose State Judo Club in San Jose, CA, made history last summer when she took a bronze medal at the 2012 Olympic Games alongside Kayla Harrison, who took the nation's first Olympic gold medal in judo. The momentum has continued on the world stage with the United States climbing the podium at a number of high-profile tournaments around the world, and Malloy added to that momentum this afternoon in Miami.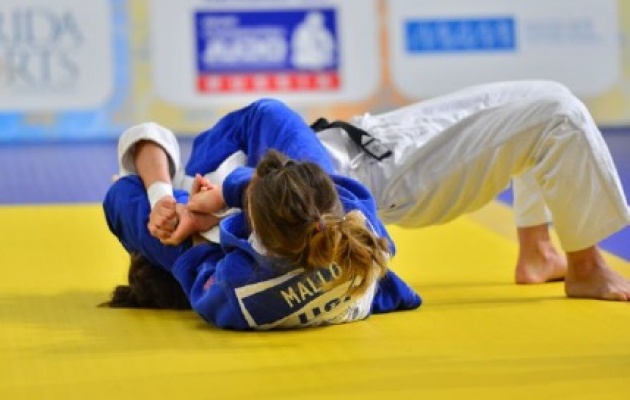 Malloy went 4-0 through five-minute matches against only the best fighters in this 57 kg division. More than 40 nations sent their best, because only the top raked athletes in the respective nations can compete in Grand Prix tourneys. Judo fighters use floor-pounding throws, 25-second pins, arm bars and chokes to defeat their opponents on the mats. In her final match for gold against Hedvig Karakas of Hungary, Malloy appeared to be in control the entire match, shooting throws, controlling the ground game and finally forcing Karakas to tap with a beautifully crafted armbar.
Just having a tournament of this caliber on U.S. soil was an important indication that this sport is on a new trajectory in the United States, USA Judo officials stated at ceremonies preceding the Grand Prix, which continues tomorrow at the Doral Golf Resort & Spa. Grand Prix tournaments, sanctioned by the International Judo Federation, are key stepping stones for any judo athlete headed to the World Championships and the 2016 Olympic Games, both slated for Rio de Janeiro.
Malloy has been targeting this tournament for some time, as she said. Her coach at the Grand Prix today, World Champion and U.S. Olympic Bronze Medalist Mike Swain said just prior to her final match for gold, "We trained really hard. We have a world champ from Japan, Aiko Sato, for one year. Marti trains every day with a world champ. We've focused on special gripping techniques to prepare against the French competitors. All the training has paid off. Marti's goal is to win the World Championship this year. She is physically and mentally prepared to do so. Today, Marti set the pace in all her matches. Marti is going into the final match feeling very confident and very strong. Marti is at a peak condition for this competition."
Photos courtesy Jason Morris.
Results of the Pan-American Open San Salvador 2013
Men
VASHKULAT, Kyle -3rd, -100kg
Women
CARMICHAEL, Hana - 3rd, 57kg
NAKAO, Janine - 2nd, 63kg
MARTIN, Hannah - 3rd, 63kg
San Salvador, El Salvador - Burnt Hills High School Graduates, Hannah Martin (24) and Kyle Vashkulat (22) won bronze medals in their respective divisions representing the Glenville, NY based Jason Morris Judo Center (JMJC) at the San Salvador World Judo Cup June 22-23, 2013. This was Martin and Vashkulat's third career medal at this event.
Martin posted a 3-1 record on the day suffering her only loss in a tight semi final battle with long time US nemesis in 63kg, Janine Nakao (26). 2012 Olympian, Vashkulat was competing in only his second major International event since the Olympics in London went 4-1 in 100kg including a big win over Italo Cordova (Chili) who had beaten Kyle in their two previous bouts. Another Burnt Hills Graduate, Nick Kossor (27) maintained his #1 US ranking along with his #36 world ranking by taking 5th place in 60kg.
Kossor dominated his first two matches to make the semis where he dropped a heartbreaker to Francisco Garrigos (Spain) after leading most of the bout then lost it in the closing moments getting thrown. Kossor then lost an exciting battle with long time North American rival Sergio Pessoa (Canada) in the bronze medal bout.
Bolen, Kossor & Martin Officially qualified for the US team that will compete at World Championship August 26-30, 2013 in Rio, Brazil. This will be Bolen and Kossor's third straight trip to the Worlds and it will be Martin's first. This marks the 6th straight time a JMJC athlete has made the world team and the latest trio makes 19 overall athletes from the JMJC to make the team.
Reposted from Jason Morris Judo Center Facebook page.

2013 Sambo Pan-American Championship, Panama City, Panama
Wojciech Szulinski - 3rd - 74kg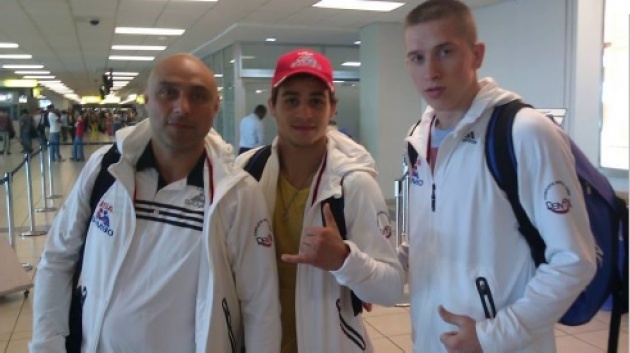 Mikhail Kozitskiy (L), Wojciech Szulinski (R)
Promotions
Congratulations to Sandor Karolyi on his promotion to Shodan.

From felt: Teimoc Johnston-Ono, Head Instructor, Sandor Karolyi, Afrim Kullashi. Also promoted to Shodan, Danny Guttman (center photo) from ITC who plays at the AC. Right photo, Dren Kullashi and Agon Kullashi promoted to Green Belt (yonkyu).
NYAC Rankings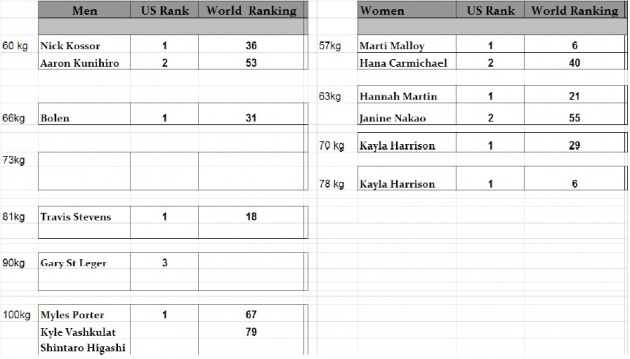 The top 22 world ranked players in each weight division will go to Brazil in 2016.
Upcoming Tournaments and Special Events
2013 Hudson Cup
Date: Sunday, September 22, 2013
Location: HCST Athletic Center
2100 85th Street
North Bergen, NJ 07047
Tournament Director: Billy Martin
516-242-7705 or mailto:hudsoncupjudo@aol.com