Competition News
Results of the Grand Prix Zagreb, Croatia
MALLOY, Marti, 57kg, 2nd .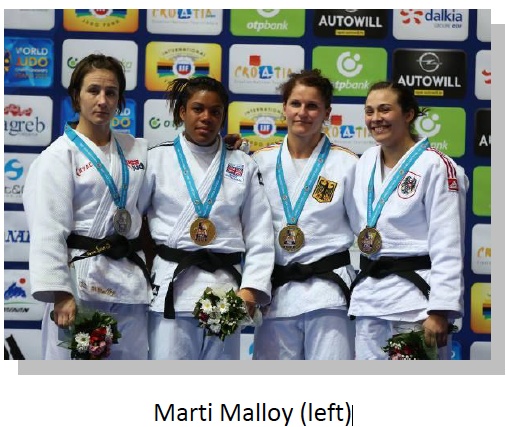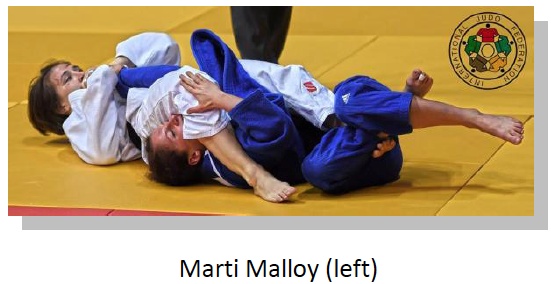 Results of the Grand Slam Baku, Azerbaijan
Harrison, Kayla, 78kg, 3rd.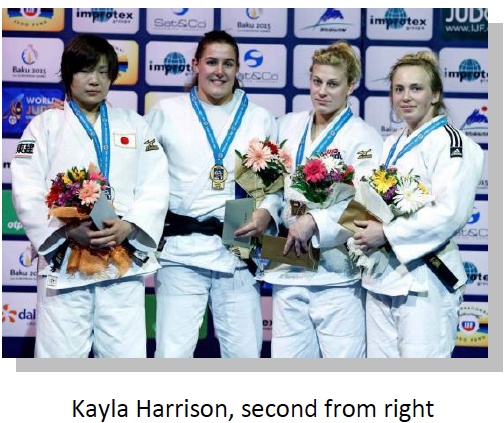 Results of the Senior National Championships Irving, Texas
SENIORS – Male -73 Kg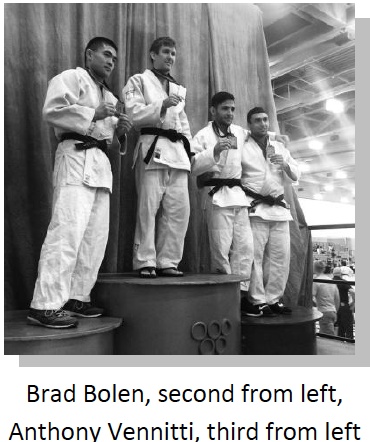 BOLEN Brad, 1st
VENNITTI Anthony, 3rd
WOJTEK Szulinski, 7th
SENIORS – Male -81 Kg
DESILETS Everet, 1st
SENIORS – Male -100 Kg
JACOBS Andrew, 2nd
SENIORS – Male -Open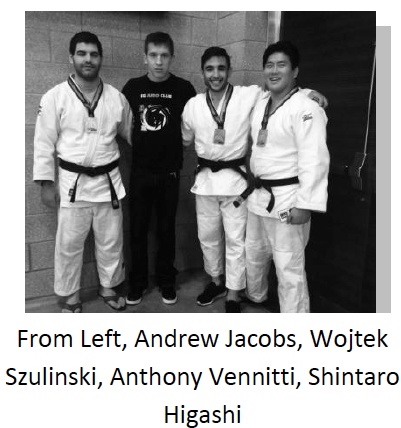 JACOBS Andrew, 3rd
SENIORS – Female -63kg
NAKAO Janine, 1st
Results of the 2015 IBSA World Championships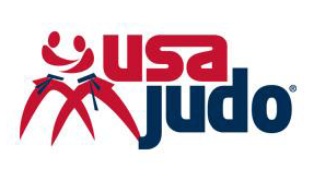 In the team competition this past weekend at the IBSA World Games in Seoul, South Korea, the United States men's team won third pace and will bring home the bronze medal. The team went 3-2 against Mongolia in the fight for the bronze with Ron Hawthorne, Dartanyon Crockett, and Myles Porter all winning their matches by ippon. "We had some really tough matches, and a tough loss to Brazil in the semi-finals," said head coach Scott Moore, "we were really proud of how they rebounded to defeat Mongolia and bring home the first IBSA team medal for the US since 1998."
Results of the World Judo Masters Mohammed VI 2015
HARRISON, Kayla, 78kg, 1st .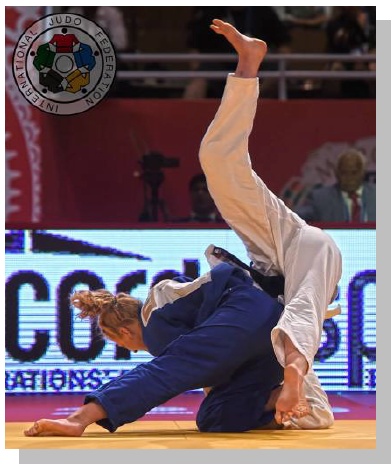 Harrison throws Powell for Ippon the -78kg final! Masters Gold for the Olympic Champion!
© IJF Media Team - Jack Willingham
In Memorium
Jimmy Takemori passed away on May 14, 2015. He was a recipient of the New York Open Lifetime Achievement Award in 2004. Among his many accomplishments, he will be remembered most by his family as a loving husband, father, father in law, and grandfather.
* 9th Degree Black belt (USJF) – 8th Dan with Kodokan
* Was current head sensei at Washington Judo Club at Georgetown University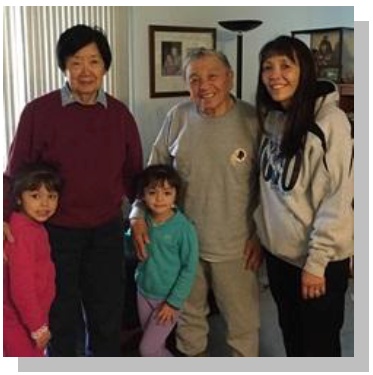 Awards:
* Henry Stone Award (1975) for significant contribution to the sport of judo
* John Osaka Award (1999) as a referee - for demonstrating integrity and selflessness to further Judo
* Ambassador's Citation (2002) for promotion of Judo in the US
* Japan's Emperor of Japan Order of the Rising Sun, Gold and Silver Rays was presented on November 3, 2004 for promoting cultural understanding between Japan and US through Judo.
* Virginia State Lifetime Achievement Award (2006) for years of dedication and devotion to Judo.
* Phyllis Koiwai Memorial Award (2007) to referee who devotes his time to the betterment of Judo.
* Junior US Open Award (2008) for support and contribution throughout the years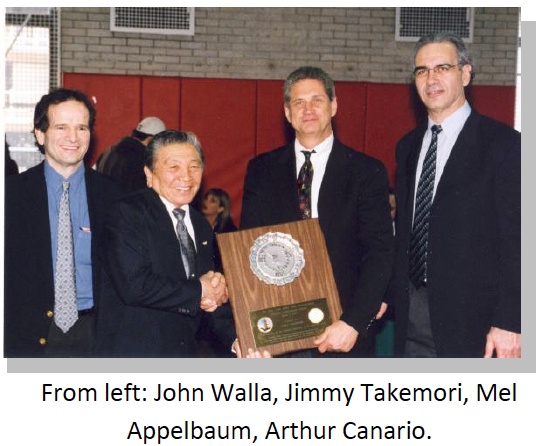 * Jeremy Glick Award (2013) for the demonstration of the spirit of Judo, courage, compassion and character
* USJF Presidents Award (2011 and 2012)
NYAC RANKINGS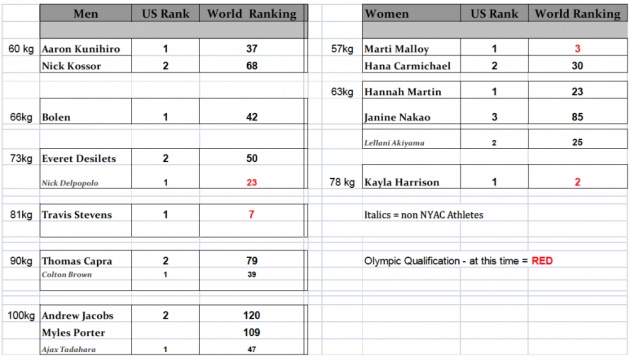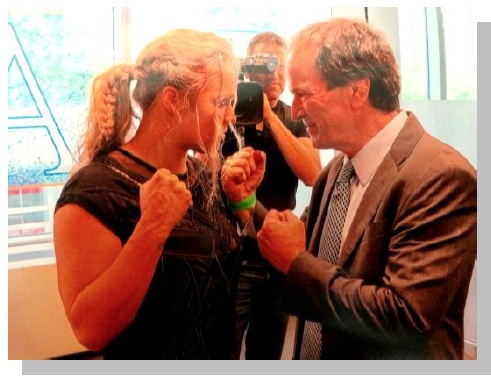 Ronda Rousey v. John Walla. Place your bets.
Upcoming Tournaments and Special Events
Queens Judo Championships New York
Date: June 6
For more information about the Queens Judo Championships please contact Sylwester Gawel, 917-539-0369
sylwestergawel@gmail.com
Summer Slam
Date: June 7
Paterson, New Jersey
For more information about the Summer Slam please contact Anthony Camal tonycamal@optonline.net
973-432-9638
Grand Prix Budapest, Hungary
Date: June 13-14
Celita Schutz East Coast Championships
Date: June 14
For more information about the Celita Schutz please contact Celita Schutz celita@kokushikai.com 201-797-8988
Website: www.kokushikai.com/2015cseastcoastchamp.html
Grand Prix Budapest, Hungary
Date June 20-21
Pan American Open, San Salvador, El Salvador
Date: June 27-28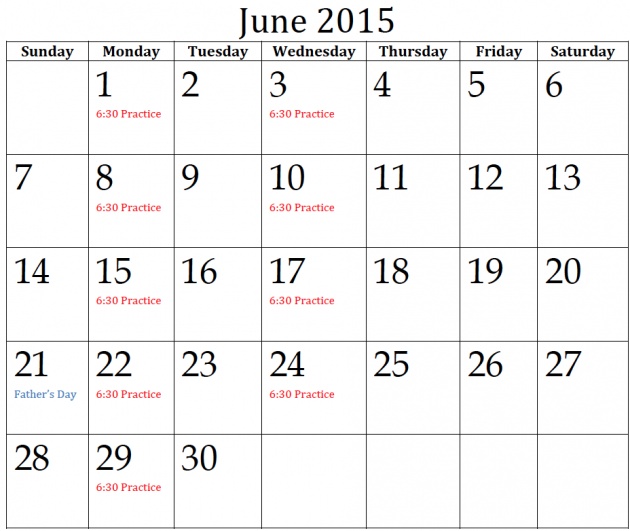 Lynn Goldberg, Editor.