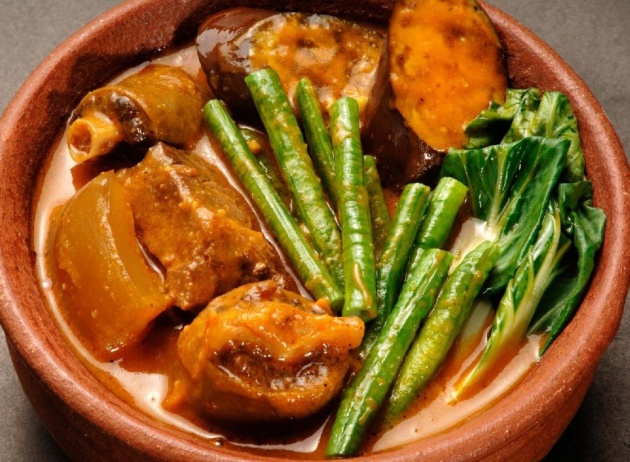 Ingredients
FOR THE KARE-KARE
2 pieces oxtail, about 5 kilograms in all, cut up
1 kilogram punta y pecho or brisket, cut in big cubes
Water enough to cover the meats
½ kilogram carrots, quartered
1 stalk celery
5 stalks leeks
½ cup fish sauce (patis)
3 cubes beef flavoring
½ cup cooking oil
1 cup atsuete (annatto seeds)
1 cup peanut butter
1 cup ground toasted rice
½ cup bagoong mixture
Water for blanching
2 or 3 banana hearts (puso ng saging), Butuan variety, trimmed then cut into serving pieces
½ kilogram sitaw (yard-long beans), cut into 2 inch pieces
1 kilogram eggplant, cut into
1 ½-inch thick diagonal slices
1 kilogram pechay, cut in half, separate stalks from leaves
FOR THE BAGOONG MIXTURE
2 cups pork adobo, chopped
1 cup water
3 bottled cooked bagoong
(shrimp paste)
½ cup cooking oil
1 head garlic, peeled and macerated
2 onions, chopped
2 to 3 tablespoons sugar
1 can or 1 cup coconut cream
Directions
1. In a large pot, add enough water to cover the oxtail and brisket. Add the carrots, celery, leeks, fish sauce and beef flavoring. Boil until the meats are tender. Set meats aside. Reserve the stock in the pot. Remove the carrots, celery and leeks.
2. In a small saucepan, heat the oil and add the atsuete. Mix together for 1 minute then remove from the heat. Strain and reserve the oil. Discard atsuete seeds.
3. In a bigger pan, heat the atsuete oil. Add the peanut butter and toasted rice and some of the stock. Consistency should be creamy but light. Add more stock if needed. Add ½ cup of the bagoong mixture. Mix well. Add mixture to the stock. Stir to combine well. Simmer.
4. In a pot, blanch a banana heart. Remove and squeeze out the water. Add to the main pot. Add the sitaw and the pechay stalks. Add the eggplant then the pechay leaves. Cook until all the vegetables are done. Set vegetables aside.
5. In a heated pan with cooking oil, sauté the garlic and onions. Add the pork then the bagoong. Mix well. Add the coconut cream and wait for the mixture to boil before stirring. Add the sugar and mix well.
6. To serve, return the meat to the pot and heat through. Serve in a deep platter. Arrange meat and vegetables then add the sauce. Serve the bagoong mixture on the side.