May 9, 2016 PiliPinas national and local election 2016, it was a blast for everyone because all the candidates are giving their best shots to gain the highest points in the Halalan 2016. Last few weeks ago before the dated election, rules are being disseminated through different media interventions, posters and orientation for everyone to observe and to follow. But despite of that, photos today are being spread in Facebook, Twitter, other social media sites and search engines because of not following what was advised to do. Are they innocent, feeling innocent or depending on their connections? Are they be punished or not? Are they put in jail or not?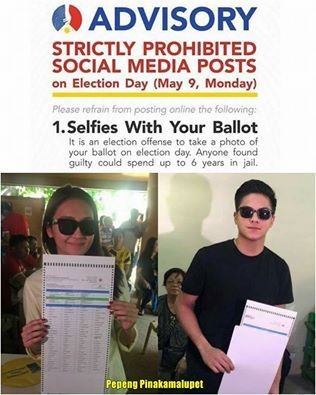 KathNiel - Kapamilya stars Kathryn Bernardo and Daniel Padilla are in hot water after photos posted in different social media and it was critics by everyone.
And now they are in the hot seat to talk with Commission on Election (COMELEC) spokesperson James Jimenez.
"For those who willingly and obviously, very openly displayed their ballot, we need to talk," Jimenez said in an interview with Philstar.com."
The list of rules are translated in both language: English and Tagalog for us everyone can understand clearly, observed fully and follow wholly. I will be posted here the Tagalog version and I'll translate it below.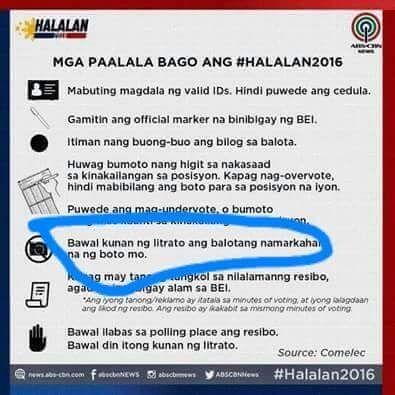 credits to ABS-CBN page
THE FOLLOWING SHOULD BE REMEMBERED IN HALALAN 2016
1. It is best to bring valid ID. Community tax certificate or CEDULA is not advisable.
2. You should used the official marker given by BEI.
3. Don't over-vote in the necessary number of positions. If over-vote, you vote in that position will not be counted.
4. It is okay to under-vote or exact number of needed in the said position.
5. Don't take any photo of the marked ballot of your cast votes, the Votes Counting Machine (VCM) screen and even take Selfie in it. The used of camera and cellphones is prohibited.
6. If there is questions on your receipts, immediately approach your BEIs. (Your questions will be listed in the minutes of voting, and you will sign at the back page of your receipts. And the receipts will be attached to the minutes of voting.)
7. It is not allowed to bring your receipts outside the precinct. It is not allowed to take a photo of it.
That are the rules being disseminated, rules to be understand, to be observed and to be followed. Hope it will be clear to everyone to avoid being punished. I hope all will turned out to be okay, clean and peaceful election.