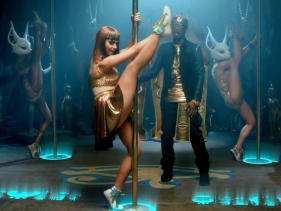 After complaints from Muslims offended by one of its images, the video for Katy Perry's "Dark Horse"
 has gotten a scrub. Shortly after the Egyptian-themed
 clip debuted, a petition was launched on Change.org that dubbed the clip "highly controversial" because of its "portrayal of blasphemy."
The offending image comes around 1:15 into the video, when a man wearing a number of necklaces melts into a pile of sand. Before he melts, though, some observers noted that among his chains was one bearing a pendant with the word "Allah" spelled out, which also burns up with him.
That spurred 22-year-old Bradford, England, resident Shazad Iqbal to a launch the Change.org petition, which eventually drew 65,258 signatures.
"At 1:15 into the video 'Dark Horse'; a man is shown being burned, whilst wearing a pendant (also burned) forming the word 'Allah', which is the Arabic word for God," Iqbal wrote. "Such goes to show, that blasphemy is clearly conveyed in the video, since Katy Perry (who appears to be representing an opposition of God) engulfs the believer and the word God in flames."
Iqbal's complaint said that the video promotes blasphemy by, "Using the name of God in an irrelevant and distasteful manner that would be considered inappropriate by any religion."
At press time, a spokesperson for Perry had not returned calls for comment, but it appeared that the official video for the song had been altered, with the offending pendant blurred out.
Source: MTV
Annex News - Music