In this essay i can combine some thing from science and some from my own experience.I would like to tell you why are we should keep smiling I believes in that a true smile would keep us happy and healthy.A smile is one thing that cure anything in the world such as broken dream, broken heart I can not count how many time I just stand in the front of mirror and smiled at my self.

In this world a common saying in this world related to hospitality is (serve with smile ).nobody like to be welcomed in harsh manner and we see that at the doctors or at five stars hotels .We have notice that the wall clock are also look like a smile they teaches us to be smile if any thing is happen to your environment.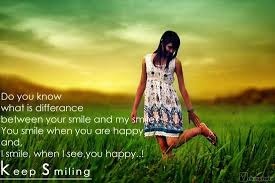 Watching someone smile is contagious and we almost tend to smile back at a person we saw smiling if we are powerful in the emotion and emotional connect that even reading the right now must see definitely! (see, there we go)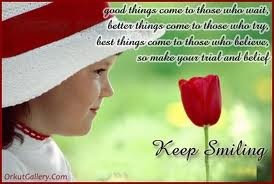 Mirror neuron is found in our body.mirror neurons are those that send out same signal when the body is subjected to a stimulus.from the science it is proves that a man who can live happy and smile he has no ring on his face so always smile and tend to smile.