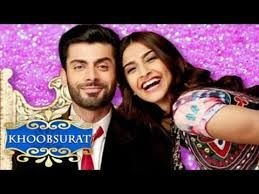 Khoobsurat this movie came as one the fairytale of Bollyood Movies. This movie is widely appreciated because this movie is based on the love story between a prince and a common girl named Mili who was appointed as the physiotherapist for the treatment of king. The prince Vikram falls in love with lovely and bubbly doctor Mili.
The role of prince is played by the Pakistani actor Fawad Khan and Bollywood Actress Sonam Kapoor played the role of Doctor Mili. Well this movie is produced by Rhea Kapoor, Anil Kapoor and Aditya Roy Kapoor. This movie has been directed by Shashanka Ghosh.
The story begins when Sonam Was appointed as the doctor for king , she tries to convince king to do the exercise but he refuses. Ramu Kaka a servant tells her the reason behind the lonely attitude of king then she decides to try to convince king in a different way and her idea works she succeeds in convincing king and try to bring some laughter and joy back in to the kings life. Her work towards kind and her attitude toward life make Prince Vikram fall for her but then he realizes that he is already engaged and can't give up so he decides to stay away from Mili. After some twists and turns Mili leaves the palace and go back to Delhi, in Mili's absence Vikram realizes his love for Mili so he breaks off his engagement and go to Delhi to get Mili back.
With this movie actor Fawad Khan has done his debut and his work in this movie is really appreciable and has been even loved by majority of Indian audience. This Pakistani talent has proved that Pakistani is a country that has given so many talented people to this world and Bollywood is lucky that all these super talented people came to India to showcase their talent. Well if you are fond of Cinderella type love stories then this movie is the perfect option.