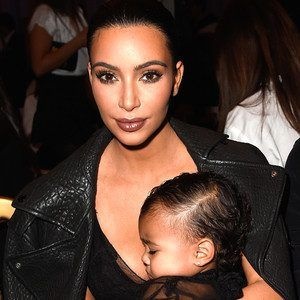 L'envie de bébés de Kim Kardashian n'est plus un secret. A plusieurs reprises, la star de télé-réalité de 34 ans a évoqué son désir d'agrandir sa famille. Elle vient peut-être de faire une gaffe en révélant accidentellement la venue de son deuxième enfant...

Début septembre, Kim Kardashian est à Londres pour assister aux GQ Men of the Year Awards. Profitant de sa venue, elle enchaîne les interviews et assure la promotion de Kardashian Kollection, la ligne de vêtements des soeurs Kardashian, dont la nouvelle collection vient de sortir au Royaume-Uni. Face aux journalistes Sam et Nic de la chaîne YouTube Pixiwoo, elle déclare au sujet de son style durant sa première grossesse : "Je portais mes vêtements habituels et j'ai essayé de le faire jusqu'au bout. J'ai juste acheté une taille au-dessus... Je ne sais pas si je ferai nécessairement comme ça cette fois-ci..."

Lee "cette fois-ci" de Kim Kardashian a évidemment semé le trouble. L'épouse de Kanye West est déjà l'objet de rumeurs concernant la naissance d'un deuxième enfant. Un attaché de presse a néanmoins affirmé qu'elle n'était pas enceinte. Ou pas encore prête à le dire ?

En attendant l'heureuse nouvelle de la venue d'un petit frère ou d'une petite soeur pour North, Kim Kardashian chouchoute sa fille. Déguisée en putois pour Halloween, elle est prête à partir à la chasse aux bonbons !