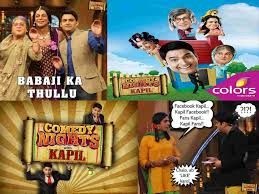 King Of Comedy
Kapil Sharma, a 33 year old standup comedian, actor, producer, host. he is from Amritsar, Punjab in India. He hosts his own show, Comedy nights with Kapil. He is one of the favorite celebrity today in India. The rating of his show is more than KBC and Big Boss. Everybody think that he became a star in one night and barely anyone knows about the struggles he has overcome. He belongs to a poor family in Amritsar.
His father was a head constable. He was still in school when his father was in the final stage of cancer, in the year 1997.Later on in the year 2004, his father passed away, while he was still in school. In the year 2007, when he was in college, he joined the theatre. He had no money for the fees. But he was so good in it that different colleges sponsored his education so that he could represent their college in youth festival. He had no interest in studies other than theatre. Later he started giving trainings in theater.
He just wanted to get into the Laughter challenge somehow. There was the audition for the Laughter challenge Season 3 in Amritsar. He got rejected but his school friend Raju, who plays the role of servant in comedy nights, got selected. He dint lose hope and gave the audition that was conducted in Delhi and got selected and won the laughter challenge and many more. He became the host of Nach Baliye and anchor in award functions.
Then he stated his own show, which is just not limited in India. It is been watched in many other countries as well. A boy from Amritsar is not just a celebrity today ,he is being watched and loved by celebrities as well. Who wouldn't want to sit and laugh with their family after a long day's work. His work is worth appreciating.