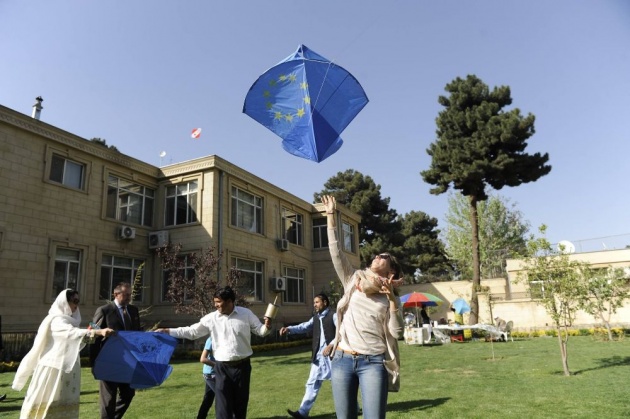 Kabul, April 2015. Shamsa Children Village (SCV) organised its first Kite Flying Festival in support of Afghan children in Kabul. EUPOL Head of Mission, Pia Stjernvall, and a number of high-ranking ambassadors and Afghan government officials attended the festival. Each kite represented the flag of a country which has supported Afghan children through SCV. Also EUPOL donated an amount of money through SCV to support the good cause and the Head of Mission and three Mission members were cheerfully flying an EU kite with the children.
"I congratulate SCV for the great work and organising such an event in support of the Afghan children and it will result in huge support, peace and stability for the future generations in Afghanistan", said Pia Stjernvall.
SCV is a monitoring mission, which works together with the Afghan Ministry of Labour, Social Affairs, Martyrs and Disabled and aims to protect and care for orphaned and abandoned children. SCV also collects donations from different organisations and gives it to the orphanages in Afghanistan.